Poll: McAuliffe Has An 18-Point Lead Among Women In Virginia Gubernatorial Race
New Purple Strategies poll shows Democrat Terry McAuliffe leading Republican Ken Cuccinelli 43% to 38%. "With 19% undecided and nearly two months to go, this race remains volatile," the pollster says.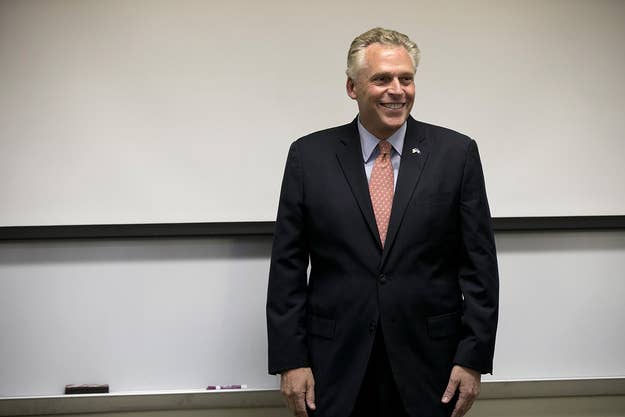 WASHINGTON — The Democratic Party's plan to cast Virginia Attorney General Ken Cuccinelli,, the Republican nominee for Governor, as anti-woman appear to have had the desired effect.
A new poll by the bipartisan firm Purple Strategies shows Democratic nominee Terry McAuliffe has built up an 18-point lead among women, a margin that's helped him to a five point lead in the race overall. Cuccinelli has a 10-point lead among men, but the poll finds he "has room to grow" when it comes to consolidating Republican voters behind him.
In recent days, McAuliffe and the Democrats have highlighted Cuccinelli's history as a social conservative. Cuccinelli has largely tried to avoid social issues on the campaign trail, but the Purple Poll suggests he's been unable to escape them.
It's not all good news for McAuliffe, however.
"The Virginia governor's race pits two of the least well-liked candidates that we can recall competing in a single election," reads the pollster's analysis.

Just 24% of Virginians have a favorable impression of Democrat Terry McAuliffe (39% unfavorable). Similarly, 29% have a favorable view of Ken Cuccinelli (49% unfavorable). Both have comparable net ratings with embattled Governor Bob McDonnell (31%/44%).
Purple Strategies founding partner Alex Castellanos says the survey shows the race is still anybody's game with about three months to go to the November election day in Virginia.
"This could be a volatile race until the last minute," Castellanos said in a statement. "In Virginia, we seem to have two candidates running against each other, neither of whom can possibly win."
Purple also polled potential 2016 presidential matchups in Virginia. Democrat Hillary Clinton led Republicans Rand Paul by 7% and Chris Christie by 2%.
Read the complete polling memo: