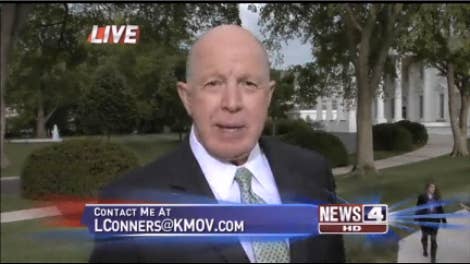 WASHINGTON — KMOV anchor Larry Conners is in trouble with his bosses Tuesday after he accused the IRS of targeting him over an interview he conducted with President Obama last year.
"Any issue he has with the IRS are personal issues. They have nothing to do with our television station KMOV or him as a journalist," Mike Valentine, vice president for content at Belo Corp., told BuzzFeed. "As a news anchor, he owes a duty to our viewers to report in an unbiased manner. His Facebook post and his Twitter posts, as a result, were inappropriate. And we don't condone personal posts that jeopardize the journalistic nature of our business. It's really that simple."
Conners wrote on Facebook Monday claiming that the IRS had been "pressuring" him in the months following his April 2012 interview with Obama. Valentine said the Facebook post was a bad move. Conners ducked interviews on the post Tuesday, citing a corporate order.
"What he wrote has nothing to do with our company or our television station," Valentine said. "And we don't condone that type of personal opinion being represented as a company or station opinion."
Asked if Conners would face disciplinary action over the post, Valentine said he doesn't comment on personnel matters.