O'Malley Calls For Raising The Age Of Legal Handgun Possession To 21
The former Maryland governor's gun violence prevention plan makes it illegal for teenagers to own handguns and jabs at Bernie Sanders.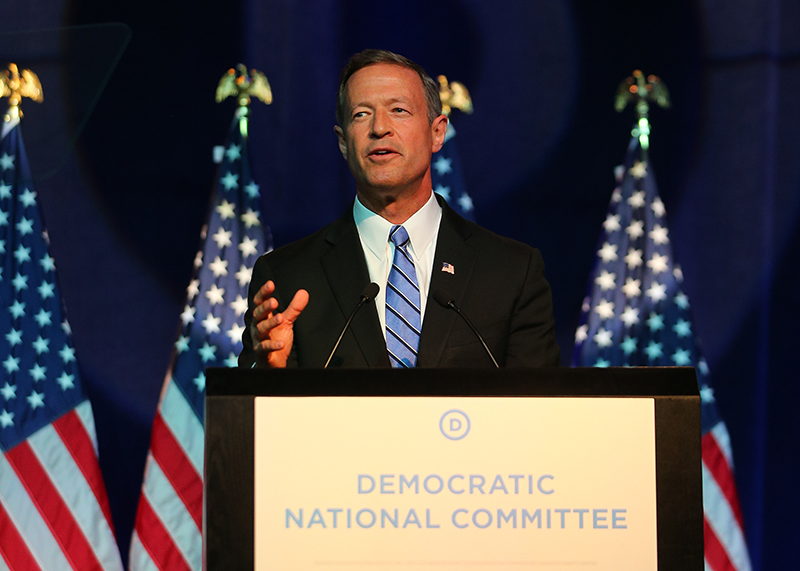 WASHINGTON — Martin O'Malley is calling for a ban on teenage ownership of handguns in a new gun violence prevention plan that the former Maryland governor says will reduce gun deaths and draws a contrast on guns with Bernie Sanders.
Under O'Malley's plan, set to be announced Monday, buying or possessing handguns or handgun ammunition under the age of 21 would be illegal. Current federal law bans the sale of handguns to anyone under 21 and, in most cases, possession of handguns and handgun ammunition under the age of 18.
In a fact sheet detailing O'Malley's gun violence prevention plan, his campaign says banning handgun possession by Americans aged 18 to 21 would reduce shooting deaths and suicides.
"A full quarter of gun crimes are committed by individuals 21 years old and younger, based on data from 13 states; and guns are used in 38% of suicides among young people," the fact sheet reads, citing data from the pro-gun control Law Center to Prevent Gun Violence. "O'Malley will work to set a federal minimum age of 21 for handgun ownership and possession."
The gun violence prevention plan is the latest in a series of detailed, progressive-friendly, policy proposals by O'Malley that have drawn praise from the left, but so far failed to pull him out of the group of candidates registering single-digit support in polling of the Democratic presidential race. Other parts of the plan include expanding federal background checks for guns purchases, a federal gun registry, requiring gun owners to keep their firearms locked or in safes at home, banning gun possession for those under emergency restraining orders, and boosting enforcement of existing bans on possession for convicted stalkers and domestic abusers. O'Malley promises to step up inspections of licensed gun dealers to ensure they're following the law, another in a litany of proposals easily summed up as a gun control advocate's wish list.
Gun control is an area where O'Malley's supporters believe he can draw the sharpest contrasts with Sanders, the independent Vermont senator surging to first place in some Iowa and New Hampshire polling. In June, a pro-O'Malley super PAC ran online ads attacking Sanders for his record on guns, which includes a vote against the Brady Bill and to allow passengers to carry guns on Amtrak trains in their checked baggage — votes favored by gun rights advocates — as well as votes in favor of banning so-called assault weapons and expanding background checks, votes that put Sanders on the side of gun control advocates.
O'Malley's plan takes a less-than-subtle jab at Sanders with a promise to repeal the 2005 Protection of Lawful Commerce in Arms Act, a top National Rifle Association priority that protected gun manufacturers from many lawsuits. Sanders voted for the law.
"Every state holds manufacturers accountable for producing and selling products that cause harm," reads O'Malley's plan. "O'Malley will fight to overturn the Act, allowing states and cities to better protect their citizens from negligence, and giving victims of mass shootings the ability to hold irresponsible gun manufacturers and dealers accountable."
The Sanders campaign declined to comment specifically on O'Malley's new attacks on Sanders' voting record on guns, but in recent interviews Sanders has brushed off the suggestion that he's close to the gun rights lobby.
"I have, as I understand it, a lifetime voting record from the NRA of D-minus. D-minus," Sanders told CNN last month, adding, "I do not accept the fact that I have been weak on this issue. In fact, I have been strong on this issue. And, in fact, coming from a rural state which has almost no gun control, I think I can get beyond the noise and all of these arguments and people shouting at each other and come up with real, constructive gun control legislation which, most significantly, gets guns out of the hands of people who should not have them."