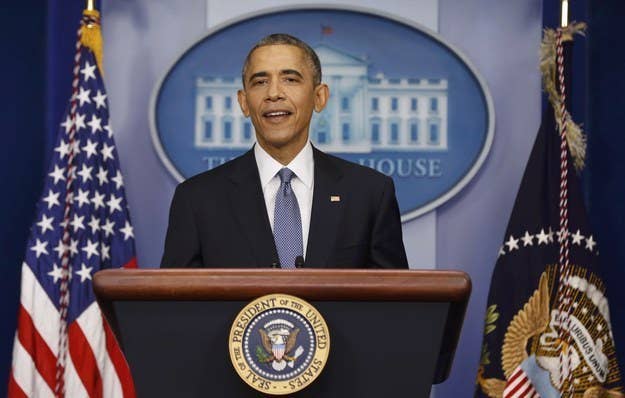 President Obama criticized Sony for pulling The Interview at his end-of-year news conference Friday.
"I think they made a mistake," Obama said.
The president said he was "sympathetic to the concerns" at Sony after a massive hack exposed embarrassing internal emails and other corporate secrets. On Friday, the FBI said North Korea was responsible for the hack.
Despite the cyberattack, Obama said canceling the release of the film was caving to North Korean demands.
"We cannot have a society in which some dictator someplace can start imposing censorship here in the United States," he said.
Sony pulled The Interview after threats of terrorist attacks at screenings of the film. Obama contrasted the move with the aftermath of the Boston Marathon bombing, when the city decided to continue the annual event despite the terror threat.
"We can't start changing our patterns of behavior any more than we stop going to football games because there might be the possibility of a terrorist attack," he said.
Obama also poked fun at the North Korean government for its reaction to The Interview.
"I think it says something interesting about North Korea that they decided to have the state mount an all-out assault on a movie studio because of a satirical movie starring Seth Rogan and James Franco," he said. "The notion that that was a threat to them, I think, gives you some sense of the kind of regime we're talking about here."
Sony Pictures Entertainment CEO Michael Lynton responded to the president's comment Friday in an interview with CNN's Fareed Zakaria, saying "we have not caved."
"I think actually the unfortunate part is in this instance, the president, the press, and the public are mistaken as to what actually happened," Lynton said. "We do not own movie theaters. We cannot determine whether or not a movie will be played in movie theaters. So, to sort of rehearse for a moment the sequence of events, we experienced the worst cyberattack in American history and persevered for three and a half weeks under enormous stress and enormous difficulty."
"The movie theaters came to us one by one over the course of a very short time. We were very surprised by it," he added. "They announced that they would not carry the movie. At that point in time, we had no alternative to not proceed with a theatrical release on the 25th of December."
"We have not caved. We have not given in. We have persevered."
Lynton insisted Sony still wants to release The Interview, saying, "We have always had every desire to have the American public see this movie." He said the studio was pursuing "a number of options," including releasing the film online or on demand, but that there were currently no digital distributors willing to carry the film.
The full interview is slated to air Sunday.