DNC To Host $25,000 Per Person Fundraiser With Obama In NYC
Invitation obtained by BuzzFeed News invites the well-heeled to a small "discussion" session at the home of the former head of the Intrepid Sea & Air Museum and his husband.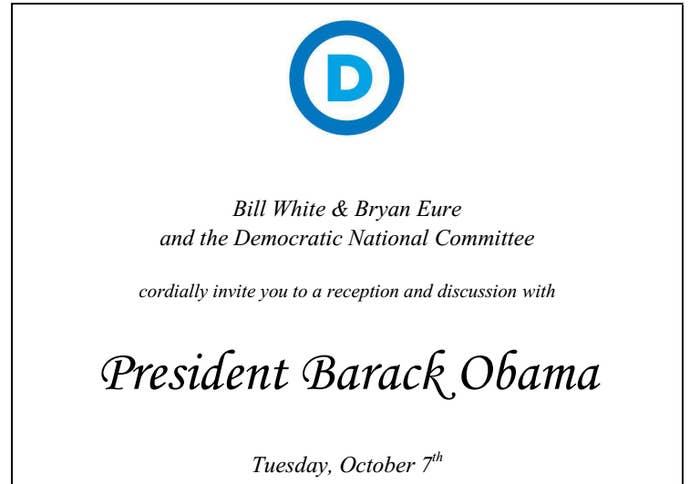 WASHINGTON — The president will attend a $25,000-per-person fundraiser at the New York City home of Bill White and Bryan Eure on Oct. 7, according to an invitation to the high-dollar event obtained by BuzzFeed News Monday.
White is the former president of the Intrepid Sea, Air and Space Museum. He now chairs The Constellation Group, "a strategic business and partnerships development firm that advises corporations, foundations, and high net worth individuals with their business challenges and philanthropic endeavors," according to press materials. White's husband, Eure, is a senior vice president at the New York office of a London-based brokerage firm.
The couple are prominent supporters of Democrats. According to White's Instagram, he and Eure had dinner with Hillary Clinton in New York last week. The White House hasn't announced the travel publicly yet, but Eure spilled the beans when he posted a New York Post story hinting at the high-dollar event.
The money raised at the event is slated for the Democratic National Committee. Tickets are $25,000 each. The DNC confirmed the event in an email.
The event comes less than a month before the midterm elections in which Democrats are breaking spending records as they try to protect their majority in the Senate. The invite went out Tuesday, amid high-profile — but anonymous — sparring between the Obama administration and the current chair of the DNC, Florida Rep. Debbie Wasserman Schultz.
Despite reporting indicating Democrats are losing their faith in Wasserman Schultz, the White House went out of its way earlier this month to praise her performance as chair.
Update, Oct. 3, 2014:
A White House official confirmed the fundraising event.
"On Tuesday, October 7, the President will travel to New York, New York to attend DNC events. Following these events, the President will travel to Greenwich, Connecticut to attend a DSCC event," the official said. "Further details on the President's travel to New York and Connecticut will be made available in the coming days."
The invitation: