Obama Breaks With Liberal Base On Government Spending Bill
White House gets behind spending measure that rankles his base.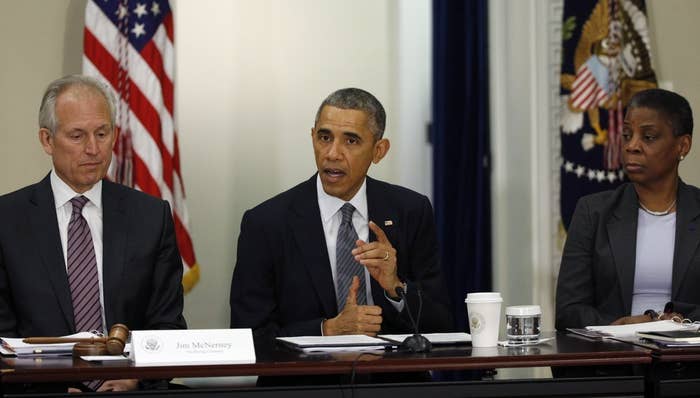 WASHINGTON — President Obama formally expressed his support Thursday for the bipartisan spending package on Capitol Hill that averts another government shutdown.
The president's support puts in him direct opposition to Democratic Sen. Elizabeth Warren and House Minority Leader Nancy Pelosi, who are threatening to not vote for the bill over provisions that would undo a key aspect of Dodd-Frank and allow individuals to contribute a significantly higher amount to campaign committees.
At the White House daily briefing Thursday, White House press secretary Josh Earnest drew a line between the administration and Warren and Pelosi.
"It's clear that we have a difference of opinion here," Earnest said.
While the administration is officially opposed to the same riders Warren and her allies are, Earnest ticked off a number of reasons for Democrats to support the bill — including spending on Ebola, spending for early childhood education, and other funding streams — and issued a formal statement supporting it.
"There's ample reason" for Democrats to vote yes on the spending package, Earnest said.
This is a far cry from the last several weeks, when progressives have reveled in a White House that appeared willing to damn the GOP torpedoes and operate from the left. Obama announced sweeping new support for liberal priorities like climate change, net neutrality and immigration.
Sen. Elizabeth Warren, from Massachusetts, has led a vocal liberal opposition to riders in the bill, while others on the left urged Democrats to withhold their votes from the spending package to get the riders stripped out.
On the House side, Democratic leader Nancy Pelosi said she was "disappointed" in White House support for the spending bill and said she would not whip support for the bill.
With Republicans set to take over Congress in January, the White House is showing it's ready to compromise, even if it's painful for Obama's liberal base.
"The president certainly didn't get everything that he wanted. If the president were writing this bill himself, this bill would look a lot different," Earnest said. "But it is a compromise and it does fulfill some of the — many of the top-line priorities that the president himself has long identified, and passing this bill and signing it into law would allow us to make additional progress against those priorities."