Obamacare Applications Tripped Up By Lack Of Spanish-Language Training Materials
A rise in paper applications meant a rise in the need for Certified Application Counselors, who help people apply. Trouble is, there are no training materials in Spanish for them.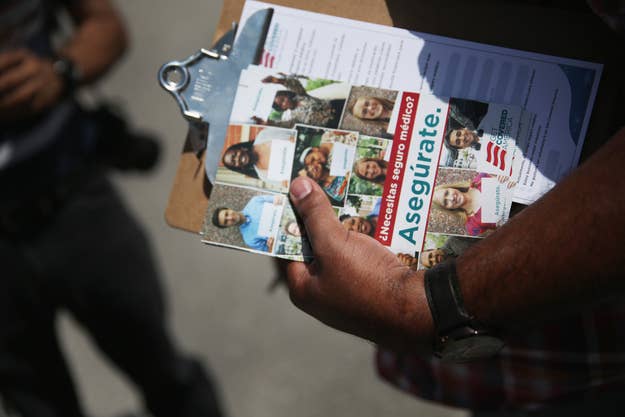 WASHINGTON — The Obama administration planned to make enrolling in health insurance as easy as possible for Spanish-speakers.
But more than one month into the launch, the Spanish-language version of the health care exchange is still not functional. No worries, says the government, just fill out a paper application. The problem is, advocates say, they can't get enough Spanish-language help because the government didn't print Spanish-language training materials.
The latest issue in the roll out: Certified Application Counselors (CACs), who undergo a several-hour certification class to help people apply for Obamacare. (CACs are different from the much-discussed Navigators, who are trained to assist people compare plans and actually enroll in private health insurance.) The Department of Health and Human Services website lists Spanish-language training materials for Navigators. There are no such materials for CACs.
This has posed a problem for Affordable Care Act supporters hoping to get the Spanish-speaking population to enroll in health insurance. Because of continued delays with the Spanish-language federal exchange, health care advocates have relied on paper applications and in-person help. That reality has increased the need for CACs, advocates say, and meeting that need has been harder because there's no way to certify them in Spanish.
"The people who we hire are all bilingual, so they have to go from English to Spanish. It would be nice if [the materials] were all in Spanish," said Dr. Jane Delgado, the president and CEO of the National Alliance For Hispanic Health, a Washington-based non-partisan nonprofit working overtime to help people apply for Obamacare.
Delgado's group runs a telephone helpline staffed by CACs that has fielded more than 9,000 calls in the past month from people looking to complete Obamacare applications. "100%" of those calls have been in Spanish, she said.
"Sometimes when people translate things, the English is not that hot to begin with, then they translate it and that's not too much better either," she said. "Just think of it: When you get an insurance form and it's in English, it's still hard. And that's for people who know how to get insurance and have been part of the system and understand it and are educated and have advanced degrees."
"The language of insurance is not the language of people, of conversation," she said. "So of course it would be easier if it was in Spanish, but it also still might have words that are very difficult."
Delgado's CACs have been certified in English but work in Spanish. She's hired seven CACs over the past month to handle the volume of helpline calls. Her staff is bilingual, so each member is certified in English, then counsels callers in Spanish. Overall, she said, the system "could have been better," but she said her organization has been handling the load OK.
Other activists have complained that the lack of Spanish CAC training has made it tougher to staff teams to help Spanish speakers with paper applications — the only option right now for Spanish-speakers in states using the federal exchange.
A top official at the National Council of La Raza explained some of the concerns in an interview with BuzzFeed last week.
Most Latino applicants are likely to be unaffected by the problems; the administration anticipates the vast majority (70%) of Latino applicants to enroll through the English-language exchange.
But the lack of available Spanish-training materials for CACs is just another example of HealthCare.gov's online stumbles complicating grassroots enrollment efforts. Officials had been most excited about the grassroots drive before the initial Oct. 1 launch.
Grassroots activists say they're primed and ready to make up for lost time, however. Enroll America — one of the largest groups focused on expanding health insurance coverage by knocking on doors, holding small rallies and other grassroots activities — reported Tuesday that it has raised more than $27 million and is preparing a two-week Obamacare grassroots blitz in early December.
Delgado said what nearly everyone who deals with Obamacare enrollment on the ground has said: The public is interested in the coverage options offered by the law and is ready to embrace the Affordable Care Act, despite the rollout problems.
But she also said frustrations are mounting. She's content to wait for the English-language side of Obamacare to get worked out first, but she said she hopes that means the Spanish-language side won't be plagued by the same problems once the site is fully up and running.
"It would be nice to have it," she said of a Spanish-language CAC training program. "But right now I'd rather they spend their time fixing the English website so it works really well, and once they have that up and going, then they can work on a Spanish-language one. But don't work on the Spanish until you have the English (fixed) or otherwise you're just going to be confusing people."