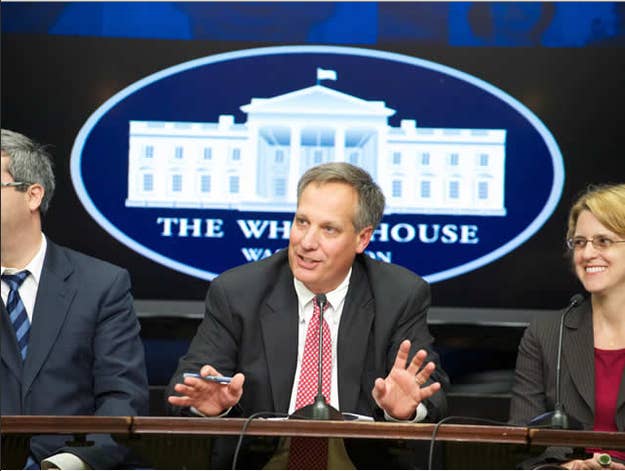 With the Obama administration coping with a whole new sort of challenge — a wave of scandals and allegations that threaten to disrupt the president's second-term agenda — the White House has turned not to a high-profile outside PR fixer, but to a well-connected Washington insider known for keeping himself out of the spotlight.
Mark Childress, a veteran of Tom Daschle's staff who took an unusual detour through Australian aboriginal politics, played a central role in cleaning up a signature mess of 2012: the White House's shifting message on requiring employers to offer contraception coverage. This year, he led the early attempts to contain the scandal over the IRS targeting conservative groups. And now aides say he is playing a central, behind-the-scenes role in shaping the White House's message on one key issue: selling Obamacare. Childress is part of a tight-knit ex-Daschle fraternity that includes chief of staff Denis McDonough, and is known among colleagues for being the guy who can find the solution no one else can.
Childress's current and former colleagues showered him with praise in a set of interviews with BuzzFeed this week, describing him as a colorful, forceful new figure in the tight White House culture.
"He has not lost his North Carolina accent, and yet, and I am not exaggerating, in every meeting I am with him in he will use a word I do not know the meaning of. And this not just me. This is Denis McDonough, this is [White House adviser Dan] Pfeiffer, this is everyone. He has quite an extensive and colorful vocabulary," White House communications director Jennifer Palmieri told BuzzFeed. "It's an SAT word that I don't know the meaning of. Everyone, including the president, makes fun of him for it. He speaks normally in a very folksy, earthy way but then every meeting will come out with something. At first you don't want to be the person who doesn't know what the meaning of the word is, but then I realized nobody had any idea ever what he was talking about."
Two people who told the same story couldn't think of one of the words Childress had stumped them with when put on the spot. But they all remembered running to the dictionary after talking to Childress at least once.
They also said the anecdote will probably embarrass Childress, but it's a good introduction to a man well known behind the scenes for impressing people with his smarts but little-known in the public despite his key role in making Obama's second term work.
The lawyer and Asheville, N.C. native, whose title is now Deputy Chief of Staff, stays off the public radar, rarely going on the record and working the levers of Washington behind the scenes. He's not much of a national figure: His Wikipedia page is barely more than his name and title. His name made a rare appearance in the national news earlier this month when it was revealed that he led the early messaging operation in advance of the IRS inspector general's report into targeting of conservative groups. The White House says Childress is no longer handling the IRS fallout and is focused once again on health care, his original brief. But it's not a surprise that Childress was part of the IRS response at the beginning: He always seems to get the tough stuff.
Childress's first task on the job as White House deputy chief of staff, for example, was a real doozy: sort out what the president (and many political observers) saw as a total mess surrounding the rollout of Obamacare's contraception coverage mandate.
He got the job done, whipping up a solution that helped flip the story from a politcal drag for Obama into a narrative the Democrats would use to define Republicans as anti-woman in 2012. The gist: Childress devised a middle path between White House staffers who wanted to exempt all religious institutions from the mandate and those that wanted to force universities, hospitals, and other organizations to buy contraception coverage for their staff. By tweaking here and there and using his decades of knowledge about the workings of Washington, Childress devised a solution that got employees the contraception coverage, but kept the outraged religious groups from paying for it. Colleagues say Childress often finds an unseen solution and manages to get everyone on board without ruffling feathers.
Though people who work with him hesitate to call him "a fixer" — a term that in Washington conjures the image of the bombastic outsider who swoops in, fires people, and generally drops a motherlode of f-bombs — Childress's name seems to keep popping up when the going gets tough. White House colleagues bristle at a comparison to Lanny Davis, for example, saying Childress is a wonky policy tweaker who doesn't go on camera like the very public former Clinton counsel did.
He was next tasked with navigating the administration through the sticky wicket of Obamacare implementation, but Childress has often detoured into other areas to assist in sticky situations.
As the White House prepared for the Supreme Court to rule on Obamacare, it was Childress who led the team creating a series of contingency plans to deal with possible rulings. As it happens, the plans weren't necessary, but those who worked with him during those tenuous days ahead of the ruling praised Childress's creative solutions and attention to detail.
Childress also helped lead White House efforts to put the ideals behind the DREAM Act into place through executive order long after Congress declined to act on the popular legislation, scoring, as he did with contraception, another huge political win for Obama with a key constituency ahead of the 2012 elections.
Complex problems like figuring out how to use the interagency process to push legislative goals past a reticent congress are exactly Childress's specialty, his colleagues say.
"You would have to be an idiot not to take Mark's advice," said Nick Papas, the former White House communications pointman on health care.
Everything related to Childress is private, a rarity in the age of social media oversharing. Searching the internet won't find you his age (53) and it won't reveal that he and his wife Katherine have no kids and live with their golden retriever named Riley.
In contrast to his almost nonexistent public persona, inside power circles Childress is well known and, more importantly for Obama, well respected. The former Daschle staff are a tight bunch (Papas is one) and they all seem to look to Childress with awe. But the White House respect for Childress goes beyond the Daschle alumni.
"As Deputy Chief of Staff, I'm sure he picks up some other inter-agency issues from time-to-time, but the ACA is of tremendous importance to the president and Mark is the go-to guy in the White House, working with HHS on major implementation milestones, benchmarks and key decisions around it," David Axelrod said. "That's a huge portfolio."
Childress is used to handling big portfolios and navigating the labyrinthine structure of the federal government to produce results. He's worked all over government, from a senior counsel to the late Democratic Sen. Ted Kennedy to the Clinton White House where he served as an adviser in the nomination process, to Daschle's office as a top adviser while the South Dakotan led the Senate as Majority Leader, to the lobbying world where he was a partner at law firm Foley Hoag. He went from there to the Department of Health and Human Services, a move that was controversial given Obama's pledge not to bring lobbyists into his administration. Among his lobbying clients was the Susan G. Komen Foundation, who ironically would years later briefly become a part of the contraception debate after its president pledged to pull support from Planned Parenthood.
Before Childress became a lobbyist, and after Daschle lost to Republican John Thune in 2004, he took an unexpected leave from Washington and headed to Australia, where he was general counsel for the Balkanu Cape York Development Corporation, an advocacy group for the Aboriginal population. As their lawyer, Childress helped negotiate oil royalty deals for the native population. His time out of the federal government didn't last long, however, and after his Australia and lobbying stint he came back to the land he knows best: behind the scenes Washington.
Jay Carson, a former Clinton spokesperson and deputy mayor of Los Angeles, recalled Childress mentoring him in the ways of Washington as a young member of Daschle's DC communications staff. He said that Childress, who he called "such a brilliant guy," took off across the world because of his curiosity and eagerness to solve new and ever more complex problems.
Carson said watching Childress on the Hill suggests Childress is a White House a pointperson willing to take risks, and able to build creative and implementable solutions from the ground up.
"The focus on the problem at hand and not himself is extraordinarily rare and it's an amazing skill that he has," he said. Carson added that "whenever I hear that Mark is in a situation, I sleep a little better at night."
"One, his ability to synthesize huge amounts of complex data and information and then make sense of it, so that a decision can be made," Carson said. "There are people who can synthesize huge datasets and complex pieces of information in their head but when they spit it back out, it sounds like gibberish. Mark is able to dig extraordinarily deep into a problem, synthesize a ton of information really quickly and then present two options, with a lot of backup for those."
But Childress doesn't just create options, Carson said, he sticks his neck out for the one he thinks is right.
"Mark has guts, he said, adding, "He'll synthesize that data and they say, 'there are two options here, Senator. I feel very strongly that option one is the way to go, but I want to lay out that there is another option.' As opposed to the sort of agnostic recommendations because the person making it doesn't have the guts to back up which way they think [the leader] should go."
As Axelrod suggests, Obama wouldn't pick just anyone for putting his signature healthcare law into place. Implementing the massive health care overhaul that defines the president's legacy isn't just a Herculean bureaucratic task, it's a political minefield that has even some of the Obama's strongest allies shaking in their boots. How it gets done, and how smoothly it gets done, will be a touchstone for the president's second term and could play a big role in the 2014 cycle.
It doesn't surprise anyone who has worked with Childress that he got the job. He is described as exactly the kind of operative Obama likes (and says defines his presidency): devoid of drama and skilled in the art of getting people on various sides of an issue to yes. Papas described working with Childress as something of a dream process.
"In one of Mark's meetings, you're probably going to laugh, probably going learn something and get something done," he said. Papas said in a world where there were "a lot of meetings that ended in stalemate," Childress was "fantastic at driving the ball forward."
That kind of effusive praise of Childress was universal, and it may roll the eyes of even the slightly cynical Washington observer. But whether or not he's one of the greatest living humans ever to work in government — a good summary of the way he was described to BuzzFeed over the past week — it's clear from the failure-is-not-an-option jobs he's been given that Childress's skills are well respected.
Those skills could be a legacy from his time with Daschle, who knew how to work the congressional levers as well as anyone. Childress was one of his top confidants and the man the Senate leader turned to during a time when Democrats went from the majority to the minority to the majority again and had to work with a Republican president.
Though Childress is not part of Obama's personal inner circle — he didn't really know the president until he came to work at the White House — his skill at manipulating the inner-working of government and the respect he engenders from those around him clearly caught the president's eye. Now, as the administration sets off on one of the toughest tasks of the second term, Childress will be the man working to find success behind the scenes.
If nothing else blows up first and requires his attention, that is.