Meet Hillary Clinton's New Opposition
At the DNC summer meeting, the frontrunner's opponents recast themselves. After decades on the outside, Bernie Sanders is now the Democratic Party's savior — and Martin O'Malley, a former party governors association chairman, is its renegade critic.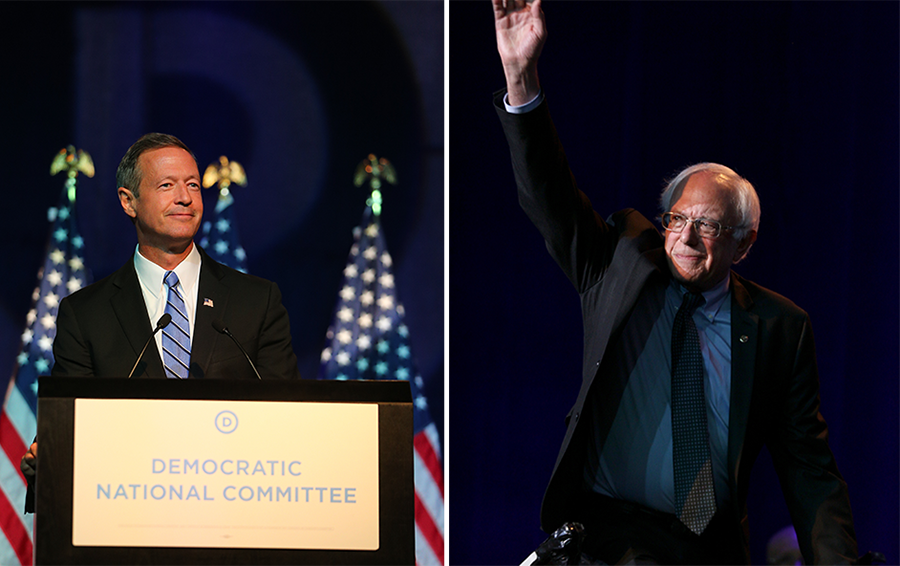 MINNEAPOLIS — One made his name as the most loyal, hard-working, do-anything-and-everything surrogate inside the Democratic Party. He did two tours as the chair of the Democratic Governors Association, hit every Sunday show for President Obama in 2012, and traveled to more than two dozen states for fellow Democrats in 2014.

The other built a career on the party's periphery. He is the oft-described "self-described socialist," the liberal's liberal, the registered independent from Vermont who carved out an unlikely spot in Washington. He has only attended one Democratic convention — and until Friday, he had never addressed a meeting of the Democratic Party.
It was at that meeting in Minneapolis — an annual gathering of delegates and elected officials — that Martin O'Malley and Bernie Sanders traded places.
At every turn, the reversal was on display. In his speech, Sanders, the man long without a party, promised to lift all Democrats with the "enormous amount of enthusiasm" powering his campaign. In his, O'Malley, accused his longtime partners of favoritism as the party chairwoman, Debbie Wasserman-Schultz, sat just steps away on stage.
In his press conference, O'Malley outlined the injustices of Democratic leadership. In his, Sanders made a new appeal to the establishment that he is a nationally viable candidate with a "path to victory." (Some polls, he said, suggested he could beat Donald Trump and Jeb Bush in one-to-one match-ups. "Can we defeat the Republicans? I think the answer is becoming more and more that we can.")
It's the new phase of a Democratic primary that continues to revolve around but never deeply interfere with the frontrunner candidate, Hillary Clinton, who roused the DNC audience into three standing ovations, still leads the field in polling, fundraising, and, her campaign revealed on Friday, in superdelegate support, too.
In Minneapolis, the primary still began and ended with Clinton. The response from Sanders, who has come closest in support to the former secretary of state, was a suddenly aggressive play for party credibility. "As our campaign progresses," he warned reporters, "you're going to see a lot of superdelegates" switch sides. Just 10 minutes earlier, Sanders said, one superdelegate had told him, "'Well, you swayed me. I'm on your side now.'"
Get behind me, he told delegates, and I'll show you a way to prevent the bruising losses of 2014. The party he has officially shunned as a senator is now the one he'll carry to overwhelming victory as a presidential nominee, according to Sanders. He pointedly spoke to Democrats as "we," tying himself to the party that's still not listed next to his name in the Senate directory.
"The Republican Party did not win the midterm election in November. We lost that election. They didn't win. We lost, because voter turnout was abysmally, embarrassingly low," Sanders said in his speech to the DNC hall. "Democrats will not retain the White House, will not regain the Senate or the U.S. House, will not be successful in dozens of governors' races all across this country, unless we generate excitement and momentum and produce a huge voter turnout."
As Sanders spoke, the assembled delegates from across the country — an audience of Democratic establishment figures — remained seated in the front, while rows of his campaign's supporters stood and cheered in approval toward the back of the room.
"With all due respect — and I do not mean to insult anyone here — that turnout, that enthusiasm, will not happen with politics as usual. The same old, same old will not work," Sanders said.
As he has throughout the campaign, Sanders pointed to his crowds as evidence he knows what he's doing. But where he's previously used that turnout to prove that an army of voters willing to vote for a socialist exists, in Minneapolis, he argued his youth support can help the Democratic establishment deliver voters in the demographic that stayed home in 2014.
"All across this country, we have drawn some of the largest crowds of this campaign, including many young people and working people who have not previously been involved in the political process," he said.
It was a striking turn to see the candidate who usually talks about "revolution" lean into talk about delegate counts and returning the oldest political party in the country to fighting shape. But the success that has seemingly surprised even Sanders has led him to seek bridges to an establishment he has previously eschewed. Sanders told reporters the Minnesota speech was his first address at a DNC meeting. Despite decades in progressive politics, Sanders said the only Democratic National Convention he's attended was in 2008. Nevertheless, he said, he strongly suggested he's a Democrat even if he's not officially listed as one.
"From a legal point of view… nobody can register in a Democrat in the state of Vermont," he said. "I vote in the Democratic primaries. I have helped elect some Democratic governors in the state of Vermont. I have been a member of the Democratic caucus from virtually the first day I was in the House and throughout my nine years in the Senate."
O'Malley, meanwhile, sought to recast himself as the true insurgent of the race, fighting back as a renegade.
When a reporter asked about the six Democratic debates — had the DNC stacked the schedule for Clinton? — O'Malley replied flatly, "Yes." His campaign signs, scattered across the Minneapolis Hilton, bore a new campaign slogan: "We Need Debate."
It's not a tough sell for the former governor of Maryland, who is firmly parked far behind Clinton and Sanders in public opinion polls. But in the past, O'Malley fully embraced the establishment, chairing the Democratic Governors Association, backing Clinton over President Obama in the 2008 Democratic race, and running a state for two terms. In Minneapolis, he suggested someone was pulling the strings in the Democratic Party and he was there to cut them. With the party leadership assembled around him on the dais, he essentially accused them of fixing the game so candidates like him don't have a shot.
O'Malley has been urging the Democrats for weeks to schedule more debates, saying the truncated calendar benefits Clinton. In Minneapolis, he ratched that rhetoric up in front of an audience of the party establishment.
"Four debates, and four debates only we are told. This is totally unprecedented in our party history. This sort of rigged process this has never been attempted before," he said. "Whose decree is this exactly? Where did it come from? To what end? For what purpose? What national or party interest does this decree does this serve? How does this tell the story of the last eight years of Democratic progress? How does this promote our Democratic ideas for making wages go up and household incomes go up again, instead of down?"
The shifts in tone mean different things for both Clinton opponents. For Sanders, a move toward the establishment Democratic Party is an attempt to legitimize a campaign with great grassroots success many Democrats see as a fluke or even potentially detrimental for the general election. If Sanders can convince even a few mainstream Democrats that he's the one to carry the party banner over the line next year, he can earn the institutional support he needs to be a serious threat to the front runner. For O'Malley, the willingness to take on the party establishment is yet another attempt to move his active yet so far largely unsuccessful campaign from also-ran to top tier status.
"Every year there's an inevitable frontrunner right up until the people get to vote," he told reporters. "And you always hear, circle the wagons, and all this or this stuff. And I don't believe that's best for our country. I don't believe that's best for our party."