LGBT Advocates Step Up Opposition To Obama Judicial Pick
The Human Rights Campaign is now formally opposed to Michael Boggs. But it's not clear if they'll hold it against senators who vote for his confirmation as a federal judge.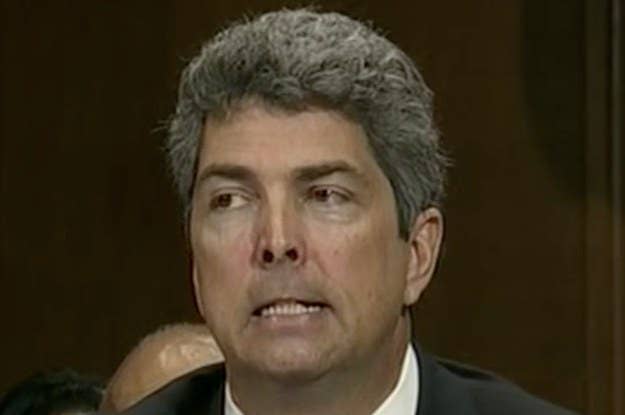 WASHINGTON — The nation's best-known LGBT advocacy group, the Human Rights Campaign, formally joined the progressive coalition calling for one of President Obama's picks for the federal bench to be scuttled by Democratic senators.
But it's not yet clear if HRC will score a vote for Georgia state judge Michael Boggs — whom Obama has selected to fill a seat on the federal bench — and penalize senators for casting it.
"HRC will encourage senators to vote no," spokesman Paul Guequierre told BuzzFeed in an email. "We do not score committee votes and will make a decision about a floor vote if/when one is imminent."
In a letter to Senate Judiciary Committee chair Patrick Leahy, Democrat of Vermont, HRC government affairs director David Stacy said Boggs showed a "clear record of hostility towards equality" in his time as a Democratic state lawmaker a decade ago and failed to explain his record at a contentious confirmation hearing Tuesday.
"Given the lifetime tenure of his proposed appointment, it is paramount that all questions regarding Boggs' ability to fairly serve all Georgians regardless of race, gender, sexual orientation, or gender identity be resolved prior to confirmation," Stacy wrote. "Yesterday's hearing failed to alleviate concerns surrounding this fundamental qualification."
HRC joins other LGBT advocates and progressive groups spanning the spectrum from reproductive rights advocates to civil rights groups in trying to derail the Boggs nomination, which the White House has continued to defend.
Boggs was selected out of a deal with Georgia's Republican senators to clear a slate of nominees past the so-called "blue slip" process, which allows a state's senators to effectively veto nominees to the federal court in their home states. A White House spokesperson reiterated its support for Boggs and again cast his nomination as key to filling vacancies on the Georgia court.
"Our choice is clear: do we work with Republican senators to find a compromise or should we leave the seats vacant?" White House spokesperson Eric Schultz said, repeating a previous quote about the nominee.