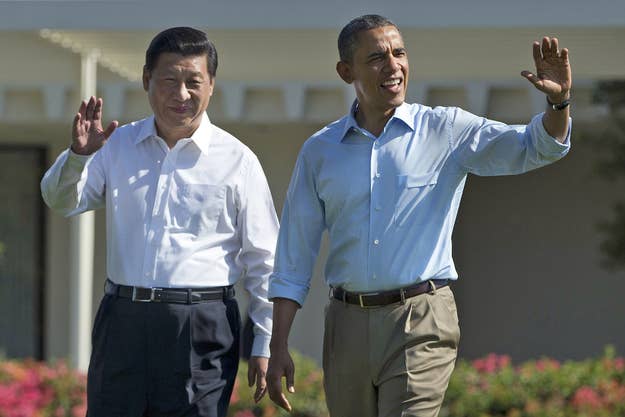 WASHINGTON — If President Obama wants Edward Snowden back in the U.S. to face trial, he'll have to rely on the Chinese government giving up a potential espionage goldmine to do it.
Snowden, the 29 year-old NSA contractor who came forward Sunday as the source of the massive intelligence leaks that dominated the news this week, popped up on Chinese turf in Hong Kong as Obama concluded a weekend with China's new leader Xi Jinping.
"The only thing I can do is sit here and hope the Hong Kong government does not deport me," he said. Snowden doesn't appear to have a long-term plan in place, but he did tell the Guardian he could see seeking asylum in Iceland. He said he chose Hong Kong in part for its "strong tradition of free speech."
When the United Kingdom returned Hong Kong to Chinese control in 1997, the city was granted a degree of autonomy that allows it to continue some of the democratic traditions established under British rule while joining with the Communist party-controlled Chinese mainland. That leads to some legal gray areas that Snowden appears hoping to exploit. For example, Hong Kong has a bilateral extradition agreement with the U.S. while China does not.
That agreement, which includes an exemption for "political" cases, was signed with Beijing's consent, the Guardian reported — and Beijing "also has a right of veto if it believes the surrender of a fugitive would harm the 'defence, foreign affairs or essential public interest or policy' of the People's Republic of China.
Hong Kong has cooperated with American authorities in some high-profile recent cases, such as when Hong Kong authorities captured and extradited the notorious immigrant smuggler known as Sister Ping.
But Snowden told the Guardian he's hoping Hong Kong will protect him from U.S. authorities for the time being.
There's little doubt U.S. authorities will want to get their hands on Snowden. A spokesman for the director of national intelligence Sunday referred questions "on any further specifics of the unauthorized disclosure of classified information by a person with authorized access" to the Department of Justice. Also Sunday, the Republican intelligence committee chair in the House and his Democratic counterpart in the Senate both called for the prosecution of the person behind last week's leaks.
But China may have two reasons to be reluctant to let Snowden go. For one, he has expert knowledge of American intelligence gathering methods. But he's also a remarkable political pawn for China in the global argument over the balance between human rights and government power; Chinese dissidents living under American protection have been some of the Communist regime's most strident critics.
The Snowden episode comes just as Obama is trying to build stronger ties with China. At a picturesque summit with Xi in California this weekend, both leaders said it was time for "a new model" for U.S.-China relations and reportedly found grounds for agreement on climate change and North Korea. Still, serious divisions between the two countries remain, particularly on espionage issues.
But then, China may also see the public relations value in handing over to the Americans a man who accuses the U.S. of being too much like China.
Update: Urður Gunnarsdóttir, spokesperson for the Iceland Foreign Ministry, told BuzzFeed the ministry has had no contact with Snowden. Citizenship questions are handled by the Interior Ministry, Gunnarsdóttir said.