Immigration Politics Play Out In Administration Statements Following Napolitano's Resignation
Both Napolitano and Obama talk about making the immigration system "fairer."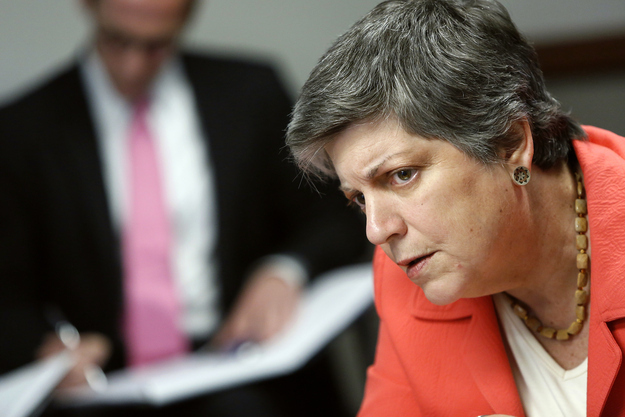 WASHINGTON — The departure of Homeland Security Secretary Janet Napolitano Friday quickly turned into another chance for the Obama administration to push for comprehensive immigration reform.
Both Napolitano and President Obama mentioned immigration in their official statements on the changes at DHS, and both used similar language charged with the politics of the ongoing debate in Washington.
"The Department has improved the safety of travelers; implemented smart steps that make our immigration system more fair and focused while deploying record resources to protect our nation's borders," Napolitano wrote in her statement announcing her departure.
Obama's statement had very similar language.
"Since day one, Janet has led my administration's effort to secure our borders, deploying a historic number of resources, while also taking steps to make our immigration system fairer and more consistent with our values," Obama said.
Though contained in the boilerplate language of most resignation day statements, the lines about immigration were a clear statement to Republican opponents of comprehensive reform who are threatening to kill any chances of it passing in the House this year. Anti-reform hardliners have said they don't trust Obama to implement new border security plans without having a "trigger" that forces him to do it before a pathway to citizenship for undocumented immigrants opens up. Many opponents don't want a pathway in any case, but saying they don't "trust" Obama with border security has proven a winner with the Republican base.
In the statements, Napolitano and Obama take aim at this line of reasoning, referring to the increase in border patrol agents and a record number of deportations during his presidency.
At the same time, the president enjoyed overwhelming support from the Latino community in the last election thanks in part to his unilateral implementation of a DREAM Act-like policy preventing the deportation of young people brought to the United States as children by their undocumented parents. House Republicans have voted to reverse that policy and once again deport so-called DREAMers.
Polls have shown a majority of Americans support the DREAM Act as well as immigration reform similar to the bill passed in the Senate. The White House has long said Obama is on the right side of this debate – that's where the "mak[ing] our immigration system fairer and more consistent with our values" comes in.
Senate hearings after Obama announces Napolitano's replacement will no doubt feature a lot of talk about immigration reform. The White House started making it's case before Napolitano had formally left her position.