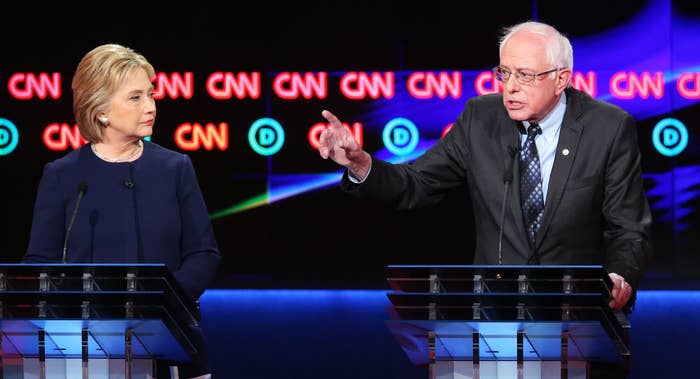 FLINT, Michigan — Bernie Sanders is authentic. He is who he is. And no matter how sharp the elbows got at the sixth Democratic presidential debate here Sunday night, the tone was nothing compared to what debates are like on the Republican side.

So went the Sanders campaign defense to accusations from Hillary Clinton's surrogates that Sanders' debate performance was "disrespectful" and "cringeworthy."
"I think Bernie was being himself, I think he's a real person," said Tad Devine, Sanders' top strategist. "Some people may not like the way he wags his finger. That's who he is. But we're not going to try to change anything about him. Because I'll tell you, the thing that's connecting with him is his honesty, his authenticity, and the fact that he his who he is."
The debate in Flint started on a very serious, but agreeable note: Moderators posed numerous questions of the Democratic candidates for president about Flint's water crisis, what can be done about it, and who needs to be held responsible for the lead in the city's water. Clinton and Sanders made mostly the same points about Flint — calling for the resignation of Michigan Gov. Rick Snyder, promising government aide to help the city lay new water pipes, and vowing to push investigators to root out any connections to the crisis in the federal government.
Michigan is a very important state to the Sanders campaign, one where the candidate has sought to draw some of his sharpest distinctions with Clinton. Sanders came ready to spar, and so did Clinton. It wasn't long before things got testy, and Sanders expressed the first of several frustrations at Clinton's comments.
"Excuse me," Sanders said after one Clinton interruption. "I'm talking."
Clinton allies were quick to compare the moment to infamous debate missteps by men facing Clinton on stage — Rick Lazio's pledge from the 2000 New York Senate race and President Obama's "you're likable enough, Hillary" exchange from 2008. (It's worth noting some commentators and supporters already accused Sanders of having a "likeable enough" moment against Clinton at a debate last month.) One pro-Clinton group quickly cut a video with tweets criticizing the exchange.
There were a couple more tense moments during the debate. Shortly after "excuse me," Sanders told Clinton, "Wait. Could I finish? You'll have your turn, all right?"
Near the end of the debate, there was another exchange. "Can I finish, please? All right?" Sanders said during a debate over guns.
The Sanders team rejected the idea that their candidate had crossed the line.
"No, not at all. Not in any way whatsoever," Devine said. "I think it was a very respectful debate between the two of them; I think it stands completely different from the circus that has gone on on the Republican side."
Larry Cohen, former president of the Communications Workers of America union and no stranger to sharp-elbowed rhetoric, was a Sanders booster spinning for him after the Flint debate. He also said there was nothing wrong with Sanders' tone.
"I don't think the style is what most people care about. It's much more the substance," he said. "I think his style is fine. I don't mind hers either, honestly."
Sanders campaign manager Jeff Weaver was asked by a reporter how he thought voters would respond to clips of some of Sanders' testier moments of the night given that they would get a lot of attention.
"The issues that people were talking about tonight are critical issues in places like Michigan," Weaver said. "These are very serious issues. I think Anderson Cooper kind of got exasperated at a lot of points in the evening and hopefully they play those too."
Former NAACP president and CEO Ben Jealous, meanwhile, said Sanders' apparent impatience with Clinton stemmed from what he said was Clinton's tendency to take up more than her allotted time. "What we saw was Secretary Clinton kept talking over her time. Both candidates owe each other respect in keeping to their time," he said.
Symone Sanders, Bernie's national press secretary, said the tenser moments were because the debate was a vigorous one about the issues people in Michigan care about — specifically, getting his point across on Clinton's record of supporting trade agreements that devastated communities like Flint.
"It was two candidates intent on sharing their views with the American people," she said. "So yes, he wanted to make his points."