Hispanic Group: We Don't Trust White House Deadlines On Spanish-Language Obamacare Site Anymore
A holding pattern at National Council of La Raza.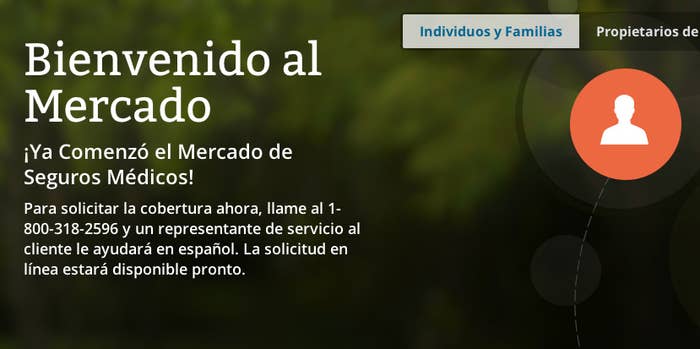 WASHINGTON — When users visit CuidadoDeSalud.gov, the Spanish version of the Obamacare exchange website, they can't start an application, browse providers, or buy insurance. The site, effectively a placeholder, doesn't work — and nobody seems to know when it will.
Now one of the largest Latino advocacy organizations in America is voicing frustration with the White House for the failure, with one official there telling BuzzFeed she no longer trusts the administration's promises to deliver the site by their own deadlines.
"We have been given dates before," said Jennifer Ng'andu, health and civil rights policy director at National Council of La Raza. "So right now we're not so focused on the dates because I think we understand that this is much more tied to the English-language website."
"For us, if we communicate a date [that] is expected to the community and that doesn't happen, we're going to create more distrust about this system within the community," she said.
Unlike with the English-language exchange, which has experienced major problems but has at least launched all of its basic features, visitors to the CuidadoDeSalud.gov currently can only view educational literature about the program — not buy insurance, or even start an application.
Ng'andu said the administration's timeline for when the Spanish-language exchange will fully launch has been difficult to determine. "Information is imperfect," she said, when asked what the White House has been saying about the site.
Latino outreach was and will be a core component of the Obamacare rollout. Before the bumbling launch of HealthCare.gov on Oct. 1, White House officials repeatedly emphasized to reporters the importance of Latino participation. The success of the health care law depends on younger, healthier Americans to enroll in health care insurance to keep costs down; Latinos (a significant portion of whom speak Spanish) are expected to provide a big chunk of the younger enrollees.
But more than a month into the enrollment process, Ng'andu said, Latino outreach has been slowed by the lack of a Spanish-language website and other problems, such as difficulty getting Spanish-speaking application counselors, who assist people using paper applications, certified.
The problems have left NCLR and other groups eager to help Latinos enroll in health insurance in a holding pattern. Ng'andu said Latino groups remain some of the most active supporters of Obamacare, but they worry the lack of a Spanish-language website and the other problems could stand in the way of the law's success.
"I'm starting to see it among all the people that I know, there are a number of people that are increasingly fatigued. They don't think that the websites are working," she said.
"And even though the website load times on the English side are I guess improved by something like 80%," she continued, "I think at this point there's a lot of people who have become frustrated by the process and have no idea what is their ability to move through it, and so have maybe not completely given up, but they've given up for now."
CuidadoDeSalud.gov, the Spanish-language version of HealthCare.gov, is online and can direct enrollees to state-run exchanges, if they live in applicable states. But unlike the English-language version of the site, the Spanish site tells users online enrollment in the federally run exchange will be "available soon." Just when that is exactly is anybody's guess, according to Ng'andu.
The Obama administration initially delayed launch of the Spanish-language system in September, promising to have it up and running by the middle of October. But that date came and went without progress on the enrollment function. Marilyn Tavenner, the head of the Centers for Medicare and Medicaid Services, told Congress last week that the Spanish-language site would be fully functional by the end of November.
When asked about the timeline for the site's full launch, a spokesperson for the HHS Center for Medicare and Medicaid Services directed would-be enrollees to the phone and in-person options.
"Consumers who would like to enroll in health insurance in Spanish today are encouraged to use the Spanish-language enrollment options that are already available at 1-800-318-2596, and through in-person assistance in communities across the country," the spokesperson said. "Additional features for online enrollment will be available as we make upgrades to the site."
At a Senate hearing Wednesday, HHS Secretary Kathleen Sebelius suggested testing on the Spanish-language site is not complete.
"We knew we had features in the system, which we had chosen not to apply from the outset," she said. "The shopping feature, the Spanish website — again, those need to be tested before the system can be fully authorized."
CMS notes that the educational resources on the Spanish-language Obamacare site are working, as are live web chats. More than 65,000 calls in Spanish have been fielded at HHS call centers, according to CMS. The Obama administration expects the vast majority of Latino enrollees will apply in English, and its their research shows that potential Latino enrollees will prefer to apply for health care through an in-person conversation with a so-called Navigator.
NCLR and allied groups tried shifting their focus to paper applications and in-person help, Ng'andu said, but soon learned the lack of a working Spanish-language website wasn't solved by paper.
"At first we weren't clear if you could do it end-to-end, and now we know you really just can't do it end-to-end, whether you're calling on the phone or enrolling in paper or submitting your application by mail," she said. "We've had to recalibrate that message just a little bit just so people know they can start the enrollment process, but it's going to take some time before they can get enrolled."
In the end, the lack of Spanish-language online enrollment — and the lack of clarity on when that system will be online — is taking a toll on Latino outreach programs, Ng'andu said.
The uncertainty has left Ng'andu's organization and similar groups holding back some outreach plans, preparing to launch them when a smooth enrollment process is online. Ng'andu said they just don't know when that date will be.
"We can't afford to lose this option for the Latino community. The Latino community has been fundamentally underserved by health care as it exists today. They don't have he same offers, and employer-based coverage. And so this new option is really important," she said. "Obviously things like not having the Spanish-language website up have frustrated the situation."