Heritage Immigration Implosion Could Pull In More Anti-Immigration Scholarship
Conservatives face questions over the people they're relying on to support their opposition to immigration reform. One says Hispanics have a lower IQ than "native white Americans." Another says pregnant women shouldn't be allowed in the US.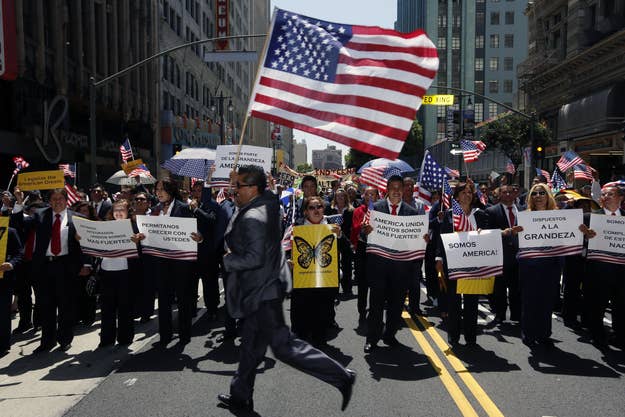 WASHINGTON — Pro-immigration conservatives warn a Heritage Foundation scholar's dissertation claim that Hispanic immigrants are genetically predisposed to be less intelligent than "native white Americans" is just the tip of the iceberg, arguing opponents have allied themselves with pro-abortion environmentalists, xenophobes and other questionable scholars.
Heritage officials distanced the group from Jason Richwine after his past scholarship was revealed Wednesday. In a lengthy statement posted to the Heritage website, spokesperson Mike Gonzalez said that Richwine's past work was no reflection on Heritage, and that his views on race and IQ were not part of the Heritage study finding immigration reform would cost American taxpayers more than $6 trillion in the long run.
But pro-reform Republicans say Heritage shouldn't get off that easily, and that Richwine's past statements have seriously undermined his work for the conservative think tank.
"I'm glad that Heritage distanced themselves from those particular quotes and his particular work, but the fact is [Richwine] is there, and you know unless they get rid of him he's going to keep writing about this stuff and he's going to keep writing about it with this worldview. And I don't see how it can't impact the study he co-authored [for Heritage] because basically in that, they assume that all 11 million immigrants are going to remain poor and their kids are going to remain poor," Mario Lopez, president of the GOP-leaning and pro-reform Hispanic Leadership Fund, told BuzzFeed. "It's no wonder they assume that if they think that these people are too stupid to do anything else. It absolutely has an impact on the way we should look at that study."
Pro-reform conservatives told BuzzFeed Heritage's study is now too hot too handle.
"I can't see how any serious Member of Congress can cite any piece of this study, lest they endorse discredited static methodology and the idea that immigrants are incapable of upward mobility," said a senior official at one pro-reform group. "This study is not deserving of the Heritage Foundation's endorsement. Heritage has a reputation of sound, credible, conservative policy analysis; the Rector/Richwine piece reflects none of this."
Richwine is not the only scholar conservative immigration opponents in the current debate have relied on and who've published eyebrow-raising views in the past. The Heritage Richwine snafu will bring fresh scrutiny to other scholars, immigration advocates said.
"Now everything that Richwine has ever been associated with is now tarnished," said an official at another pro-reform, conservative-leaning group. "And now every other scholar is going to be under a microscope."
Two leading voices from the Center for Immigration Studies — an anti-immigration thinktank that traces its roots to John Tanton, a Michigan doctor and member of the zero population growth movement who founded chapters of Planned Parenthood and the Sierra Club while writing about the dangers of an end to America's "European-American majority" —have been a big part of opposition to immigration reform on Capitol Hill. Supporters of reform have long tried to make CIS scholarship toxic, and therefore irrelevant, in the debate but up to now they have failed and CIS remains a big part of immigration in Washington.
Sen. Jeff Sessions, Republican from Alabama, hosted a conference call with CIS Research Director Stephen Camarota to oppose comprehensive reform. Last month, both Camorata and CIS Executive Director Mark Krikorian tesified before a Senate Judiciary Committee hearing on immigration reform.
Both Camarota and Krikorian have said things pro-immigration groups call at best extreme and at worst racist. Camarota told a conservative radio show earlier this month that a class of "professional ethnics" (he was answering a question about Attorney General Eric Holder at the time) are trying to "balkanize the country" by calling for rules allowing non-English speakers access to ballots and other government documents. President Obama has called for applicants to "learn English" as part of a pathway to citizenship for undocumented immigrants already in the United States.
Krikorian regularly writes for National Review about immigration and other topics. In 2009 he wrote, "While in the past there may well have been too much social pressure for what sociologists call Anglo-conformity, now there isn't enough." Krikorian's views on regulating immigration are far beyond those of mainstream Republican opposition to comprehensive reform. In 2010, he told told ABC News that it should be US policy to deny pregnant foreign women entry to the country, lest they give birth to new American citizens by having their babies on U.S. soil.
Sessions' office did not respond to multiple requests for comment on Krikorian's and Camarota's past statements.
After Richwine, immigration supporters say scholars like Krikorian and Camarota will become a liability for anti-reform conservatives.
"I predict Richwine will be the straw that breaks the camel's back," said Frank Sharry, founder of America's Voice, a pro-reform advocacy group that often supports Democrats. "It will force opponents to distance themselves from the ugly influence of white nationalism that has infected the opposition for too long or marginalized it further for not doing so."
The senior official at the conservative reform supporting group was quick to draw a line between CIS and its affiliated groups and Heritage, but said it was time for fresh scruitiny.
"I wouldn't lump Heritage in with CIS, NumbersUSA, and FAIR -- Heritage is actually a productive member of the conservative movement," he said. "The others are population control zealots who dislike newborn babies just the same as they dislike immigrants. But perhaps those using Tanton talking points to inform their views on this issue should scrutinize the founding motivations of these anti-immigration groups."
Pro-immigration conservatives have tried to turn CIS into a liability before. No matter how many stories and op-eds get written about CIS (and they get written often), the group and its leaders remain a central part of the anti-reform cause. Lopez came under fire from anti-reform voices after he wrote a long essay tracking the historical ties between groups like CIS and the zero population movement, which supports abortion rights. Krikorian accused Lopez of "Borking" anti-immigration conservatives and said his group "has never taken, and will never take, any position on abortion or euthanasia — or on the flat tax or defense spending either, for that matter."
But Lopez said conservatives are now ready to be critical of the scholars whose work is being used to drive anti-immigration conversations in the Republican Party.
"There are more people on the right this time who understand exactly who those folks are and what their views are and how politically damaging it is to be in bed with folks whose fundamental interests lie in direct conflict with conservative principles," "If some folks disagree with the Rubio bill for whatever reason, you know, that's fine. I might disagree with them but that's a reasonable position that's defensible. What's not defensible is burying your head in the sand and saying, 'oh, it's OK that CIS and FAIR and NumbersUSA are population control groups because I happen to agree with them on immigration.' I think that's not an intellectually honest approach."