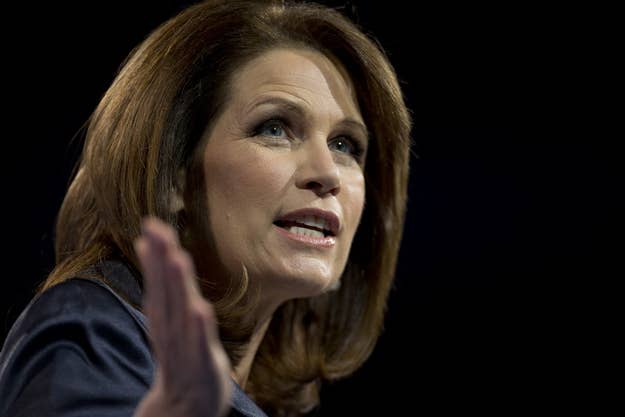 Michele Bachmann isn't running for re-election but that doesn't mean Democrats won't run against her.
Her announcement was a little bittersweet for Democratic groups who have long used Bachmann's out-there comments to build up e-mail lists, aggressively fundraise, and denounce her House colleagues.
But it was especially tough on Adam Graves, the son of businessman Jim Graves — the Democratic candidate who was gearing up for a rematch with the Republican firebrand. A little bit of the wind went out of the younger Graves' sails early Wednesday morning when Bachmann's YouTube video appeared. Adam got his first taste of electoral politics when he served as his dad's 2012 campaign manager, and he helped lead his dad to a narrow defeat. Adam is convinced they would have won in 2012 if he had "a week or two more," and he was excited to take on Bachmann again, this time as an out-of-state senior advisor to his dad's second run for Congress.
Now he won't get the chance.
"Part of me certainly was [hoping for a rematch]," Adam told BuzzFeed from his new home in Denver. "I'm not the candidate, I'm the candidate's son and there's no question that some of the thrill that I personally had in, you know, jumping into political arena had something to do with the fact that we were challenging one of the most outspoken members of the Tea Party."
"And, you know, I think that some of that thrill is gone, no doubt," Graves sighed. "But I think that my father has a lot to contribute to the problems that the country and the people of this district are facing. And so I think, by and large, nothing really changes."
Graves said he spoke to his father after Bachmann's video dropped and said Jim Graves was "a bit relieved" Bachmann left the race, but added that Jim wasn't running to defeat Bachmann. Like other Democrats, Adam said that Bachmann's mark will be left on the race after she quit.
And national Democratic groups showed no signs of letting up Bachmann.
A Wednesday morning press release from the Democratic Congressional Campaign Committee indicated the play moving forward.
"Michele Bachmann's Tea Party brand of extremism and obstruction have infected the entire Republican Congress, and her influence shows no signs of waning," said Emily Bittner, spokeswoman for the DCCC. "This Republican Congress will continue to turn off Americans of all political stripes because they're using the Bachmann playbook: put politics before solutions. The American people will now watch Republicans in Congress compete over who can be the most extreme and most radical to take Bachmann's place pushing forward their extreme agenda."
The DCCC also posted an online "petition" asking supporters to enter an email address to say "Bye Bye to Bachmann."
"Michele Bachmann just announced she's quitting Congress. Good riddance! Tea Party conspiracy theories, shady ethics and ridiculous attacks on President Obama. We're not going to miss her one bit," the site read.
The House Majority PAC, a Democratic money group, put Bachmann squarely in its sights in 2012 and prepared to spend big a second time to defeat her next year. The PAC had already invested in the race and staff was in the midst of preparing their plan of attack against Bachmann when they heard the news she was bowing out. And there was some sadness as the group prepared to say goodbye to the Tea Party lightening rod.
Andy Stone, the PAC's spokesperson, told BuzzFeed he was "a little" disappointed that his group won't get a chance to take Bachmann on at the polls. "But it's still a satisfying outcome."
Stone said his group will still get to run against Bachmann next year even if she's not a candidate for office.
"The ghost of Michele Bachmann will continue to haunt the GOP field," he said. Stone said Bachmann helped drive her party "far to the right," and the legacy she left as one of the tea party's central figures will feature prominently in the Democrats 2014 plans. In its official statement on Bachmann's decision, the PAC said it was still committed to Democratic candidate Jim Graves, who Democrats hoped would be their champion against one of the party's favorite enemies.
Democratic strategist James Carville said on Morning Joe the retirement was "a sad day" for Democrats, who love to use Bachmann's quotes.
At the White House, a visibly amused Press Secretary Jay Carney bid Bachmann — who had accused the administration of harboring Muslim Brotherhood infiltrators among many other things — farewell.
"I came to the briefing room from the Oval Office, from a meeting and I can tell you that that subject did not come up," Carney said when asked about the president's reaction to Bachmann's retirement. "We all wish her well in her future endeavors."
Bachmann's retirement was surprising. Although she had been dogged by ethics investigations over her brief presidential campaign, and won her house seat by a razor thin margin in 2012, she was still aggressively fundraising. She had started to run ads in her district two weeks ago, a remarkably early start to the campaign cycle.
In a video announcing her retirement, Bachmann said that she did not make the decision because she was worried she would lose.
"I have every confidence that if I ran, I would again defeat the individual who I defeated last year, who recently announced he is once again running."
The IRS admission that they had targeted conservative groups for extra scrutiny had also invigorated Bachmann, who drew out dozens of activists and high profile congressman for a press conference on the scandal. The Republican leadership used Bachmann's bill repeal Obamacare, giving her a symbolic legislative boost. Her Tea Party Caucus, long dormant in the House, was also showing signs of revival.
Bachmann maintained a large national following, but had trouble moving up in the House ranks. She had few real allies and was at times a headache to leadership. She was widely ostracized by Republicans, including House Speaker John Boehner, for pushing an letter with other Republicans suggesting that Huma Abedin, a top aide to then-Secretary of State Hillary Clinton, had ties to the Muslim Brotherhood.
But Republican leaders had begun to come back around to Bachmann. Senate Minority Leader Mitch McConnell briefly appeared at her IRS press conference and Boehner tweeted farewell to Bachmann, calling her a "courageous voice for freedom."
A Democratic aide, referencing to an incident where CNN's Dana Bash chased Bachmann down a hallway, said they would miss her. Kind of.
"While we'll miss watching reporters chase down Michele Bachmann to account for her lies, we'll enjoy watching House Republicans compete for her donors, her audience and her outrageousness," the aide said.