Democrats Can't Figure Out Exactly How To Attack Bernie Sanders For Being A Socialist
But it hasn't stopped them from trying.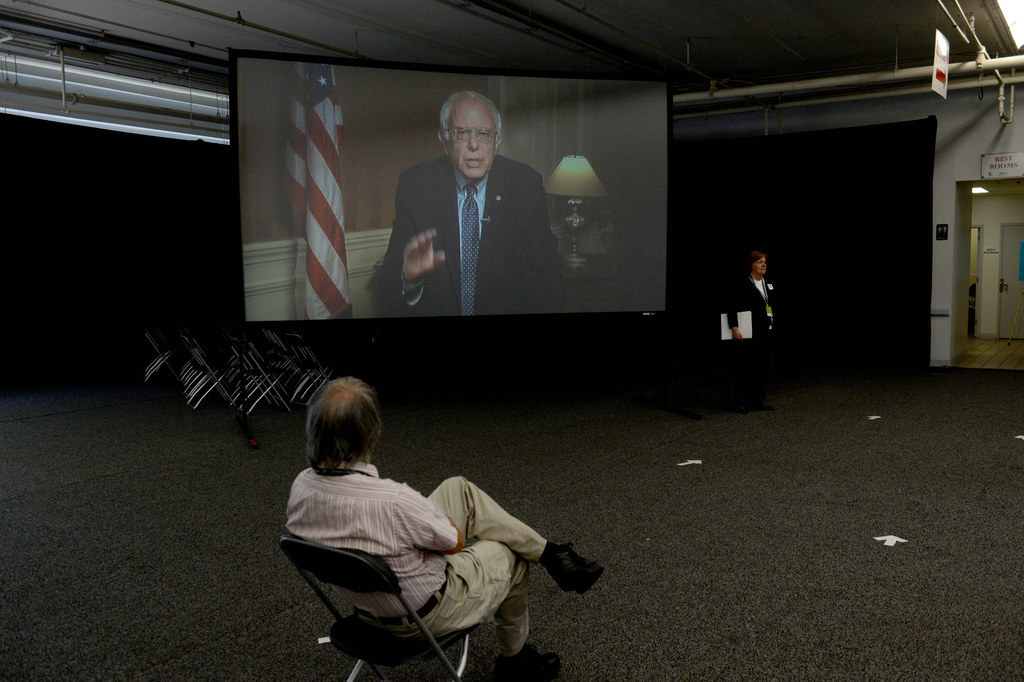 LAS VEGAS — It's another unlikely story in an election of unlikely stories: Democrats can't figure out how to criticize Bernie Sanders for his constant declarations of socialism.

"I am not a capitalist," he said over the weekend in an interview with Chuck Todd, broadcast from one of the "corporate media" networks Sanders constantly rails against to viewers in a country known for its capitalism.
This isn't a broadly popular position: A full 50% of the country in one poll said this summer they wouldn't vote for a socialist — the highest percentage of any of the options provided by Gallup. On the trail, though, Sanders has continued to embrace the "Democratic socialist" label.
"What Democratic socialism means to me is having a government which represents all people, rather than just the wealthiest people, which is most often the case right now in this country," he told a crowd in New Hampshire in September. "It is making sure that all of our people have health care as a right, education as a right, housing as a right, childcare as a right. That's what I believe. If they want to throw it at me, fine."
His opponents really do seem to want to throw it at him, but they just can't seem to find the right angle. Back in June, Missouri Sen. Claire McCaskill, a surrogate for former Secretary of State Hillary Clinton, took her shot at casting Sanders as, in her words, too "extreme" to be the Democratic Party's standard-bearer.

"He would like to see Medicare for all in this country," McCaskill told Morning Joe. She lamented that Sanders "would like to see expansion of entitlement." She attacked him for being "frankly, against trade. Against a lot of things in this day and age."
But those positions aren't unpopular in the Democratic Party these days. And that's, perhaps, the problem as other Democrats try to puncture Sanders's support.

"Sen. Sanders is not exactly a lovable character, so I am not so sure it has much to do with him," Jim Manley, former top communications strategist for Sen. Harry Reid, told BuzzFeed News. "It's more indicative of where some in the base of the party are right now."
Clinton, for instance, has come out against both so-called "fast track" trade negotiation authority and the White House's Trans-Pacific Partnership trade deal — two positions that put her in Sanders's pro-labor, pro-progressive camp.
Last week, in an off-the-wall interview with CNN's Chris Moody, former Maryland Gov. Martin O'Malley tried to explain the difference between Sanders and him.
"I don't believe the big banks on Wall Street should be able to run roughshod over the common good of our national economy and I believe our federal government has a role to play in preventing that," he said. "On the other hand, I don't believe the federal government should nationalize our banks. I don't believe the answer to every question is to create a federal monopoly."

O'Malley has said the federal government should break up the so-called Too Big To Fail banks. That's similar to Sanders's stated policy goals, too — he's already filed legislation in the Senate to split up large banks.
Sanders has not, however, publicly called for nationalizing banks on the presidential campaign trail, and the O'Malley team sought to distance him from the CNN comment. An aide told BuzzFeed News O'Malley was speaking "facetiously" in the CNN piece, which was a serious interview with a tongue-in-cheek theme. The campaign embraced the interview, however, blasting it out to reporters the day it posted online.

The Sanders campaign declined to comment on the record about O'Malley, but they have publicly enjoyed the leftward tilt of Clinton.
"What's next? Will she call herself a democratic socialist?" Sanders spokesperson Michael Briggs told MSNBC after Clinton embraced Sanders' call for a ban on privately-run prisons.
Vice President Biden, who may or may not be a candidate for president and most definitely will not be on the debate stage Tuesday night, took a more indirect path toward separating himself from Sanders's socialism, while also sticking close to the wealth inequality message that has driven much of Sanders' success.

"If you take a look at everyone from the IMF to Standard & Poors, the greatest concern they have about economic growth is the concentration of wealth," Biden told an audience in New York City. "Listen, I'm not Bernie Sanders. He's a great guy, by the way. No, he really is. I'm not a populist. But I'm a realist."
This may be the path candidates have to walk against Sanders Tuesday night — keeping their distance in a vague way while sticking close to his policy prescriptions. Manley said that kind of rhetoric is right for the current Democratic base. But he also expressed doubts about how far "socialism" can go in the election.

"They don't think they are getting a fair deal — the rich keep on getting richer, they are pissed off and want someone to fight for them," he said of the Democratic base. "And while the socialist label may not scare them off, I am still not convinced it will play well to a the party as a whole."