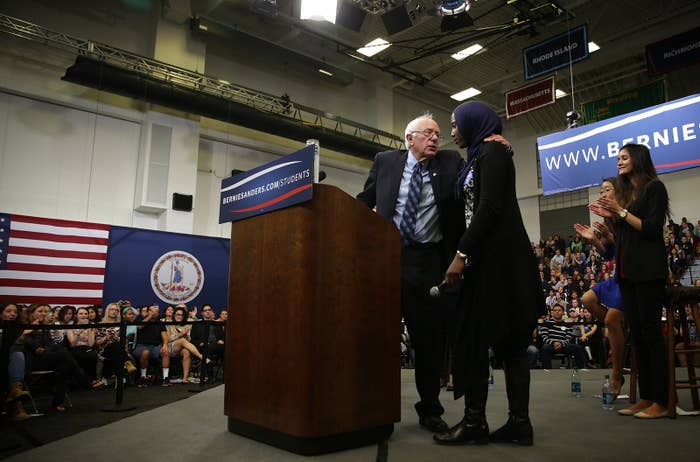 FAIRFAX, Virginia — Bernie Sanders's campaign manager isn't backing down from a pointed jab at former Secretary of State Hillary Clinton over the weekend that led Clinton boosters to call him "condescending" and sexist.

But as the jabs flew between Clinton supporters and backers of Sanders, Jeff Weaver, his campaign manager, said the Sanders campaign is ready to put the negativity genie back in the bottle.
But, he said, that is up to Clinton.
"They launched a vicious attack on us, we let them know that we're not going to be a punching bag, and now we're ready to resume important issues facing the country," Weaver told BuzzFeed News in an interview. "Hopefully that's how we'll proceed from now until the convention."
Earlier Wednesday, Clinton supporters were offended by a quote Weaver gave a reporter over the weekend in Iowa. During the Jefferson-Jackson dinner on Saturday night, Sanders debuted a speech that focused on Clinton directly. The speech rankled Clinton supporters and led to charges of hypocrisy for a candidate who promised over and over not to run a negative campaign. During a late-night pizza session with Bloomberg's John Heilemann after the speech, Weaver got snarky when talking about Clinton.
"Look, she'd make a great vice president. We're willing to give her more credit than Obama did," he said. "We're willing to consider her for vice president. We'll give her serious consideration. We'll even interview her."

Heilemann reported the comment was "at least half-joking." Clinton supporters bristled. Allies of the Democratic frontrunner were quick to suggest the quote had at least a sexist tinge.
"Condescending insult by a team who knows better," tweeted Stephanie Shriock, president of EMILY's List, a Democratic pro-choice women's group supporting Clinton. "Hillary is possibly most qualified ever to run & Americans know it."
The line could be a turnoff for a campaign trying to dramatically expand its base in the ever-shortening primary calendar, said others.

"Not sure a comment like that will win them any new votes, particularly female votes," Stephanie Cutter, President Obama's 2012 deputy campaign manager, wrote in an email.
Weaver dismissed the sexism charge.
"It certainly, I think, could be interpreted as edgy or snarky but nothing more," he said.
Weaver, like other Sanders officials of late, said charges of sexism from Clinton supporters will be met with stern resistance.
"When we are the subject of attacks and innuendo from a super PAC that is openly coordinating with the Clinton campaign, when the opposing campaign is going to level accusations of sexism against the senator, which have been widely criticized in the media and condemned, I think it's important for people to know that we are not just going to take those attacks and be a punching bag for the Clinton campaign," he said. "It's just not what we are going to do. They launched a vicious attack on us, we let them know that we're not going to be a punching bag and now we're ready to resume important issues facing the country."
This is the message Sanders and his campaign are trying to project: We want to run the weedsy, long-stump-speech, feel-the-bern, issue-focused campaign we started running, but if Clinton and her team throw a punch we're going to throw one back.
Sanders, who has run hard on a self-described history of never running a negative campaign ad, drew a distinction between pushing back on attacks coming his way and using barbs to focus in on areas where he and Clinton are divided.
"If I am called a sexist, for example, or other charges are made against me, we will respond forcefully. Of course we will, to defend ourselves," Sanders told CNN Wednesday. "And we will very forcefully express our disagreements with Secretary Clinton on Wall Street, on the USA Patriot Act, on the death penalty, on issues where we disagree. That's called politics."
On Wednesday night on the Fairfax, Virginia, campus of George Mason University, the Clinton focus was largely absent at a nationwide digital college town hall. A handful of area college students introduced Sanders, and a couple took veiled shots at Clinton while reading from prepared remarks. ("Only one candidate has been consistent in his support for the LGBTQ community," said one, echoing a Sanders campaign line.)
Sanders, for the most part, steered clear of Clinton, save for a section of his standard stump speech about his vote against the Iraq War she initially supported that has been part of his remarks for months. The highlight of the event was policy, not rhetoric, with Sanders debuting a push to end the federal prohibition on marijuana he said would serve to dramatically improve racial disparities in the country.

The highlight moment of the event was not a Sanders jab at Clinton but a moment when Sanders hugged and kissed a self-described Muslim-American student who delivered an emotional speech about the way her faith is often treated in American political discourse. Sanders pledged to work to end racism as president, and delivered an especially Sanders-esque lesson on how the economically powerful use prejudice to divide the working class.

Weaver insists this is the campaign Sanders, and the rest of his team, want to run. Senior aides, Weaver among them, are quick to say Sanders has "great respect" for Clinton and that they don't want to be talking about anything else than the issues in that deep-dive Sanders way.
He puts the blame for the amped-up rhetoric at the feet of Clinton and said it's possible to put the sharp-elbowed genie back in the bottle.
"We have controlled the agenda in this campaign, I think it's fair to say the other side has controlled the tone," he said. "We hope that tone returns to the kind of civil discourse on the issues we've been looking for the whole time."