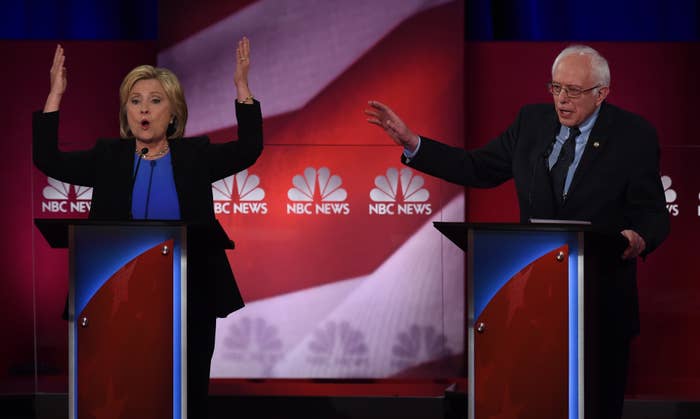 CHARLESTON, S.C. — It took eight amicable months and three other debates. But elbows, sharp at long last were finally thrown. Jabs were landed. Blows, exchanged. Barbs, traded. The gloves, as they say, came off. On Sunday night, with millions watching, here it was: a real race in the Democratic party.
The debate between Hillary Clinton and Bernie Sanders, Democrats' last before the caucuses and primaries begin, featured mostly policy clashes and none of the insult that plays on Republican stages. But after two weeks of more aggressive rhetoric from both of their campaigns, the candidates came ready to draw sharp contrast with each other. Sanders, as he has throughout the campaign, cast Clinton as too close to Wall Street. Clinton said Sanders was too conservative on gun control and idealistic about health care.
Clinton and Sanders took the NBC News/YouTube event as an opportunity for both candidates to escalate their attacks from the campaign trail. The clashes came early and often.
When the subject was gun control — a topic where the Clinton campaign has hammered Sanders over votes that clashed with the desires of the gun safety left — Sanders said Clinton was purposefully telling lies about his record.
"I think Secretary Clinton knows that what she says is very disingenuous," Sanders said.
Clinton repeated mentions of Sanders's vote against the Brady bill and his support for a special legal protection for gun manufacturer (which Sanders backed away from the day before the debate).
"Look, I have made it clear based on Sen. Sanders' own record that he has voted with the NRA, with the gun lobby numerous times," she said.
The relatively civil Democratic primary has, in the span of just weeks, become a relatively uncivil affair. For the first six months of the race, Clinton barely uttered Sanders' name. Now, she and her aides regularly target Sanders in statements, on press calls, and at events. He is, they've argued, a tool of the gun lobby and a "socialist Democrat." (Sanders calls himself a "Democratic socialist.") Reportedly, one Clinton booster, David Brock, even raised the issue of Sanders's health.
Sanders has always been happy to ding Clinton on a set of limited issues, such as her vote in favor of the Iraq War and her large-dollar donor base. In the last month, though, he and his allies have stepped up attacks in tandem with Clinton: A new ad casts Clinton as dangerously close to the Wall Street community, and on Sunday, a top surrogate, Cornel West, accused Clinton of "fetishizing" guns to distract voters from economic inequality.
On Sunday, the candidates took that new focus on each other to the debate stage.
In prior debates, the most memorable moments were when Sanders and Clinton got along. Sanders telling Clinton "the American people are sick and tired of hearing about your damn emails" was the top Twitter moment of any debate, Republican or Democratic. Official Twitter debate stats released by the company last week revealed the moment had the highest "Tweets per Minute" rate of any moment in the 2016 debate cycle. At the December debate in New Hampshire, the takeaway moment was Clinton graciously accepting Sanders's apology for a Democratic Party data breach in which Sanders aides accessed proprietary Clinton field data.
Sunday's debate in Charleston will have a different legacy. The top two candidates in the nomination race clashed several times.
The first was over gun control, an issue where Clinton has used Sanders' voting record to cast him as a friend of the NRA. Sanders called it a cynical move.
"I think Secretary Clinton knows that what she says is very disingenuous," he said.
Martin O'Malley, previewing a move he would repeat throughout the night, jumped into the fray between Sanders and Clinton on guns to cast himself as the real alternative choice.
"I've listened to Secretary Clinton and Sen. Sanders go back and forth on which of them has the most inconsistent record on gun safety legislation and I would have to agree with both of them," he said. "They've both been inconsistent when it comes to this issue."
Wall Street, Sanders's favorite political turf, was the scene of the his toughest attacks on Clinton.
"Can you really reform Wall Street when they are spending millions and millions of dollars on campaign contributions and when they are providing speaker fees to individuals?" Sanders said. "So it's easy to say, well, I'm going to do this and do that, but I have doubts when people receive huge amounts of money from Wall Street."
When Sanders tied himself to President Obama while also talking about his differences with the president on financial issues, Clinton questioned his seriousness. She noted that Sanders openly suggested a progressive primary challenge against Obama in the 2012 cycle.
"Your profusion of comments about your feelings towards President Obama are a little strange given what you said about him in 2011," Clinton said.
Whether the tone set in the debate will reflect the final weeks before the Iowa Caucuses remains to be seen. Clinton has shown willingness to take Sanders on directly in the hopes of stopping him from an upset win. And Sanders has been willing to directly criticize Clinton, too.
Surrogates for the candidates agreed after the debate that a shift toward contrast was not necessarily a shift toward the negative.
"I don't care about the negativity. I can watch Love and Hip Hop if I want to do that. I care about what's going to help working people sitting around their tables trying to figure it out," Killer Mike, the rapper backing Sanders told BuzzFeed News after the debate. "The tone up there was decent enough tonight. It was typical politician talk, in terms of the temperament to one another. But I was more impressed that [Sanders] got his ideas out."
Christina Reynolds and Stephanie Shriock, two top Clinton supporters, said after the debate that they were happy to see Sanders face tougher questions about his record than they said he has been asked to answer in the past. Shriock, the president of EMILY's List, said she was happy to see "real questions for Sanders."
Neither woman — Reynolds is a senior aide to Clinton's campaign — thought the debate, or the campaign lately, has been particularly negative. And they rejected the idea that Clinton was dragging the campaign into coarser territory out of fear of poll numbers.
"He does contrast all the time," Reynolds said. "Now we're doing it, too."