Bipartisan Criminal Justice Coalition Is Bigger And Ready For Congress To Come Back
The NAACP is joining a roster of high-profile, diverse, bipartisan groups like the ACLU, FreedomWorks, and more to make a concerted push for criminal justice legislation.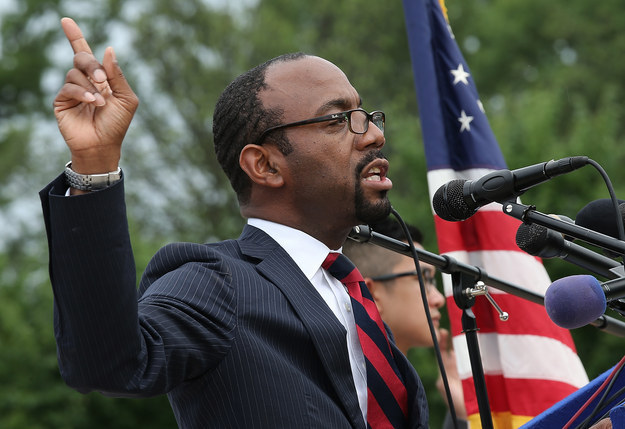 WASHINGTON — When Congress returns to the Capitol from the long recess next week, an expanded bipartisan criminal justice advocacy community will be waiting — and ready to push hard for legislation to reduce the federal prison population they hope to pass before presidential politics subsume any and all chances at big new laws.

One of the more powerful advocacy groups in the city, the Coalition for Public Safety, which is backed by the Kochs and the Center for American Progress, will add the NAACP Thursday to its list of big name partners working as one on criminal justice, top officials at the Coalition and NAACP told BuzzFeed News.
NAACP joins the ACLU, FreedomWorks, Americans For Tax Reform, the Faith And Freedom Coalition, the Center American Progress, and other groups that are more often than not divided on big policy conversations in Washington.

The addition of one of the oldest criminal justice advocacy groups to the coalition helps boost efforts across the country, Coalition Senior Policy Advisor Lance Lemmonds said.
"It is a historically important organization. They didn't just get into this debate or into this agenda," he said. The NAACP will help build on "a moment for unprecedented bipartisan momentum" on criminal justice, Lemmonds added.
Negotiations with the NAACP have gone on for months, and concluded just as the Coalition For Public Safety was preparing action in Washington and across the country to promote criminal justice legislation.
"To say we're pretty excited for an organization of that magnitude is an understatement," Lemmonds said.
For the NAACP, the coalition offers a new way to push a core mission.
"Historically, the NAACP from its founding has worked in terms of criminal justice," said Cornell William Brooks, president of the NAACP. "Not just redressing racialized violence in terms of lynching but, dating back to Jim Crow, disproportionate sentencing due to race."
Advocates are hoping months of negotiations in the Senate among advocacy-minded Republicans, Democrats, and tough-on-crime Republicans will result in a legislative package in the next few weeks. There's hope for House legislation as well, though the House is mostly been seen as a tougher environment for a big bill. To help keep the issue in the spotlight, the Coalition For Public Safety is planning a national campaign that will bring policy discussions centered around the group's Fair Sentencing & Fair Chances policy agenda to big cities in red states and blue states throughout September and October. The campaign will kick off on Capitol Hill soon after Congress returns.
Before the summer recess, there was a growing push in Washington to see a big criminal justice bill pass the Republican-controlled Congress and head to the White House for President Obama's signature. The administration has spearheaded a number public awareness campaigns, including the first-ever presidential visit to a federal prison, to secure public support for what administration allies hope will be lasting Obama legacy: reexamining and reducing drug sentences (or laws) from the 1980s and 1990s advocates say have contributed to a huge spike in nonviolent offenders heading to prison. On the Hill, libertarian-leaning conservatives like Sen. Mike Lee of Utah and Sen. Rand Paul of Kentucky urged their Republican colleagues to take a fresh look at criminal justice over lasting concerns about appearing soft on crime.

Recent weeks have seen the news filled with negative stories, however, that could make prioritizing criminal justice tougher. Conservatives are expressing public frustration with the Black Lives Matter movement, and violent crime spikes in some big cities over the summer are reminiscent of the high-crime rates that led both parties to adopt the tough-on-crime agenda in the first place.
Officials say the recent news will not deter advocates and should not derail bipartisan legislative efforts.

"Current events should not take away from the policy goals that our coalition is working towards," said Lemmonds. "A fairer, cheaper criminal justice system benefits everybody."
Brooks, who worked on anti-recidivism campaigns in the Newark, New Jersey, criminal justice system before going to work for the NAACP, said it's too early to make connections between the spikes in crime and any specific factor. He said it's a time for "courageous conversations" around police, criminal justice and crime.
"This moment can't be missed. We embarked on this era of mass incarceration without really looking too hard at our assumptions," he said. "It's cost us a lot in terms of money and lives."