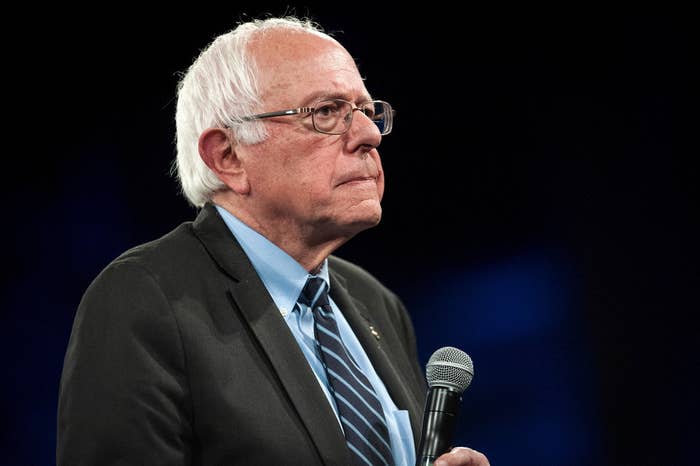 FAIRFAX, VIRGINIA — Democratic presidential candidate Bernie Sanders went farther than any of his opponents in calling for an end to the war on drugs Wednesday when he told college students at George Mason University it was time to "to remove the federal prohibition on marijuana."
Sanders said a shift away from criminal prosecutions for marijuana could improve the lives of black Americans he said are unfairly burdened with criminal records for doing something Americans of all races also do.
"Although about the same proportion of blacks and whites use marijuana, a black person is almost four times more likely to be arrested for marijuana possession than a white person," Sanders said. "Too many Americans have seen their lives destroyed because they have criminal records as a result of marijuana use."
Both sides of the burgeoning bipartisan criminal justice advocacy movement cite racial bias as a key problem in the justice system. Conservatives have said reducing racial disparities in prosecutions and imprisonment could improve the economic standards for minorities while saving states millions spent on expensive prosecutions. Progressives have long pointed to the disparities in drug prosecutions as deeply unfair and disastrous to minority communities.
However, few national politicians are willing to go as far as Sanders did Wednesday to redress the problem. His journey to Wednesday's speech began at the first Democratic debate, when he floored marijuana advocates by saying he personally would vote for a state ballot initiative legalizing marijuana use.
The independent senator from Vermont now says marijuana should be removed from the federal government's list of "Schedule 1" narcotics used in prosecutions. He said the next steps should be left up to the states.
"The time is long overdue for us to remove the federal prohibition on marijuana," he said. "In my view, states should have the right to regulate marijuana the same way that state and local laws now govern sales of alcohol and tobacco."
Sanders was quick to say he wasn't calling on states to legalize marijuana in the way Colorado and a few others have, but he said the federal government should no longer stand in the way of legalization through bans on marijuana dispensaries using the banking system, for example.
Ever the progressive focused on using government spending to solve social problems, however, Sanders did note that states could legalize marijuana, tax it, and use the money "to fight the effects of substance abuse of hard drugs like opiates that are harming so many communities."