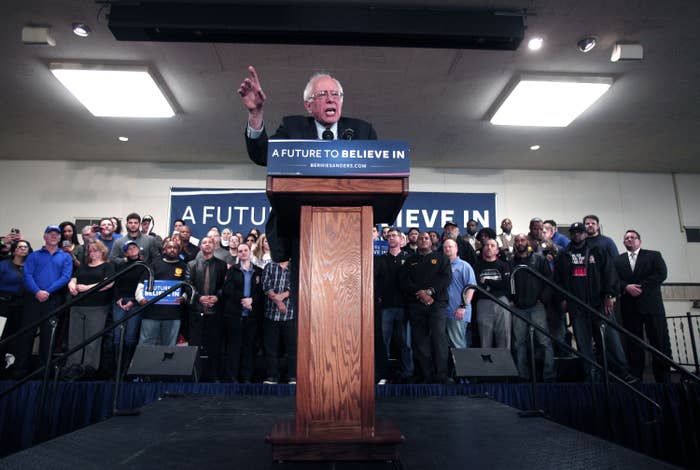 ROCHESTER, Minnesota — Bernie Sanders tried to find some good news in his crushing defeat in the South Carolina primary when he appeared on the Sunday political talk shows from his hotel room here.
He also acknowledged just how crushing the 74% to 26% loss in South Carolina was.
"We got decimated, George. We got decimated," Sanders told George Stephanopoulos on ABC's This Week. "The only positive thing for us is we won the actually — the 29 years of age and younger vote. And that was good. But we got killed."
He made similar comments on other Sunday shows throughout the morning. Sanders didn't concede South Carolina in the traditional sense Saturday night; he congratulated Hillary Clinton in a gaggle with reporters outside his campaign plane in Minnesota before delivering a nearly hour-long stump speech here that never mentioned the night's primary results.
That was in keeping with a tone set by Sanders after his loss in Nevada, when he and his campaign barely mentioned South Carolina and instead focused on next week's 11 state Super Tuesday collection of primaries and caucuses.
Sanders was resoundingly rejected by black voters in South Carolina, a result that led many to question if he could ever make a dent in the important slice of the Democratic electorate.
On This Week, Sanders telegraphed more Super Tuesday defeats among black voters in the day's southern primaries, but suggested black voters outside the region would be more likely to support him.
"I think you're going to see us doing — and I think the polls indicated it, much better within the African-American community outside of the Deep South," Sanders said. "You're going to see us much better in New York state where I think we have a shot to win, in California and in Michigan."
None of the states Sanders mentioned vote on Super Tuesday. In that contest, his campaign remains focused on states with a relatively large population of white Democratic voters.