Bernie Sanders Has A Progressive Support Problem
The only declared candidate from the left can't get the left to stop dreaming about Elizabeth Warren. "We're certainly not saying that Warren shouldn't run."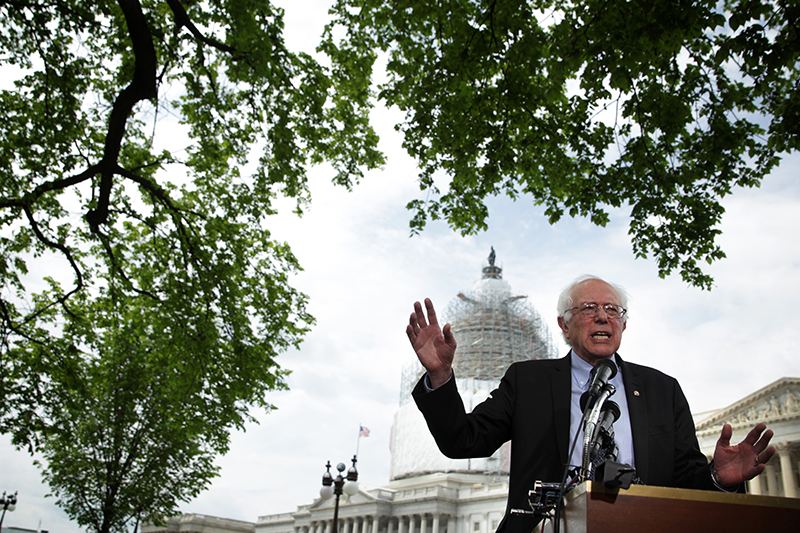 WASHINGTON — The only public, organized, progressive effort to support Bernie Sanders' presidential campaign is being run by two people who really, really, really want Elizabeth Warren to run.
At least that effort will actually promise the independent Vermont senator their actual grassroots support. Other well-known groups on the left like MoveOn and the Vermont-based Democracy For America aren't going that far.
Hours after Sanders officially declared his campaign for the Democratic presidential nomination — and declared war on every progressive bogeyman in the process, including the billionaires he said have bought and sold the Republican Party and the media he says has eliminated any substance from politics — he is still second to a politician who has said dozens and dozens and dozens of times she's not interested in running for president.
At 12:45 p.m. on Thursday, moments after Sanders stepped away from his first presidential campaign press conference, a group of former Occupy Wall Street leaders launched "The People For Bernie Sanders," a grassroots effort to build support for Sanders' message through social media campaigns and "gatherings" across the country in the Vermont senator's name.
The group is led by Winnie Wong, a former OWS leader from New York, and Charles Lenchner, who was also a senior member of OWS. Lenchner also happens to be the co-founder of Ready For Warren, one of several organized efforts by the left to cajole the Massachusetts Democrat in to running for president. Wong is the co-founder of another: Artists For Warren, the celebrity-studded grassroots Warren wooing effort that also counts actor Mark Ruffalo as a co-founder. Artists for Warren is associated with MoveOn, which is also pushing Warren to run.
And as they try to build support for Sanders, Lenchner and Wong remain very, very ready for Warren.
"It isn't an either/or scenario," Wong told BuzzFeed News in an interview. "We're certainly not saying that Warren shouldn't run."
Pressed on who The People For Bernie Sanders would support if Warren got in and they were forced to pick, Wong said that was the wrong question.
"I don't know if the allegiance would fall like that," she said, noting that the signers of the open letter on the People For Bernie Sanders website aren't representing specific organizations and aren't necessarily marching in lockstep. "If she enters the race, it means another person who would enter the debate."
The pressure on Warren to run won't stop just because Sanders is actually running for president.
"We're absolutely behind the idea of Elizabeth Warren entering the race also," she said. "At this time, we feel that the progressive alternative in the race is Bernie Sanders."
It's certainly not difficult to imagine a progressive voter who wants Warren to run for president being excited at the prospect of Sanders' run. Sanders, after all, was Warren before it was cool. In his brief press conference Thursday, and in the umpteen media appearances he sat for before and after it, Sanders clearly and without hesitation — or a script, in the case of the press conference — offered a full-throated defense of progressive ideals, from efforts to combat climate change to creating a more accessible higher education system in the style of Western Europe. (Sanders singled out Germany as a model to follow in his press conference.) Above all, his message was about taking on the billionaires he says have corrupted American politics and are sucking the life out of the middle class. It was vintage Sanders, and it sounded quite a lot like Warren.
But there are certain practicalities to presidential politics that may make the "date Bernie, marry Elizabeth" model of progressive organizing evident in the opening day of the Sanders campaign at the very least uncomfortable. There are finite resources, both financial and chronological, on the left. Sanders is well aware he needs to tap into those resources heavily if he wants to change the tenor of the Democratic race.
"Let me say this, and I say this to you honestly. One of the hesitancies I had when deciding whether to run or not was obviously dealing with money," Sanders told the press outside the Senate Thursday. "I'm not going to get money from the Koch brothers and I'm not going to raise money from billionaires. I'm going to have to raise my campaign contributions through BernieSanders.com. Small, individual contributions. That's how I'm going to do it. But I seriously wonder — and it's not just Bernie Sanders — I wonder now, in this day and age, if it's possible for any candidate who is not a billionaire or who is not beholden to the billionaire class to be able to run successful campaigns."
But for now, the left, even the most overtly Sanders-supporting left, is still fixated on Warren. Democracy For America, formed out of the remnants of Howard Dean's 2004 presidential campaign, welcomed Sanders into the race Wednesday night, praised him for his service in the progressive cause, but kept their focus on Warren. (Dean has split from the group on 2016 and is supporting Hillary Clinton.) MoveOn did basically the same thing.
DFA is staying close to Sanders, but so far it has no plans to help him with the all-important grassroots fundraising he needs to keep his nascent presidential bid competitive. DFA communications director Neil Sroka said the group is working with Sanders on an anti-Trans-Pacific Partnership trade deal campaign and is "going to look for other ways to connect him with our members going forward."
"Bernie loves DFA members and DFA members love Bernie," Sroka told BuzzFeed News in an email.
An email sent to Sanders' presidential campaign about DFA and MoveOn's support for Warren and what it means for Sanders' effort went unresponded to Thursday.
Other potential candidates are vying for the left's support versus Clinton as well. Former Maryland Gov. Martin O'Malley has attempted to pin the progressive alternative badge on his chest with full-throated opposition to President Obama's trade deals and sideswipes at Clinton. But O'Malley, like Warren, is not officially a candidate for president, though that's expected to change for him at least by the end of May.
Until Sanders can win the organized left away from its Warren daydreams, he may struggle to become anything more than a campaign sideshow. But his campaign is new, and his two-day media blitz may serve to remind progressives of his bona fides. As he walked away from his press conference, BuzzFeed News shouted a question to him about raising grassroots money without the support of organized progressive grassroots groups like DFA or MoveOn.
Sanders ignored the question.
A staffer, surrounded by press as he walked with Sanders back to the Senate, said only, "We'll figure it out."