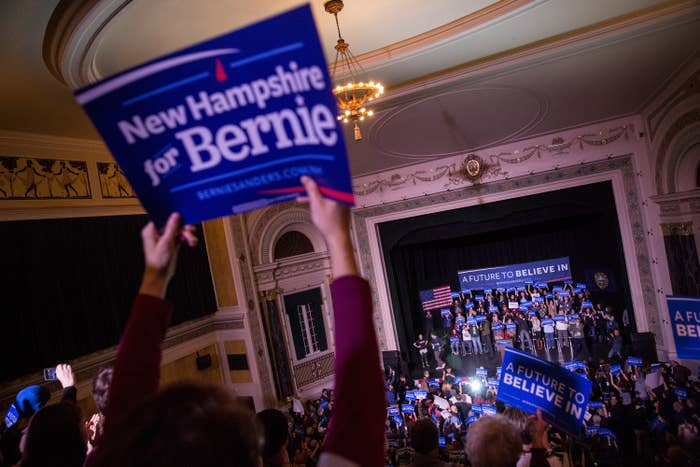 MILWAUKEE — The "money bomb" is a short, online-driven fundraising drive tied to a specific event or date. It's a mainstay of modern, internet-driven politics.
Bernie Sanders has unleashed a new kind of fundraising weapon the world has never seen.
In the hours since polls closed in New Hampshire Tuesday at 7 p.m. ET, the Sanders campaign raised $5.2 million, aides told reporters Wednesday. The average contribution was just $34.
The Sanders homepage was converted to a New Hampshire–oriented fundraising page Tuesday evening in advance of what aides hoped would be a good showing for the Vermont senator. In his victory speech after results came in that exceeded staff's wildest expectations, Sanders used the nationally televised moment to drop the moneybomb.
"I am going to New York City tonight and tomorrow, but I'm not going to New York City to hold a fundraiser on Wall Street. Instead, I'm going to hold a fundraiser right here, right now, across America," he said. "My request is please go to berniesanders.com and contribute. Please help us raise the funds we need, whether it's 10 bucks, 20 bucks, or 50 bucks."

"So, there it is, that's our fundraiser," Sanders said with a grin. "Pretty quick."
The Sanders faithful, who have filled his campaign coffers with millions of dollars in small-dollar donations throughout the campaign, started clicking immediately.
During his speech, the website had a peak of 51,000 concurrent visitors at one point, a senior aide told BuzzFeed News. That beat the previous record of 18,000 set after Sanders celebrated the "virtual tie" in Iowa.

The site slowed under the weight of all the traffic. But aides were proud that it never crashed completely and that the flow of funds was never interrupted.
On Thursday, Sanders and Clinton will debate here — just their second two-candidate debate, and the first after Sanders' mega win in the Granite State. The campaign has stressed it won momentum after Iowa and no doubt will use the success of the money bomb to help make its case.