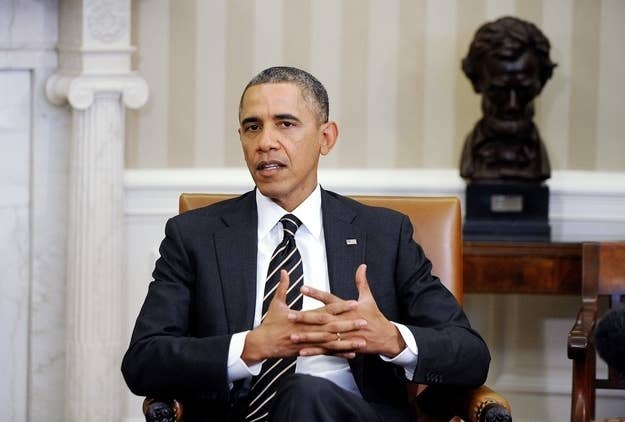 WASHINGTON — President Obama finds himself on the wrong side of major groups from his base over a judicial nominee progressives say is too socially conservative for the federal bench.
On Wednesday, NARAL Pro-Choice America will launch a public campaign announce its opposition to the nomination of Georgia State Appeals Court Judge Michael Boggs to the federal district court, the group's president told BuzzFeed. NARAL joins African-American advocacy groups and elected officials from Georgia who have opposed Boggs since his name was first floated by the Obama administration in October. There are signs prominent LGBT groups may join the fight too, creating a powerful coalition of would-be White House allies aligned against one of Obama's judicial nominees.
"This is a guy who actually believes that there is one definition of what it means to live your life as an American. The thing is, that's anti-American," said NARAL President Ilyse Hogue. "We cannot risk having someone like that on the bench when we know we have so many cases coming down the pike that will define the very fabric of who we are as a nation and we are not only a nation that supports diversity, but we're actually a pro-choice nation."
NARAL's online campaign will be aimed at pressuring senators to vote down the Boggs nomination.
"We're extremely disappointed that pro-choice President Obama nominated someone who doesn't share our pro-choice values," reads an email going out to NARAL supporters. "We agree with the president on a lot of things, but not this pick."
African-American leaders were the first to publicly oppose Boggs, calling on Obama to eliminate him from consideration for a slot on the Georgia district court before he was even officially nominated. They, like NARAL, object to votes Boggs took while a Democratic member of the state House of Representatives. Boggs voted against a new Georgia state flag that removed a Confederate emblem added to it by segregationists during the Civil Rights movement (the flag was eventually changed). African-American elected officials and leaders in Georgia say the vote should disqualify Boggs, and they've been pushing the White House for months over the Boggs nomination and other names put forward for the Georgia district court. The Congressional Black Caucus and other black leaders met with top Obama adviser Valerie Jarrett at the White House to push the administration to drop Boggs and other nominees for the Georgia district vacancies last week. According to The Hill, "Jarrett's answer" to the group's pleas "was a terse, 'No.'"
The issue of racial diversity among nominees has been an especially grating one for Obama's team, which has repeatedly found itself facing harsh criticisms from the CBC that White House officials publicly reject and privately call unfair. But while Jarrett gave the CBC a hard no over the Georgia nominees, she also didn't come rushing to the defense of Boggs or the others.
"We're very proud of our track record so far," she said, "but that doesn't mean we're not interested in always looking for new ways the bench can reflect the diversity of our country."
It's not clear that Boggs was the White House's first choice for the bench in the first place. The list of Georgia nominees drawing the ire of progressives was crafted in a deal the White House struck with Georgia's Republican senators in order to end their legislative holds on other judicial nominees.
NARAL says the deal isn't worth it, particularly when it comes to Boggs, who they criticize for votes he took in the state legislature. Among them: support for a "Choose Life" license plate that directed money to anti-abortion advocates and a law that required parents to accompany their daughters below the age of 18 to clinics and show a picture ID before an abortion could be performed.
Hogue said NARAL has taken its complaints about Boggs to the White House, but wouldn't characterize the response the group has received. Obama has been a close NARAL ally since 2008 when the group endorsed him over Hillary Clinton in the Democratic presidential nomination fight. On the issue of Boggs, though, Obama and NARAL are at odds.
"It's very concerning to us that with so many qualified applicants out there, this is the nominee that the Obama administration put forward, and we've let them know what we're very disappointed," Hogue said.
NARAL's email also criticizes Boggs for his Confederate flag vote, as well as a vote against marriage for same-sex couples while a Georgia legislator. The marriage vote could bring LGBT rights advocates into the push against Obama's Georgia court nominee.
"We are concerned about his nomination," said Fred Sainz, spokesman for the Human Rights Campaign. "We are looking into an awful lot of the issues associated with his record. Obviously, his position on marriage equality 10 years ago is not helpful to our consideration of his candidacy, but we are continuing to look into it."
HRC is "just not at the point yet of having a position," he added.
A Senate hearing hasn't been scheduled on Boggs' district court nomination, but progressives hope to build up momentum in the chamber against Boggs before he gets a chance to shore up support for his nomination. That puts them at odds with the White House, but that's a fight they're willing to have.
Chris Geidner contributed reporting.