The Trump Campaign Reassured Canadian Officials That He Could Evolve, Documents Show
Trump advisers speaking to Canadian officials at the RNC indicated "a certain flexibility" on Trump's "more controversial positions."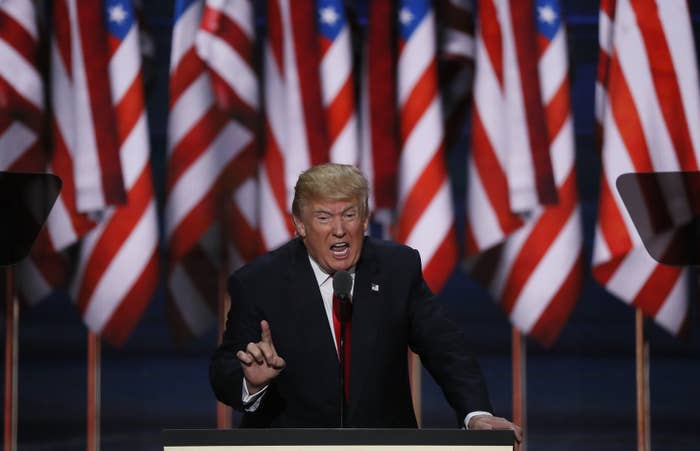 WASHINGTON — Top advisers to then-candidate Donald Trump privately reassured Canadian officials that, if elected, Trump would work with other countries, despite some of his campaign rhetoric, and hinted that he could change his "more controversial positions" on national security and foreign policy, documents show.

Members of Trump's team also "acknowledged the (at times) mercurial nature of his thinking" in conversations with Canadian officials, blaming his temperamental demeanor on Twitter and his lack of political experience.
The conversations between Canadian officials and Trump's advisers took place at "meetings on the margins" of the Republican National Convention in July, according to an internal report to Canada's Global Affairs department headquarters from its embassy in Washington.
The report, along with hundreds of pages of other communications regarding the 2016 presidential election, was originally requested by the National Post and obtained by BuzzFeed News using Canada's freedom of information laws.

Officials from the Canadian consulates in Washington and Detroit "attended various events on the margins of the convention, several of which included key advisors to Mr. Trump and his campaign," according to the report emailed to David Morrison — assistant deputy minister to the Americas — in late July.
"While many of those advisors espoused Mr. Trump's traditional positions, particularly on trade agreements, the expansion of energy development and the need for regulatory reform," the email says, "there were several key figures who appeared to indicate a certain flexibility to or evolution of Mr. Trump's more controversial positions, particularly those related to foreign policy and national security."
The documents also say Trump's advisers attributed his unpredictability "to the instantaneousness of the medium (e.g. [T]witter) or his background not as a politician but as a businessman focussed on getting the best deal."
"They were nevertheless sincere in their reassurance that a Trump presidency would be willing to engage with the international community, albeit in less traditional ways," the report added.
In another batch of election-related communications obtained by BuzzFeed News, Canadian officials in Washington warned that Trump's foreign policy was both "isolationist" and "unpredictable."
Both sets of documents express a general tone of concern over the future of trade agreements between the US and Canada. "The protectionist sentiment that has emerged this election may not only endanger the future of trade deals like the TPP [Trans-Pacific Partnership], but could also impact deals concluded years ago like NAFTA," reads a May 2016 comparison of Trump and Hillary Clinton's platforms.

On Monday, Trump signed an executive order pulling the US out of the TPP, or Trans-Pacific Partnership. And as officials note in the documents, Trump has called the North American Free Trade Agreement a "disaster" and vowed to renegotiate it or tear it up.
In another email, dated Sept. 19, an official at the Canadian embassy in Washington cites a Peterson Institute report that warns of "trade wars" if Trump withdraws from NAFTA.
"The paper is very thorough and comprehensive," writes economic minister Gilles Gauthier. "The conclusion is that a President Trump has domestic legal authority to terminate NAFTA and other free trade agreements. However, in order to impose 35% tariffs on Mexico and/or China, a Trump administration would either need to invoke 'national security exemption', or withdrawing [SIC] from the WTO [World Trade Organization]."
"In both instances, this could lead to trade wars," Gauthier writes. "Approximately 4.8 million US jobs would lost in a trade war scenario. Even if a full blown trade war is averted, job losses exceed one million."
Since the election, Canadian Prime Minister Justin Trudeau's top advisers have met with Trump advisers Jared Kushner and Steve Bannon in Washington to try to "to avert a costly trade war," the Globe and Mail reported.

Last weekend, Trudeau reportedly "noted the depth of the Canada U.S. economic relationship" in his first phone call with Trump since his inauguration.
Elsewhere in the documents, Canadian officials appeared to reference Trump's past comments on NATO — of which Canada is a member and has been criticized for not meeting the organization's defense spending target.
"Also up for debate is the future of the U.S.' role in the world," the email reads. "Whether led by the more hawkish Hillary Clinton who could seek to expand alliances, or the more isolationist Donald Trump calling on allies to 'pay their fair share', there may be increased calls for burden-sharing from allies."
The Trump Administration did not return a request for comment.
UPDATE
A Global Affairs Canada spokesperson said in an emailed statement to BuzzFeed News that Canada and Foreign Affairs Minister Chrystia Freeland "look forward to working very closely with the new U.S. administration, and with the United States Congress on issues of mutual interest, including trade and investment in various sectors."
"We are clearly a pro-trade government," wrote spokesperson John Babcock.
"We have a constructive working relationship with the Trump administration, and discussions are ongoing," Babcock said. "We are confident the new administration will see that Canada's partnership with the US mutually strengthens our two nations and provides real opportunities to grow our respective economies for the middle class."