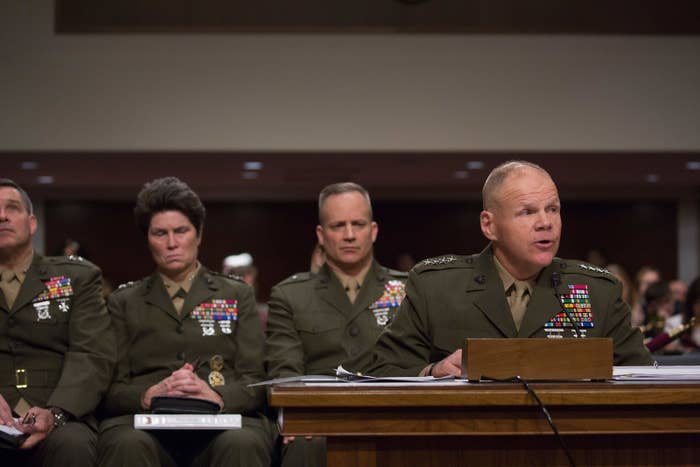 WASHINGTON — Top military brass promised senators on Tuesday they would do more to eliminate a culture of misogyny in the armed services in light of the recent online nude photo scandal plaguing its ranks, calling it a "cancer" that threatens their "core values."

"Discovery and investigation these past several weeks into the toxic, predatory behavior harbored by the website 'Marines United' has uncovered an egregious breakdown of good order and discipline, a violation of our core values, and what amounts to an insider threat," acting Navy Secretary Sean Stackley told the Senate Armed Services Committee.
The Department of Defense is investigating the activities on the Marines United Facebook page, a private group with 30,000 members where former and current Marines shared photos of their female colleagues, some of whom were nude, without their consent, and in some cases left comments about sexually assaulting the women. The abuse, which spreads beyond the Marine Corps, was revealed in early March by a journalist who served as a Marine.
Stackley said Thursday that the number of current Marines in the group is believed to be approximately 500.
Gen. Robert Neller, Commandant of the Marine Corps, spoke directly to female Marines during his opening remarks, urging more victims to come forward.
"I am asking a lot right now, but I am asking you to trust in the leadership of the Marine Corps that we will take action," Neller said. "I am outraged that many of you have not been given the same respect when you earn the title of Marine."
"To the male Marines," Neller said, "how much more do the female members of our Marine Corps need to do to be accepted? Was it not enough when we lost female Marines in combat?"
But not all senators were convinced that Marine leadership — who testified along with other military commanders before the same committee in 2013 following a spike in sexual assault reports — was taking the issue seriously enough.
"Why should we believe that it's going to be different this time?" asked Sen. Jeanne Shaheen.
"I think we address the action of individuals, which is sexual assault or bullying, but I think the bigger issue is within the culture," Neller said. "I don't think this is separate from the sexual assault issue, but this issue of objectification of women, misogyny, or however you want to articulate it, or just bad behavior, is tied to the way that some group of male Marines look at women in the Marine Corps."
Neller also said he took responsibility for failing to focus enough on social media following the 2013 report.
"Is it going to be different?" Neller asked. "It's got to be different."

However, Sen. Kirsten Gillibrand, who in 2013 introduced legislation to improve sexual assault investigations and response in the military, said Neller's promise "rings hollow."
"Who is being held accountable for doing nothing since 2013?" she asked, her voice raised.

Neller said he understood and shared her concerns, and that he will ensure change happens this time.

"This is a problem with our culture and I'm still in the process — I mean, I don't have a good answer for you," Neller said. "I'm not going to sit here and duck around this thing, I'm not. I'm responsible. I'm the commandant, I own this."
"I know you've heard it before, but we're going to have to change how we see ourselves and how we treat each other. That's a lame answer, but ma'am, that's the best I can tell you right now."
Stackley said in his opening remarks that their plan to deal with the abuse would include supporting female victims through counseling, legal services, and other resources, as well as prosecuting those responsible.
Stackley said the Marines United page has been taken down, but as some senators noted, a "Marines United 2.0" Facebook group has already appeared.

Stackley and Neller said members of the groups could face administrative action or even be court-martialed, depending on the severity of their activities.
"Perhaps most importantly, we will get at the root underlying issues to eradicate this cancer," Stackley said, adding that a task force had been established as part of the effort, and that progress would be shared with the Senate Armed Services Committee.
They acknowledged the difficulty in going after members of the Marines United page who have already been discharged from the military, saying it would be up to state law enforcement to decide how to proceed.

Republican Sen. Thom Tillis said he wanted to "make this a very, very painful exercise" for anyone involved — including those no longer under the military's jurisdiction — and suggested cutting off benefits for veterans convicted of this kind of "bad behavior." Stackley said he welcomed Tillis' suggestion of expanded powers to punish those involved.
During his questioning of Marine brass, Sen. Lindsey Graham asked if they would tell parents their young daughters should join the Marines.
Neller, along with Marine Corps Sergeant Major Ronald Green — who has a teenaged daughter of his own — said yes. "The irony of all this is we are trying to increase the number of women in the Marine Corps," Neller said. "This certainly, I would say, is not helpful."
"I would say this is devastatingly bad," Graham said. "You have a honored tradition, but every organization has dark moments. Do you agree with me this is one of the darkest moments and it needs to be fixed?"
"Yes, senator," Neller replied.