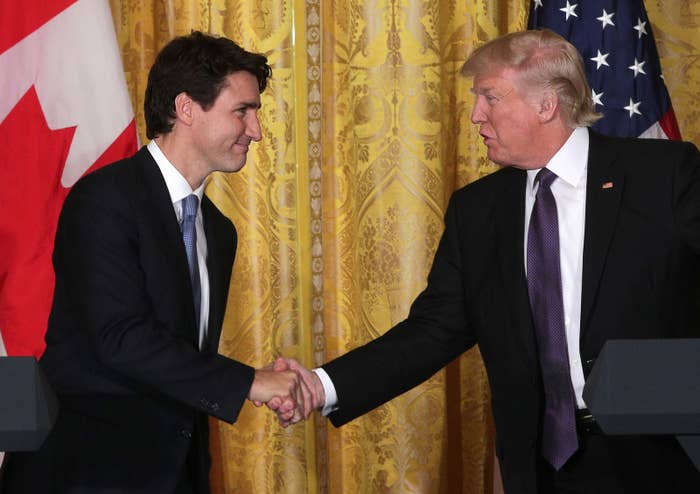 Depending on what you read, President Donald Trump's dizzying policy vacillations on NAFTA this week were either the result of disagreement within his White House, a strategy to show Canada and Mexico that he means business, or a stunt to generate bold headlines for his 100 days in office.

And if you ask the Mexican foreign minister, it was to scare Congress into kickstarting the re-negotiation process for the massive 23-year-old trade deal that most lawmakers agree needs updating.
Whatever the case, the White House's decision Wednesday to tell the press that the US was preparing an executive order to begin the NAFTA withdrawal process, then to have Trump himself renege the same day, has left senators from both parties scratching their heads and hoping Trump shows a steadier hand moving forward.
"I don't think that kind of the unclear message is helpful," Republican Sen. Lisa Murkowski, who represents Alaska, said Thursday evening.
North Dakota Sen. Heidi Heitkamp, a Democrat whose state borders the Canadian provinces of Manitoba and Saskatchewan, said she was not a fan of Trump's approach, either.
"Do I think NAFTA is perfect?" Heitkamp asked. "No. Do I think that we start out our discussions with our greatest trading partners with a big threat, and then walk away from that threat saying, 'No we're going to talk about it?' It's a stylistic thing. It's not how I would do it."
Michigan Sen. Debbie Stabenow, another Democrat whose state is home to the busiest land border crossing between the US and Canada, said "it's never wise to be so inconsistent."
Republican Sen. Bob Corker, chair of the Foreign Relations committee, said he was left confused by the situation. "I couldn't tell whether that was a strategy or just a miscue from inside the White House," he said.
"It seemed to me that maybe one part of the White House wasn't possibly talking to the other, but they've got it right now."
Top Trump strategist Steve Bannon, who has come to represent the hard-right, nationalist faction of the White House, was reportedly behind the draft executive order to withdraw from NAFTA — along with Peter Navarro, head of the National Trade Council.
Corker said he's concerned about how "some of these fits and starts" could play in the Mexican presidential election, noting that "there's a government down there that's been somewhat pro-American."
"We're the huge beneficiary in this nation of having two friendly neighbours and an two oceans on the other sides," he said. "I think there's a way to work through this appropriately, maintain the relationship we have, and build on it actually."
The NAFTA about-face came just days after the administration announced a new tariff on Canadian lumber and Trump threatened, in a tweet, to go after the Canadian dairy industry as well, moves that could signal the start of a broader trade war with the country.

Arizona Sen. John McCain, who tweeted that withdrawing from NAFTA "would be a disaster" for his state, said that he was relieved that Trump changed his tune on tearing up the trade agreement.
GOP Sen. Orrin Hatch, chair of the Finance committee, said he was also pleased Trump reversed his position. But Hatch said that unlike some of his colleagues, he isn't worried about the president's strategy.

"It says to them 'Hey, nothing's sacred', except the United States wants to have a reasonable agreement, and if he's not going to get it, we're going to change," Hatch said.
"So he knows what he's doing."