Senators Say They Want To Resume Debate Over War Authorization
A bipartisan group of senators — including John McCain and Tim Kaine — wants to make Authorized Use of Military Force a priority this Congress. However, the final say is with Sen. Bob Corker who says the Trump administration has bigger fish to fry right now.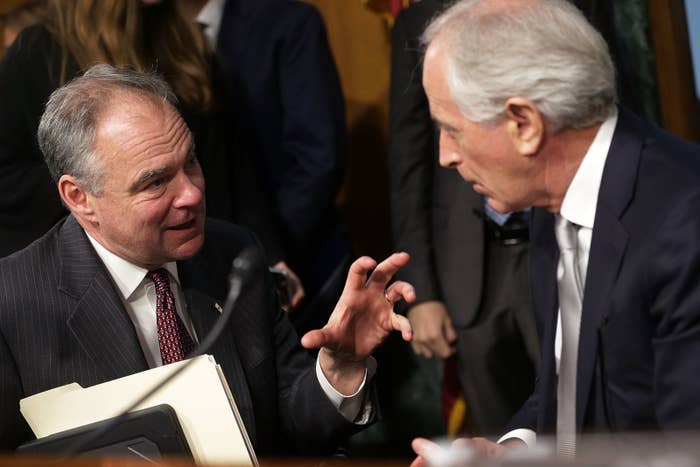 WASHINGTON — Democratic and Republican senators say they want to revive debate over Authorization for Use of Military Force, with Armed Services committee chairman John McCain vowing make it "a priority" this year.
"We need to look at it and we need to move forward," McCain said Tuesday. "I want to work with Sen. [Tim] Kaine and others to see if we can't resolve this issue. Right now there is a lack of congressional involvement in these decisions."

During a recent committee hearing on civilian oversight of the military, Kaine renewed his longstanding push to update the way the US authorizes combat abroad.
"We're in the 15th year of using a 60-word authorization passed in the aftermath of the attack of 9/11, stretching it far beyond probably what was the original intent, in a Congress that is now nearly 70% people who weren't here to vote on that authorization," Kaine told the committee on Jan. 10.
At the hearing, McCain lauded Kaine for his work on the issue. "Certainly Congress has not exercised its responsibility in conflicts that are going on throughout the globe," McCain said. "So I thank you for raising that issue, I thank you for your continued tenacity, and I want to commit to us making this a priority for this committee in the coming year."
McCain suggested the committee hold "a hearing or two on this issue," noting that Democratic Sen. Jack Reed wants to work with Kaine on AUMF.

"You have been sometimes a voice in the wilderness, but you've also been absolutely correct," McCain told Kaine.

Sen. Ben Cardin, the ranking Democrat on the Foreign Relations committee, said Tuesday that he also supports revisiting AUMF because he disagrees with President Barack Obama's use of the 2001 language to authorize the ongoing war against ISIS.
"I think it'd be a good idea to do it if we do it right," Cardin said. "I think it'd be good for us to have a modern AUMF that deals with the current threat."
Senate Foreign Relations committee chairman Bob Corker also said he supports the idea — but noted that AUMF is his committee's responsibility, not McCain's. Corker had stalled on moving an AUMF forward, arguing a bipartisan consensus would be difficult, and recently told Politico that the current AUMF gives Trump legal authorization to keep fighting.
"It's great except it's a foreign relations committee issue, but other than that it's great," Corker told reporters on Tuesday. He said it's possible his committee could work on a new authorization after it finishes confirming cabinet nominees.
"Really to do an authorization for the use of military force, you need for a president to have his full team in place to advise on what it is they wish to see in that," Corker said.
Both Democratic and Republican senators have criticized the Obama administration in recent years for using the 2001 AUMF language as the legal framework for going to war in Iraq and Syria.
It's unclear how the new Donald Trump administration will address the issue. "I don't know," McCain said Tuesday when asked whether the White House would be open to working on a new authorization. "It's a congressional responsibility. It's our responsibility much more so than the White House."
But asked in May whether he would want Congress to pass a new war declaration, Trump told Fox News host Bill O'Reilly that he would "have no problem" with it.

"It wouldn't bother me at all doing that," Trump said. "We probably should have done that in the first place."
Cardin said he believes Trump "would welcome Congress weighing in on the AUMF."
"There's a lot of different views on the authorization of the use of military force," he said, "so I would think that if the president showed leadership and came in with a reasonable AUMF, there may be appetite here to embrace that."
He said the next step would be for Trump's counsel to inform of his legal authority and then for the president "to judge the political climate in Congress as to whether he can get an AUMF done."
Kaine, who is resuming Senate work following a summer spent campaigning on Hillary Clinton's unsuccessful presidential ticket, has long been an advocate of writing a new war authorization.

"We will complete the job," he told BuzzFeed News in 2014, after the Foreign Relations committee passed an authorization for the mission against ISIS that would never become law. "Not as quickly as I would like but we will complete it and that will provide an authority for a war without authority."
At the Armed Services committee hearing, Kaine acknowledged AUMF hasn't always been a hot topic. "I think I've managed to persuade two or three people on this," Kaine said to laughs. "But I'm going to keep trying because I think it matters."
UPDATE
A spokesperson for Kaine said that with "the foreign policy objectives of the incoming administration still unclear, it's his hope that there will be renewed consideration and debate over an AUMF and he looks forward to working with his colleagues on the Foreign Relations and Armed Services Committees on this issue."