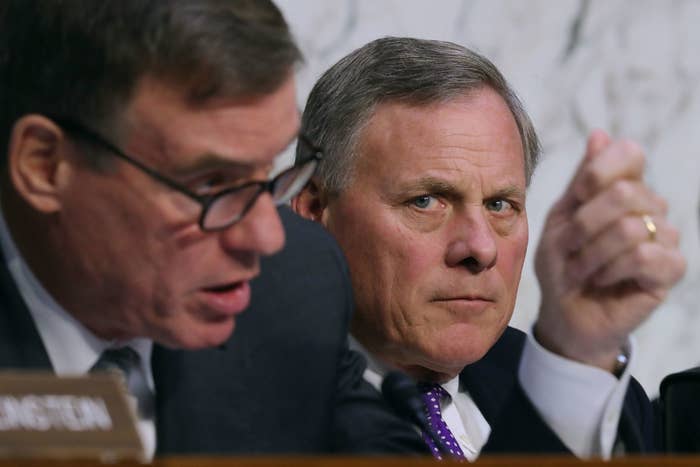 Senators are vowing to significantly reform the backlogged process for getting a government security clearance after hearing from experts who say the delays pose a major risk to national security.
The Senate Intelligence Committee held a hearing on Wednesday about the security clearance process, which is is currently bogged down with more than 700,000 pending background check investigations. The hearing comes amid revelations that dozens of White House aides had been working on interim security clearances, including Jared Kushner, whose top-secret interim security clearance was downgraded last month. ABC News reported Wednesday that "several" White House staffers who had issues getting permanent security clearances had been fired or reassigned.
Wednesday's hearing included witnesses from both the government and the private sector who called for significant changes to the system, citing wait times of 200 to 400 days for employees to get a clearance and a process that largely hasn't changed or adapted since its inception in 1947.
"We believe that the current backlog of over 700,000 clearance cases constitutes a major national security issue — it is not a 'back‐office' administrative function," Kevin Phillips, the CEO of ManTech, a government contractor, said in prepared opening remarks. "The slow pace of the security clearance process prevents us from recruiting and hiring the talented individuals critical to national security."
Oregon Sen. Ron Wyden, a Democrat on the committee, referenced the White House controversy, asking whether someone who fails to "disclose financial entanglements with a foreign adversary" on a security clearance application should be eligible for one. Kushner and former White House national security adviser Michael Flynn have both come under fire for failing to disclose certain financial connections.
An omission like that would "play a prominent role in a decision as to whether that individual should be granted a clearance," said Charles Phalen, the director of National Background Investigations at the US Office of Personnel Management.
Phalen said there aren't strict guidelines on what actions would disqualify an applicant — it's up to the adjudicator deciding whether to grant the clearance after a background check investigation to decide. But Phalen, pressed by Wyden about how that kind of omission would affect an applicant, said, "I would have a hard time overcoming that."
Brian Dunbar from the Office of the Director of National Intelligence noted that interim security clearances "have been used throughout the government for some time, for many years." But he told Wyden that Kushner's omission of some of his financial ties would have to be "thoroughly vetted in the course of the investigation." Dunbar added that he had "no reason to doubt" that the FBI would investigate thoroughly.
Phalen later noted that it's not unusual for applicants to forget to include something in their application and then amend it. Kushner has reportedly amended his financial disclosure form 39 times.
Director of National Intelligence Dan Coats told the committee in an open hearing last month that "the security clearance process is broken" and "needs to be reformed." In January, the Government Accountability Office added the security clearance process to its "High-Risk List," with US Comptroller General Gene L. Dodaro saying reforms were necessary "to minimize the risks of unauthorized disclosures of classified information and to help ensure that information about individuals with criminal histories or other questionable behavior is identified and assessed."
North Carolina Sen. Richard Burr, the committee chair, and Virginia Sen. Mark Warner, the vice chair, began the hearing by noting that the security clearance process has failed to adapt to the times, with Warner saying it "relies on shoe-leather field investigations that would be familiar to fans of spy films."

One witness, David Berteau, the president and CEO of the Professional Services Council, said he has held a security clearance for several decades, "and the guy still shows up with a pencil and a piece of paper and makes sure that the questions I've entered the form, which are in many cases the same answers I've given for almost 40 years, are still what I believe, and he writes it down with a pencil, and he takes it off and puts it into a computer system that's not compatible with anybody else's computer system."
"Let's get the process down to where we're using 21st-century technology," Berteau added.
But a major issue of concern for members of the committee and the witnesses was reciprocity, or the ability for an employee's security clearance granted by one government department or agency to be recognized by another — something they said does not happen as often as it should, creating more delays.
Berteau said that even within the Department of Homeland Security there are issues transferring security clearances. Berteau said the average time it takes for an employee with a clearance to simply move to another job within the department is "almost 100 days."
"That's preposterous," said Maine Sen. Angus King.
Some senators, such as California Sen. Dianne Feinstein and Maine Sen. Susan Collins, focused their questions on what contractors — whose employees have leaked sensitive information in recent years — are doing to improve the security clearance process on their end. Industry representatives at the hearing noted the process is the same for contractors and government employees, saying there is more training and that they are more closely monitoring employees' behavior.
Warner last month called for a "revolution" in the security clearance system. "I think we all agree," Daniel Payne, the director of the Department of Defense's Defense Security Service, said Wednesday.
"This is a high, high priority issue," Warner — whose state is home to the CIA and several military bases — said at the end of the hearing, noting it has bipartisan support.
After the hearing, Burr told reporters that next steps will include "for Congress to work with Director Coats to work with agencies to provide reciprocity."