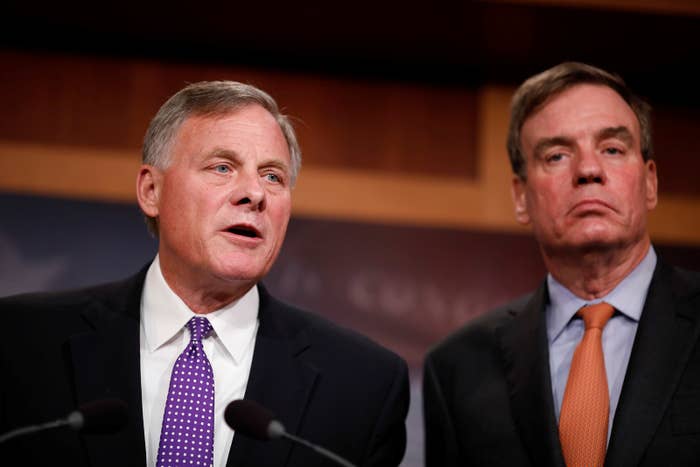 The leaders of the Senate Intelligence Committee said Wednesday that they have "hit a wall" in their attempts to investigate an unverified dossier first published by BuzzFeed News in January after security officials had briefed President Barack Obama and then-president-elect Donald Trump about it.

"We have been incredibly enlightened at our ability to rebuild backwards the Steele dossier up to a certain date," committee chairman Richard Burr told reporters Wednesday. "[But] getting past that point has been somewhat impossible."

Burr and Sen. Mark Warner, the vice-chair of the committee — which has taken the lead on the congressional Russia investigation — said that their attempts to interview former MI6 agent Christopher Steele, who authored the dossier, have been unsuccessful. Burr said that Steele could meet with he and Warner privately, or with the committee.
"The committee cannot really decide the credibility of the dossier without understanding things like who paid for it, who were your sources and sub-sources?" Burr said.
Burr said that the committee will "compel" witnesses who refuse to testify voluntarily to come before the committee. However, the committee would not likely be able to compel Steele, who is British and is not in the US. But Burr warned "potential witnesses," generally: "I strongly suggest that you come in and speak with us."

"If we believe that you have something valuable to bring to the committee had, if you don't voluntarily do it, I assure you today, you will be compelled to do it. I can compel you to come. I can't compel to you talk. But that will be done in a very public way if in fact you turn down the private offer," Burr said.
In his first press conference with Warner since March, Burr told reporters that the committee is hopeful that they "will very soon reach some definite conclusion" in their investigation of Russian interference in the 2016 election and possible collusion, "but we're not there yet."
"The issue of collusion is still open," Burr said, noting again that the committee continues to investigate and has not yet put together even "initial findings."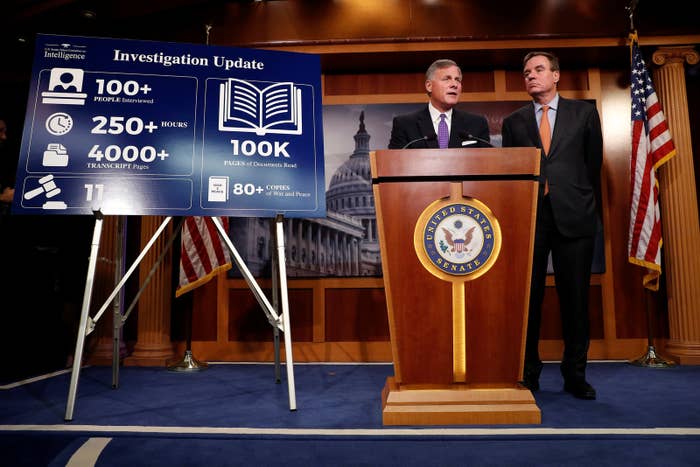 Though Burr said the committee feels "very confident" that it will be able to support the findings of the Intelligence Community Assessment from January that described Russia's interference in the election, he said the committee can't come to a conclusion yet.

"I think there is general consensus among members and staff that we trust the conclusions of the ICA. But we don't close our consideration of it in the unlikelihood that we find additional information through the completion of our investigation," he said.
Burr said the committee has also not finalized the part of the investigation that deals with President Donald Trump's firing of former FBI director James Comey, but that "the committee is satisfied that our involvement with this issue has reached a logical end as it relates to the Russia investigation."
Burr said the committee has "exhausted every person that we can talk to to get information that's pertinent to us relative to the Russia investigation," and that questions about Comey's firing should be answered by special counsel Robert Mueller or the Department of Justice at this point.
The committee's attention has turned in recent weeks to social media and how Russian actors might have used platforms such as Facebook and Twitter to spread misinformation and influence the 2016 election. Facebook turned over approximately 3,000 ads connected to a Russian troll operation to congressional investigators earlier this week, and Twitter briefed Senate investigators last week about suspicious activity on the platform.
Burr told reporters Wednesday that the committee would not release the Facebook ads. "We don't release documents provided to our committee, period," he said.
When asked about releasing the ads later in the press conference, however, Warner said: "I think at the end of the day, it's important that the public sees these ads."
Facebook, Twitter, and Google have also been asked to testify before the Senate Intelligence Committee on Nov. 1.
Warner also warned that Russian interference in the US is "an ongoing concern," urging states to work "proactively," noting that "very shortly, we'll be getting into primary seasons early on in 2018."
Burr said that the committee's goal is still to try to wrap up their investigation by the end of the year, and certainly before next year's elections.
Since January, Burr said that the committee has conducted "over 100 interviews ... which translates to 250-plus hours of interviews, almost 4,000 pages of transcripts, almost 100,000 pages of documents reviewed by our staff," which include "highly classified intelligence reporting."

The committee is also set to begin public interviews with other high-profile witnesses, such as Michael Cohen, Trump's longtime personal lawyer, this month. Burr told reporters that the committee staff has already scheduled 25 interviews for the remainder of October.