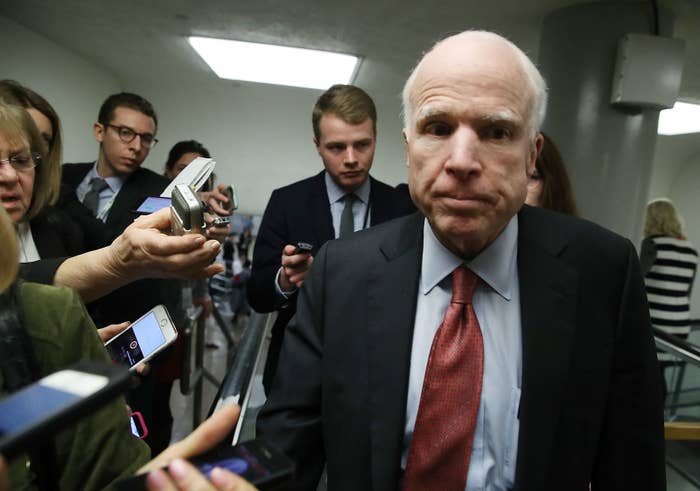 WASHINGTON — Sen. John McCain, chair of the Armed Services Committee, called the recent US raid in Yemen a "failure" following a classified briefing Tuesday morning on the operation, which ended in the death of a Navy SEAL and an unconfirmed number of civilians.
McCain told reporters on Capitol Hill that the military's decision, as has been publicly reported, to continue the mission despite "significant opposition" and the enemy being tipped off "was one of the aspects of this that made it — turned it into a failure."
McCain's characterization of the raid, which also reportedly claimed the lives of 14 members of al-Qaeda and an unconfirmed number of civilians — including an 8-year-old girl, according to NBC — stands in stark contrast to that of the White House, which is calling the operation a success.
"The raid that was conducted in Yemen was an intelligence gathering raid," White House press secretary Sean Spicer said Tuesday. "It was highly successful. It achieved the purpose it was going to get, save the loss of life that we suffered and the injuries that occurred."
But McCain said part of his committee's goal on Tuesday was to make sure that the problems that arose during the raid won't happen again.
"We needed to know what happened," he said. "We needed to know lessons learned. We need insurances that they will do everything they can to prevent such an occurrence again."

In a statement later Tuesday, McCain did not use the word failure. Instead, he said that though he would not call the mission a success, many of its objectives were met.
"Every military operation has objectives. And while many of the objectives of the recent raid in Yemen were met, I would not describe any operation that results in the loss of American life as a success," the statement said. "Going forward, I am confident that our military will act on lessons learned from this operation to strengthen our fight against our terrorist enemies."
Two other senators on the committee, Democrat Claire McCaskill and Republican Thom Tillis, confirmed that the briefing on the Yemen raid had occurred Tuesday morning but did not provide details, citing the classified nature of the issue.

"They're currently doing a post-operation review and we'll wait for additional information on that," Tillis said.
McCain said all his questions were answered on Tuesday, though not all of the answers "made [him] happy." He said his committee is not planning on holding further hearings or briefings on the raid.
Angry at mounting civilian casualties, Yemen also withdrew permission for the US to run special ground operations against suspected terror groups, the New York Times reported Tuesday.