John McCain Was Really Angry At Trump's Budget Pick Over Military Spending Cuts
Rep. Mick Mulvaney, Trump's pick to run the Office of Management and Budget, previously voted to withdraw all troops from Afghanistan and cut billions from the budget.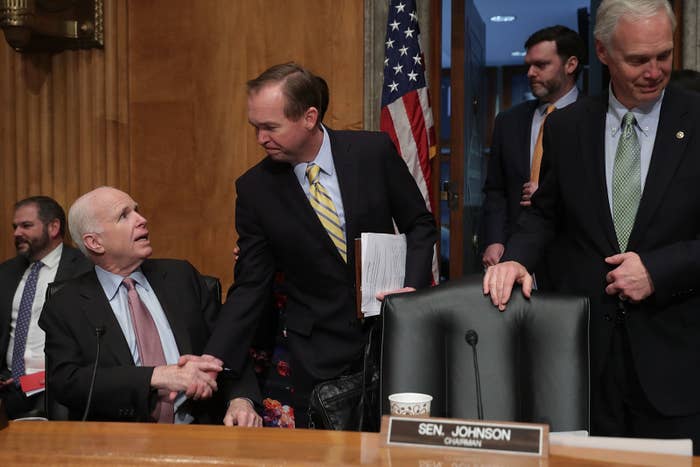 WASHINGTON — Republican Sen. John McCain unleashed a fiery line of questioning on Donald Trump's pick for budget director on Tuesday over his support of the 2013 government shutdown and previous votes to withdraw US troops from Afghanistan and Europe.
"All I can say to you, sir, is that I'm deeply concerned about your lack of support for our military and your continued votes for withdrawals from Europe when we see the world on fire," McCain told Republican Rep. Mick Mulvaney at his confirmation hearing in the Homeland Security and Governmental Affairs committee.
"What were you thinking, honestly, when you voted for an immediate withdrawal of all US troops from Afghanistan?" McCain asked Mulvaney. "Help me out here."
"Senator, if you give me the time, I'll tell you the story, because it's a true story," Mulvaney replied.
"I have about 50 seconds, go ahead."
Mulvaney said that before the 2011 vote, a group of Vietnam veterans visited him in his office to talk about issues with Veterans Affairs. After the meeting, "this giant, mountain of a man" with a long grey ponytail and leather vest pulled him aside and began to cry. The man's son had done multiple tours of duty overseas and it was "killing his family," Mulvaney said.
"So the answer to that is to withdraw all troops from Afghanistan?" McCain asked. "That is crazy!"
"I was doing the best I could to represent the people in South Carolina," Mulvaney said.
"Because one person came up to you and was subject to the sacrifices the men and women make, that you voted to withdraw all troops from Afghanistan? Don't you know where 9/11 came from?" McCain asked, his voice rising.
"Senator, you know as well as any how pro-military South Carolina is —"
"I know one thing about South Carolina, the majority of them don't support a vote in favor of withdrawing all troops from Afghanistan," McCain interrupted. "I can tell you that."
After finishing, McCain got up and left.
McCain had begun his interrogation by asking Mulvaney how he voted on specific military-related questions, including the 2011 vote to withdraw all troops from Afghanistan.
When Mulvaney began to respond, not directly answering the question, McCain interrupted: "Please, I have a short period of time." Mulvaney then admitted yes, he had voted in favor of the full withdrawal.
"Did you vote to cut $17 billion from our defense?" McCain later asked.
"Of the overseas contingency operation budget, yes sir."

"Did you offer an amendment in 2013 to cut the budget by 3.5 billion?"
"That I don't remember," Mulvaney said.
"Well, I tell ya, I would remember if I voted to cut our defense the way that you did, congressman," McCain said. "Maybe you don't take it with the seriousness that it deserves. I'm not interested in playing semantic games with you. I'm interested in what our military needs and whether they're receiving it."
"You've been an impediment to that for years," McCain said.
McCain was also unhappy with Mulvaney's previous labelling of the 2013 government shutdown as a "temporary lapse in appropriations," evoking George Orwell in describing the term.
"Since it's obvious that you and your friends supported the shutdown, I remember it vividly, as a quote 'temporary lapse in appropriations,' I'd like you to maybe go to Arizona and tell the folks up around the Grand Canyon," McCain said, adding that those people had to fly food up to the region during the shutdown.
"I think it's a shameful chapter," McCain said, "and I think it is a reason why people have such a low opinion of us and the work we do."
Emma Loop is a political reporter for BuzzFeed News and is based in Washington, DC. PGP fingerprint: BB2A EF65 4444 A4AC 6F30 760B 9C22 13B3 0938 1A00.

Contact Emma Loop at emma.loop@buzzfeed.com.

Got a confidential tip? Submit it here.