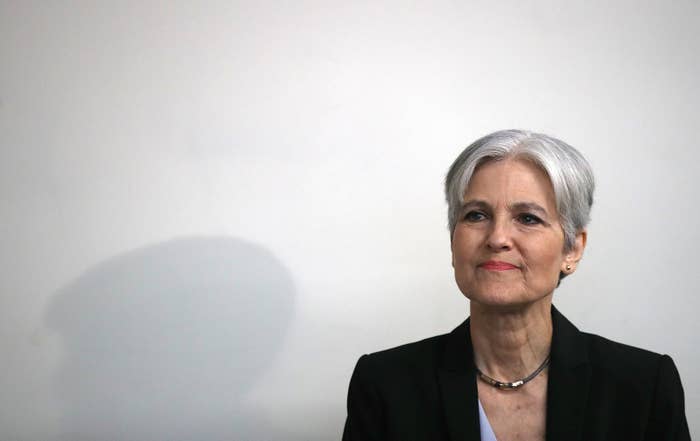 The campaign of Green Party presidential candidate Jill Stein has recently turned over documents to the Senate Intelligence Committee as part of its Russia investigation.

North Carolina Sen. Richard Burr, the chair of the committee, confirmed to BuzzFeed News on Monday that the Stein campaign had provided documents, which the committee requested at the end of last year. Burr declined to answer additional questions about the documents, including when the campaign turned them over and what time period they cover.
"We got a sufficient supply; we got an adequate response from them," Burr said Tuesday.
A source close to the committee told BuzzFeed News that the Stein campaign had turned over documents to the committee in recent weeks. A spokesperson for the Stein campaign said that they "will soon be completing [their] submission to the Senate Intelligence Committee."
Virginia Sen. Mark Warner, the vice chair of the committee, told reporters Tuesday that the committee had "received in the last — even just in the last few days — thousands of pages of ... documents regarding some of our witnesses," but declined to identify the witnesses.
The committee, which is leading congressional investigations into Russian interference in the 2016 election, took an interest in Stein late last year, requesting that her campaign provide documents as part of the probe, BuzzFeed News first reported in December.
At the time, Stein said she would be "cooperating by sharing all communications relevant to the committee's mission" and would "release a more comprehensive statement about the investigation in the near future," which does not appear to have happened.
In talking about their interest in investigating Stein's campaign, both Burr and Warner have referenced her presence at a 2015 dinner in Moscow organized by Russian state-funded media company RT, where she sat at the same table as Russian President Vladimir Putin and future White House national security adviser Michael Flynn. Flynn, ousted 24 days into the job, has since pleaded guilty to lying to the FBI about contacts with the Russian ambassador and agreed to cooperate with special counsel Robert Mueller, who is conducting a criminal investigation into potential collusion between the Trump campaign and Russia.
Warner also said Stein "has been a long-term defender of Mr. [Julian] Assange and WikiLeaks, which clearly was involved in dumping some disparaging information," referencing WikiLeaks' role in publishing documents hacked from the Democratic National Committee.
"Our campaign has observed the highest standards of transparency and integrity in our interactions with foreign nationals as well as Americans," Stein said in a statement in December.
When asked at the time what the committee was looking for from the Stein campaign, Burr responded, "collusion with the Russians."
"We should look at Mike Flynn and not look at her?" Burr told BuzzFeed News. "She became the candidate. She was the one that actually initiated a recount campaign. Where'd that money come from? Millions of dollars."
"We want to look to see if there's any Russian connections to anything that happened in any campaigns," Burr added. "That's what we were chartered to do."
The committee was also expected to seek information on Stein's numerous appearances on RT. A January 2017 assessment from the Intelligence Community on Russian election interference called RT a "propaganda outlet."
Asked Tuesday if the committee's interest in Stein had changed at all since December, Warner said Stein "obviously ... had some interaction with Mr. Putin and we're trying to be as comprehensive as we can." Warner declined to comment further.
Burr, asked the same question, said, "well, we're not finished, so we're still accumulating and assessing."
A spokesperson for the Stein campaign did not answer additional questions about the documents or why Stein has yet to release a more detailed statement about the probe.