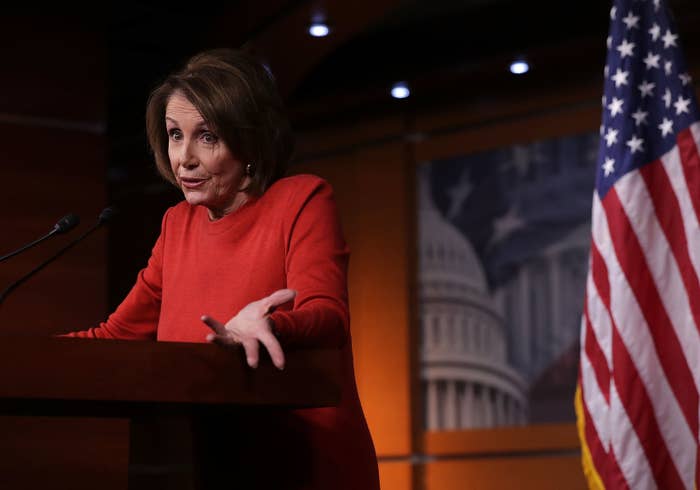 WASHINGTON — After a staggering election defeat, House Democrats say Leader Nancy Pelosi has agreed to delay leadership elections to allow the caucus to assess the damage and figure out how to move forward.
"I think she saw that overwhelmingly the members wanted a few more days to consider the election," North Carolina Rep. G. K. Butterfield told reporters on Capitol Hill Tuesday morning following House Democrats' first meeting since last week's devastating election loss. Democrats lost the White House and failed to take back majorities in either the Senate or House.
Members were initially supposed to vote Thursday on whether to delay leadership elections, but Pelosi — faced with what Butterfield called a "consensus" to postpone "after considerable debate" — decided to delay until Nov. 30.

Chased by reporters, Pelosi said the delay means "not very much" because the House will not be in session for most of the next two weeks. Asked about getting badly beat on election night, Pelosi said "that speaks to the presidential race more."
But the delay gives potential leadership challengers time to put up a fight against Pelosi for the top spot in the House Democrat caucus.
Butterfield joined other members in singing Pelosi's praises after the meeting, saying she "enjoys great respect and support in the Democratic caucus." But he and other members said the caucus agreed it needed time to figure out what's best for the party.
"We just got a shellacking last Tuesday. We got an unexpected defeat and we've got to recalibrate and decide how we go forward," Butterfield said, comparing it to going through the stages of grief.
"We got our butts kicked," said Ohio Rep. Tim Ryan, who has said he is considering running against Pelosi.
Ryan said Democrats need to regain support in places like his home state of Ohio and neighboring Michigan by pushing a message that soothes the economic anxieties of the working class — something president-elect Donald Trump focused on throughout the election campaign.
His Ohio colleague Rep. Marcy Kaptur echoed that sentiment, saying Democrats need to work with Trump on fair trade provisions that protect American workers. "We need to meet the president at least half way," she said.
Kaptur also said the decision to delay the leadership vote came in part to allow new House Democrats to participate.
Even if, after the vote, House Democratic leadership remains the same, several members said the party's messaging and outreach to voters needs to be different.

"It's more important to spend the next couple weeks talking about how we're going to fight President Trump," said Pennsylvania Rep. Brendan Boyle. "How we're going to fight and re-win working class people, which had been the heart and soul of this party, but unfortunately are now voting against Democrats in larger numbers than ever before."
Boyle said the party needs to focus on doing some "soul-searching" now.
"I mean, we're the party of Franklin Roosevelt," he said. "We should not be struggling as a party the way we are to win working class voters. And the fact that we are signals that there's a deeper problem."