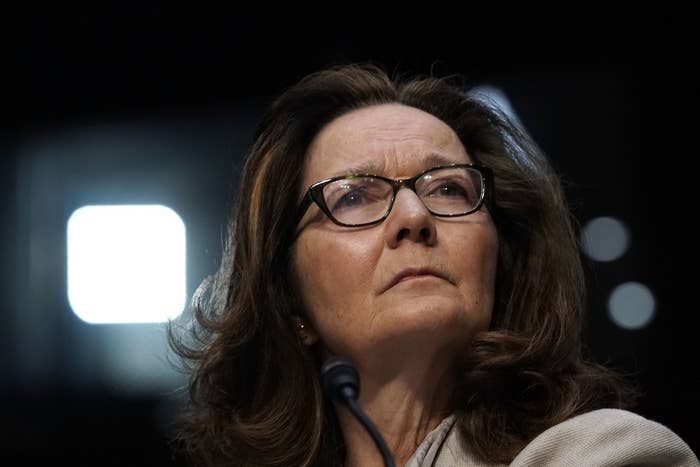 Gina Haspel, Donald Trump's controversial nominee to be CIA director, confirmed on Wednesday during her confirmation hearing that she would not restart the agency's post-9/11 torture program and said she would not follow an order from the president that she found to be immoral.
"Senator, my moral compass is strong," Haspel told Virginia Sen. Mark Warner, the top Democrat on the Senate Intelligence Committee, who'd noted President Donald Trump's past support for torture. "I would not allow CIA to undertake activity that I thought was immoral, even if it was technically legal. I would absolutely not permit it."
However, Haspel — a career CIA officer who was involved in the agency's rendition, detention, and interrogation program after the Sept. 11 attacks — sidestepped questions about whether she now believes that the CIA's torture program was immoral.
"I think that we should hold ourselves to a stricter moral standard," Haspel said repeatedly as Democrats on the committee grilled her about her views on torture.
Haspel also said she "would never, ever, take CIA back to an interrogation program" but argued the CIA followed the law and still does so today.
Haspel was testifying before the Senate Intelligence Committee, the first public questioning about her long tenure at the agency, which remains mostly shrouded in secrecy. She acknowledged under repeated questioning that as the agency's acting director, the decision not to declassify details of her career remains primarily with her.
In 2002, Haspel briefly ran a secret CIA prison in Thailand where detainees were kept and interrogated. She managed the blacksite starting in October, shortly before Abd al-Rahim al-Nashiri, the alleged mastermind of the USS Cole bombing, was waterboarded there, but Haspel declined to say in the public session if she had taken part in that interrogation.
Haspel said Wednesday that she was not involved in creating the torture program and that she was not briefed on it until 2002 after it was launched.
Haspel would replace former CIA director Mike Pompeo, who is now serving as secretary of state, and would be the first woman to lead the agency. But she faces a tough nomination battle because of her role in the agency's torture program, as well as the destruction in 2005 of 92 videotapes showing brutal interrogations.
Haspel, a veteran counterterrorism officer, said that she had not personally viewed the tapes. But she said she was "absolutely" an advocate of destroying them because they showed the faces of CIA officers, which could put them at risk if the tapes were ever made public. She acknowledged that she drafted the cable authorizing the tapes' destruction for her boss, Jose Rodriguez, the then head of the CIA's clandestine service, and knew within minutes that he had sent it without consulting higher ups in the agency, who had opposed their destruction.
But others have argued the reason for destroying the tapes was to protect the CIA's public image. Haspel said she does "not recall being aware" of press reports and legislation about the torture program that came just before she drafted the cable authorizing the tapes' destruction. An internal CIA review of the incident cleared her of wrongdoing and placed the blame on Rodriguez, who Haspel said "decided to take the decision on his own authority."
During the hearing, Haspel repeatedly defended her moral compass and record, and said she would not get the CIA back into the interrogation business. She pointed to the military as the government entity largely responsible for interrogating detainees, noting that they must follow the guidelines set out in the Army Field Manual, which does not include any of the so-called "enhanced" techniques from the Bush era.
However, she would not provide a clear answer about whether torture is effective, largely adopting the CIA's official stance on the issue: that the program resulted in valuable intelligence, but that it's unknowable whether senior al-Qaeda operatives would have provided information had they not been tortured. The Senate Intelligence Committee's 2014 report on the program disagreed.
Haspel also defended the work of the CIA after the Sept. 11 attacks, noting that officers in the Counterterrorism Center like her worked seven days per week and often postponed weddings or having children. "I think we did extraordinary work," she said. "To me, the tragedy is that the controversy surrounding the interrogation program, which as I've already indicated to Sen. Warner, I fully understand that, but it has cast a shadow over what has been a major contribution to protecting this country."
The hearing became heated at times as protesters erupted with cries of "bloody Gina!" and comments about her involvement in the torture of detainees. There was brief tension on the dais, too, as Republican Sen. Tom Cotton interrupted Warner, prompting Chairman Richard Burr to intervene against Cotton.
With one Republican senator — Kentucky Sen. Rand Paul — opposing her nomination, Haspel will need at least some Democratic support to be confirmed by the Senate. Several Democrats, such as Warner, who could potentially support her nomination appeared unimpressed with Haspel's public candor on Wednesday, though, urging her repeatedly to answer yes or no questions that she ultimately dodged.
But following the hearing, West Virginia Sen. Joe Manchin — a Democratic member of the committee — announced his support for Haspel, greatly increasing her chances of being confirmed. "I have found Gina Haspel to be a person of great character," Manchin said in a statement. Manchin is one of several Democrats up for reelection this year in states Trump won in the 2016 election.
Warner, who has yet to announce whether he'll support Haspel, appeared more satisfied with her responses after the committee held a second, classified hearing with her in the afternoon. "We covered a lot of ground in the closed session this afternoon," he said, still reserving his decision. "I heard from the nominee more clarity than I heard this morning, particularly in terms of the kind of questions I asked about whether she believed that the interrogation techniques frankly aren't consistent with American values."
Committee members will now submit written questions to Haspel. The committee is expected to hold a vote on Haspel's nomination sometime next week.