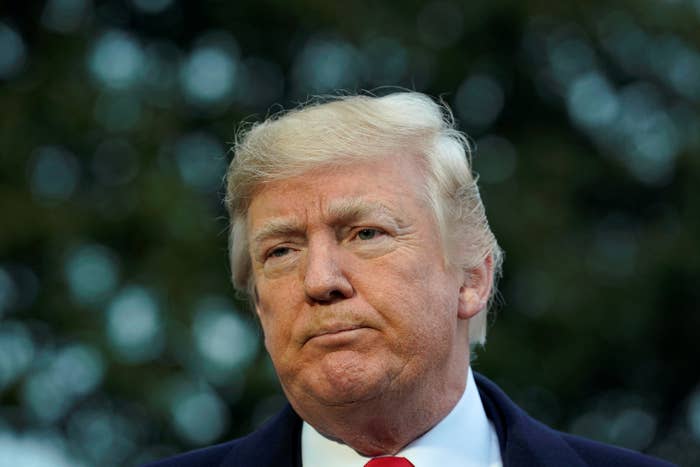 The FBI had evidence that lent credence to an explosive dossier alleging links between Russia and then-candidate Donald Trump, from a source within either Trump's campaign or business, according to the head of the firm that commissioned the dossier.
Glenn Simpson, founder of Fusion GPS, which commissioned former British spy Christopher Steele to write the dossier, told Senate investigators in August that Steele indicated the FBI "had other intelligence about this matter from an internal Trump campaign source," according an interview transcript released Tuesday.
Simpson later clarified that he was uncertain whether that source was a member of Trump's campaign or his business, the Trump Organization.
"[M]y understanding was that they believed Chris at this point — that they believed Chris's information might be credible because they had other intelligence that indicated the same thing and one of those pieces of intelligence was a human source from inside the Trump organization," Simpson told the Senate Judiciary Committee.
"It was someone like us who decided to pick up the phone and report something," Simpson said of the source. He declined, however, to name that person, citing "security."
Later in the interview, Simpson also clarified that Steele "didn't specifically say" the FBI had relayed that information to him. When pressed further, Simpson clarified that he wasn't relaying Steele's exact words.
"I think I was saying we did not have the detailed conversations where he would debrief me on his discussions with the FBI," Simpson said. "He would say very generic things like I saw them, they asked me a lot of questions, sounds like they have another source or they have another source. He wouldn't put words in their mouth."
Sen. Dianne Feinstein, the top Democrat on the committee, released a copy of the transcript on Tuesday after committee chairman Chuck Grassley and Republican Sen. Lindsey Graham referred Steele to the FBI last week for potentially providing false statements to Senate investigators.
"After speaking with majority and minority committee staff for 10 hours, Glenn Simpson requested the transcript of his interview be released publicly," Feinstein said in a statement Tuesday. "The American people deserve the opportunity to see what he said and judge for themselves. The innuendo and misinformation circulating about the transcript are part of a deeply troubling effort to undermine the investigation into potential collusion and obstruction of justice. The only way to set the record straight is to make the transcript public."
A spokesperson for Grassley said it's "totally confounding that Senator Feinstein would unilaterally release a transcript of a witness interview in the middle of an ongoing investigation" and that she did not consult Grassley on her decision to release the transcript.
"But more importantly, Feinstein's unilateral decision was made as the committee is still trying to secure testimony from other witnesses, including Jared Kushner," spokesperson Taylor Foy said in a statement. "Her action undermines the integrity of the committee's oversight work and jeopardizes its ability to secure candid voluntary testimony relating to the independent recollections of future witnesses."
Grassley "would welcome Mr. Simpson's testimony before a public hearing," Foy added.
In the transcript, Simpson said Steele decided, on his own, to inform the FBI in July 2016 of what he had found while compiling the dossier because he thought there was "a security issue about whether a presidential candidate was being blackmailed."
Steele, according to Simpson, also met with someone from the FBI in Rome in September to share his findings. When describing that meeting, Simpson said, Steele told him about the FBI's source within Trump's orbit.
Simpson said Steele "severed his relationship with the FBI" after the New York Times published a story on Oct. 31, 2016 saying the FBI had not yet "found any conclusive or direct link" between Trump and the Kremlin. Simpson said Steele ended the relationship "out of concern that he didn't know what was happening inside the FBI and there was a concern that the FBI was being manipulated for political ends by the Trump people."
Simpson also said the Trump source was not one that Steele used in the dossier.
The dossier was first published by BuzzFeed News last January after security officials had briefed then-president Barack Obama and then–president-elect Donald Trump about it.
Simpson told investigators that the firm was first hired in September or October of 2015 to research Trump more broadly, but declined to identify the first client. The Washington Free Beacon, a conservative news site, has said it hired Fusion to provide research on a number of Republican candidates, including Trump, but denied funding the research that ended up in the dossier.
Simpson said the deal with the first client ended in the spring of 2016. Simpson said a second client hired the firm "in the first half of 2016," but again declined to identify the client. A law firm representing Hillary Clinton and the Democratic National Convention was reportedly the second client.
Simpson, a former Wall Street Journal reporter, said he hired Steele, who "was the lead Russianist at MI6 prior to leaving the government and an extremely well-regarded investigator," in May or June of 2016 "to see what he could find out about Donald Trump's business activities in Russia."
"The thing that people forget about what was going on in June of 2016 was that no one was really focused on sort of this question of whether Donald Trump had a relationship with the Kremlin," Simpson said. "So, you know, when Chris started asking around in Moscow about this the information was sitting there. It wasn't a giant secret. People were talking about it freely. It was only, you know, later that it became a subject of great controversy and people clammed up [...] these things eventually converged into, you know, a major issue, but at the time it wasn't one."
Fusion GPS did not respond to a request for comment.