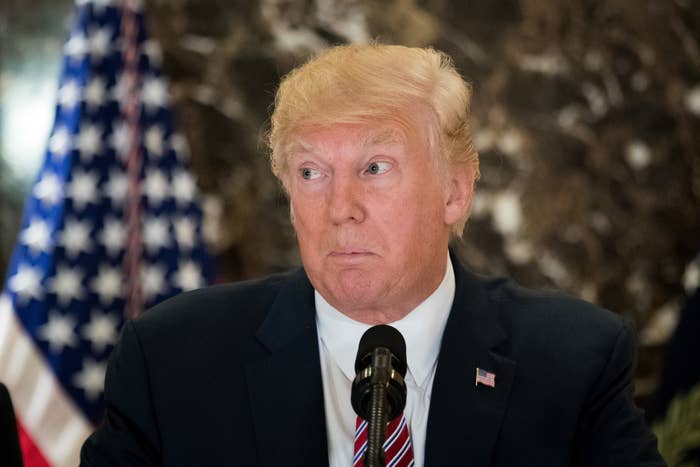 Three Democratic members of Congress have introduced a resolution to censure President Donald Trump over his "inadequate response" to the deadly white supremacist rally in Charlottesville this past weekend.

Reps. Jerrold Nadler, Bonnie Watson Coleman, and Pramila Jayapal introduced the bill on Friday during a brief session of the House, which is in recess until after Labor Day. The bill, first announced on Wednesday, now has the support of 75 other Democrats.
House Minority Leader Nancy Pelosi also expressed support for the censure resolution on Friday. "Every day, the President gives us further evidence of why such a censure is necessary," Pelosi said in a statement after the resolution was introduced. "Indeed, with each passing day, it becomes clearer that the Republican Congress must declare whether it stands for our sacred American values or with the President who embraces white nationalism."
"Democrats will use every avenue to challenge the repulsiveness of President Trump's words and action," she added.
While a vote to censure the president has no legal ramifications, it is a significant and rare symbolic vote of disapproval. Only three presidents have been successfully censured by the House or Senate in history.
Members of Congress from both parties have been frustrated that it took Trump two days to explicitly condemn white supremacists in the wake of racist violence in Charlottesville, which left 32-year-old Heather Heyer dead and many more injured. On Tuesday, he did an about-face during a press conference in Trump Tower, angrily defending the white supremacists in Charlottesville, and once again blaming "both sides" for the violence there.

Nadler, Watson Coleman, and Jayapal said in a statement that Trump's comments after Charlottesville were "a moral outrage."

"It is incumbent on all Members, from all parties, to not only condemn the President's remarks, but to issue this censure of the President for the way he has represented our country and constitution," the statement said.
In addition to censuring the president for his overall response, the resolution would, if adopted, censure Trump for "his failure to immediately and specifically name and condemn the white supremacist groups responsible for actions of domestic terrorism"; for claiming that "both sides" were responsible for the violence; and for "employing people with ties to white supremacist movements in the White House, such as Steve Bannon and Sebastian Gorka."
Lastly, the resolution would "urge President Donald Trump to fire any and all White House advisors who have urged him to cater to the alt-Right movement in the United States."
As Republicans control Congress, it would be up to House Speaker Paul Ryan to put the resolution to a vote, which would only need to pass the House. It is unclear whether it would garner enough support from the GOP to pass, however. No Republican has yet called for censuring Trump.
The last time the House censured a politician was in 2010, when members voted to censure Democratic Rep. Charlie Rangel after the House Ethics Committee charged him with ethics violations. Rangel remained in Congress following the vote and retired earlier this year.
Very few presidents have ever been censured by Congress. In 1834, the Senate voted to censure Andrew Jackson over his failure to hand over a document related to a controversial banking issue. The Senate voted to reverse the censure three years later. The House has voted to censure a president just twice — John Tyler in 1842 and James Buchanan in 1860, according to the Congressional Research Service.
Members have tried to censure other presidents — including the last three men to occupy the White House — but those resolutions never made it to a vote.
Ryan's office did not respond to a request for comment.