Cubans Sing Castro's Praises Before His Funeral
"He's the leader who guided us to the revolution and gave us everything that we have right now," said a 17-year-old student, who was celebrating the life of Castro.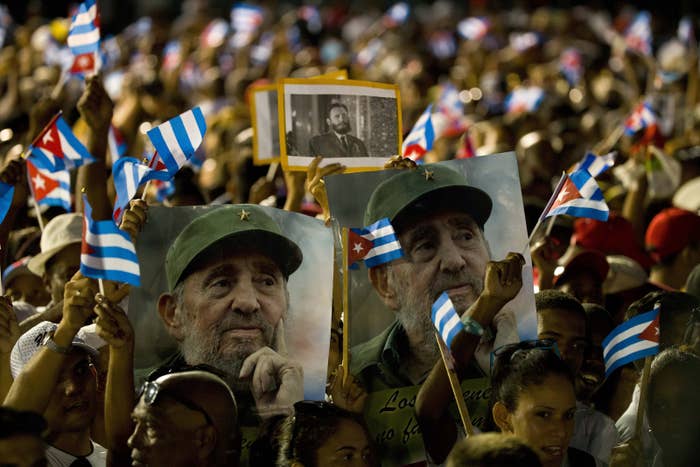 SANTIAGO DE CUBA, CUBA — Thousands of Cubans holding flags and wearing the colors of the country's socialist revolution assembled in a sprawling plaza Saturday night to remember the life of late president Fidel Castro.

As the sun set, more than 20,000 people gathered in Santiago de Cuba's Antonio Maceo Revolution Plaza — which commemorates Cuba's 19th century war of independence — to sing Castro's praises.
Groups of people in the crowd often erupted in forceful chants of "Yo soy Fidel!" or "I am Fidel," a motto that has emerged since Castro's death at age 90 last weekend, as they thrust small Cuban flags into the air.
The crowd was dotted with posters of Castro, but also with the flags of foreign guests, such as China and France, as well flags from various international labour movements.
Earlier in the day, the caravan carrying Castro's ashes arrived in Santiago after traveling across the country from Havana. The convoy travelled through the coastal city's winding streets where Castro's 1950s socialist revolution began before ending the day at the plaza.
Discarded food wrappers and soda cans littered the ground, a testament to the hours some had stood in the square in anticipation of the ceremony. Large blue jugs of drinking water for the attendees and Cuban Red Cross tents lined the plaza's south side.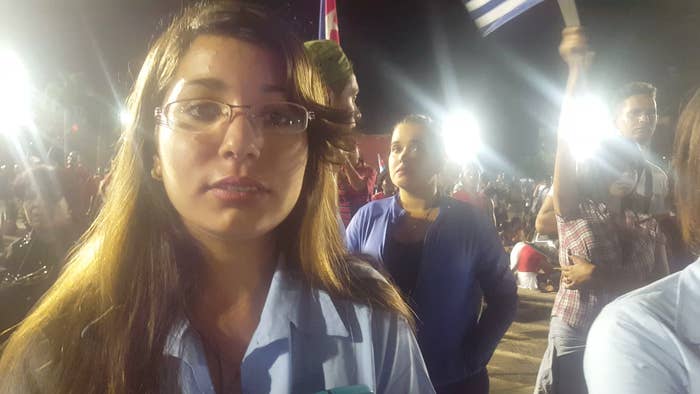 Many of those who gathered in the plaza Saturday were teenaged students dressed in blue school uniforms, some with "Fidel" written on their faces and others with black and red "Julio 26" bands on their arms, a symbol of the socialist revolutionary movement that is said to have begun on July 26, 1953.
The students, too young to remember Castro's revolution or "special period" of isolation and famine that followed, took photos with selfie sticks and used smartphones to record the speeches from the night's half-dozen speakers, including Raoul Castro, Fidel's brother who now runs the country.
"Tonight, I feel great," said 15-year-old Gabriella Rivero Arias. She said many people had felt his loss, but that the event was a celebration of a great man.
Castro's reputation outside Cuba is, of course, starkly different in places such as the United States. Though some acknowledge the improved health and educational services his 1959 socialist revolution brought the country, others believe Castro to have been a dictator who repressed free speech and trampled on human rights to retain power for nearly 50 years.
But like others at the event, Rivero Arias says she does not believe Castro did anything wrong.
"Everything that he's done is good for the country," Rivero Arias says in Spanish, "and everything's he's done has always been for our wellbeing."
However, 61-year-old Miguel "Mike" Ruiz Ramirez acknowledges that Castro was not perfect.
"As a human being, he could have any mistake as we have," said Ramirez, a former English teacher who now works as a translator at a university. "But whenever he fell into a mistake, he was so great to tell the people that it was not right and we have to do it again and do it better."
Despite the event's overwhelming tone of political affirmation and celebration, Ramirez and others said they still felt a great sadness at Castro's death.
"In the morning I even cried because of the moment of the arriving of the caravan. It was very sad," he said. "We really love Fidel."
Andy Toledano, a 17-year-old student, said he also felt sad. "He's the leader who guided us to the revolution and gave us everything that we have right now," Toledano said in Spanish. "I believe he is one of the greatest men of the 21st century."
The night ended with songs and montages showing black and white photos of a young Castro leading the revolutionary forces, as well as more recent color videos in which the former president can be seen kissing children's heads and even playing baseball — all while still wearing the green military uniform he rarely abandoned.
Like at a pop concert, the most dedicated fans at the front of the crowd continued to sing their love for Castro even after one of the stage's jumbo screens went to green static and the rows of foreign dignitaries and government officials had emptied.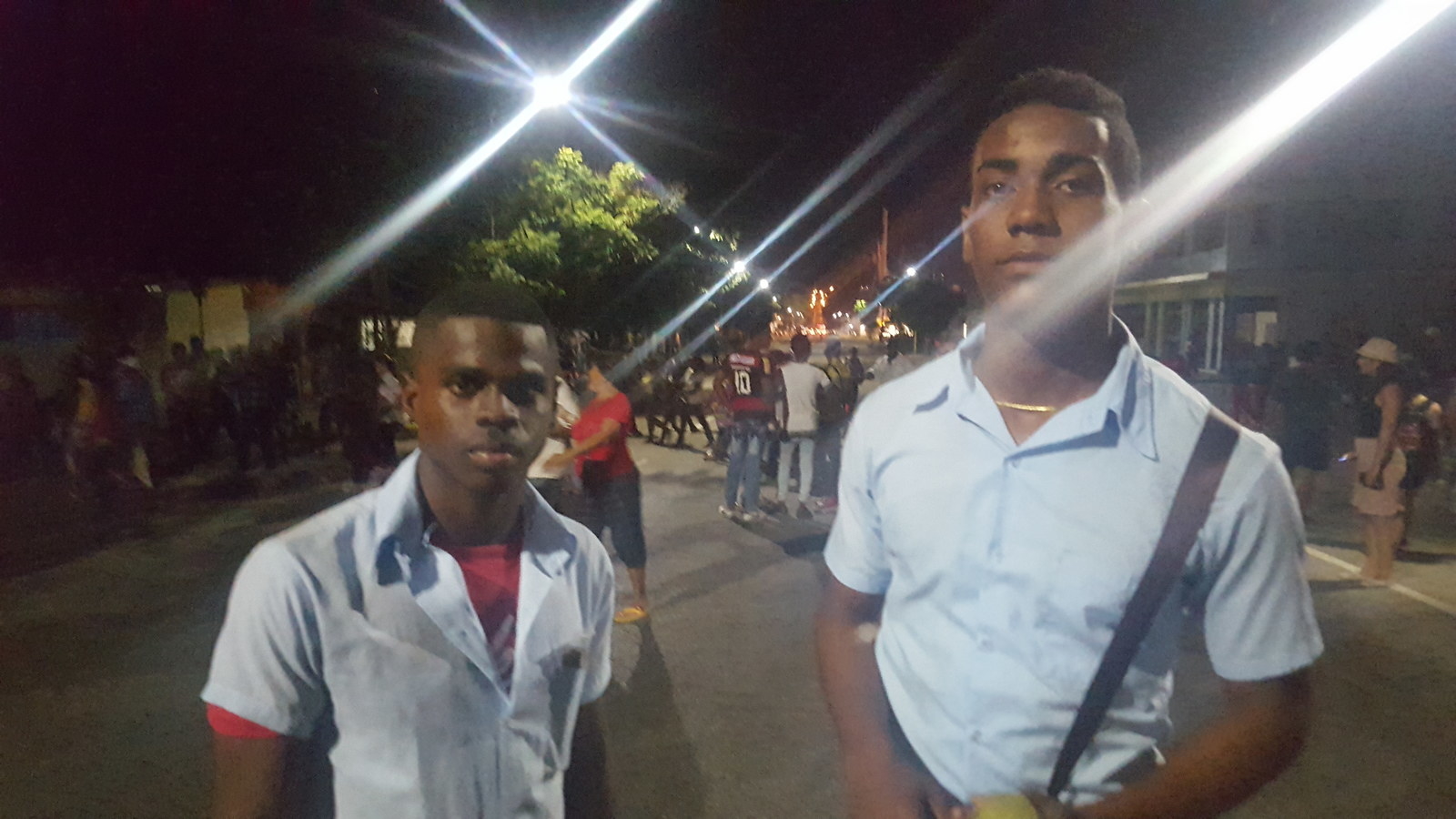 As for Cuba's future, Reynaldo Sánchez Palú, also 17-year- old student, says the country's youth believe in Castro's concept of revolution as a vehicle for change.
"We as students, we have to remember this in order to achieve better lives," he said in Spanish.
Rivero Arias argues that because of the legacy of Castro's ideas, Cuba won't change anytime soon.
"It will be the same as it's always been," she says.
Castro is scheduled to be laid to rest Sunday morning at Santiago's Santa Ifigenia cemetery.