Conservatives Are Tired Of Throwing Money At "Predictable" Natural Disasters
"You can't just throw money at a problem."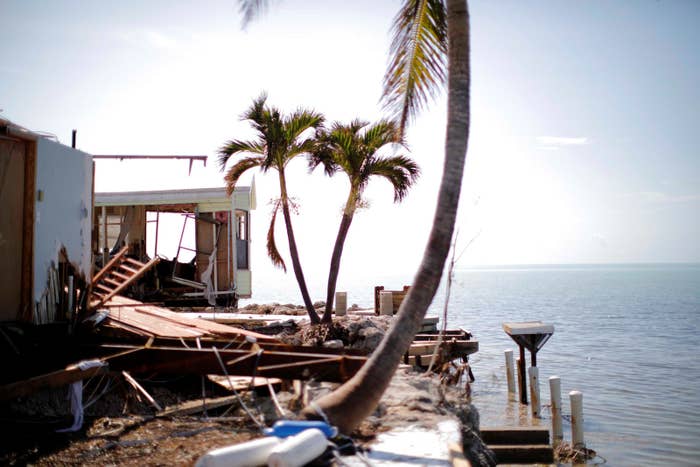 As federal agencies take in the full scope of the damage caused by Hurricanes Irma and Harvey over the next few weeks, Congress will likely be called upon to approve additional disaster relief funding on top of the $15-billion emergency package it passed last week.
But conservatives are feeling uneasy about the way Congress is doling out billions to FEMA and other federal agencies in the wake of the two hurricanes, with some pushing for Congress to plan ahead, instead of throwing money at natural disasters after the fact.
"The idea of an emergency is you never would've anticipated it would come our way, we have to fund it," said South Carolina Rep. Mark Sanford, who voted for the initial Hurricane Harvey relief package in the House, but voted against the Senate's version that included a debt ceiling increase. "You can anticipate that we are going to get hit some number of times, like clockwork, as a result of hurricanes, flooding, and fires and tornadoes."
"They're not emergencies," Sanford said, "they are predictable tragic crises."
Congress passed a $15.2 billion disaster relief package last week as Irma edged closer to Florida and cleanup from Harvey in Texas continued, draining FEMA's coffers. The House initially passed a bill with $7.8 billion in funding, mostly for FEMA. But the version the Senate passed, which eventually became law, contained an additional $7.4 billion for the Department of Housing and Urban Development to repair infrastructure and housing, among other things — an add-on that concerned fiscal hawks in both chambers.
"I ended up not voting for it because there was an extra $8 billion in there that wasn't even a part of the storm," Tennessee Sen. Bob Corker said Monday night. "There was $8 billion that actually went to the community block grant funding that should have been appropriated through other processes."
The package — a deal President Donald Trump struck with Democratic leadership, and that Republican leadership reluctantly supported — also tied an increase in the debt ceiling and a short-term government spending bill to the hurricane aid, something that further infuriated some Republicans. The deal sets Congress up for a potential shutdown showdown in December, when both the debt ceiling and government funding bill, known as a continuing resolution, expire.
But before that, lawmakers will, in all likelihood, be called upon to pass another bill to further fund disaster relief. "Last week's emergency supplemental was just the initial payment on what will be a very long recovery effort," said Jay Tilton, a spokesperson for Sen. Patrick Leahy, the top Democrat on the Appropriations Committee. "FEMA, HUD and other agencies are likely to release their cost estimates in the coming weeks," Tilton said, adding that Leahy "is ready to work with these agencies and his colleagues in the Senate to ensure that recovery efforts can move forward and the affected areas can rebuild."
Chris Gallegos, a spokesperson for Sen. Thad Cochran, Leahy's Republican counterpart on the committee, said they are "following Hurricane Irma closely and in contact with FEMA and other agencies," and that the committee "will proceed accordingly should the need for additional emergency supplemental funding be sought after damage and recovery assessments are made."
But fiscal hawks say they aren't comfortable with the current process and wish Congress had a better way of planning for disaster relief instead of repeatedly passing billion-dollar supplementals bills.
Wisconsin Sen. Ron Johnson, chair of the Homeland Security and Governmental Affairs Committee, said Monday he had just met with his staff about implementing better oversight of how the funding is spent. Johnson was one of 17 GOP senators who voted against the aid deal last week, which also got 90 "no" votes from Republicans in the House.
"I really want more oversight, more control over in terms of how this money's dispersed," he said. "I mean, all of a sudden, people just say it's got to be $15 billion, it's got to be $80 billion, it's got to be $150 billion. You can't just throw money at a problem. There's got to be hopefully greater control over this."
"That's not saying that I'm not completely sympathetic to the tragedies and that the federal government have a role in it, but we really do need to exercise oversight and control," he added.
North Carolina Sen. Richard Burr, a Republican who voted for the package, said he'd like to see a better process, too, but expressed little hope that Congress could get back to passing individual spending bills on time, the way it's supposed to. "We have an annual opportunity to rethink the insanity of emergency disaster money. We haven't for 23 years. I'm not sure that there's a movement to do that," he said.
"The good news is we responded to disasters, that's what strong federal governments are supposed to do. My hope is that we will figure out a different way to plan for these and to fund them," he said. "States do it with contingency funds, I don't know why we can't have one."
Conservatives worry that as the recovery efforts for Harvey and Irma wear on, the price tags coming out of Congress will grow to a unacceptable size.
"I don't think anybody right now is viewing the Republican Party as the party of fiscal discipline," said Dan Holler, vice president of the conservative Heritage Action, likening this moment to "the Bush years."
Sanford said Rep. Jeb Hensarling, the chairman of the House Financial Services Committee, had put it best in a House Republican conference meeting last week.
"He said, 'We are guaranteed to face a financial storm of epic proportions if we continue doing nothing about paying for this stuff,'" Sanford recounted. "And I believe that."