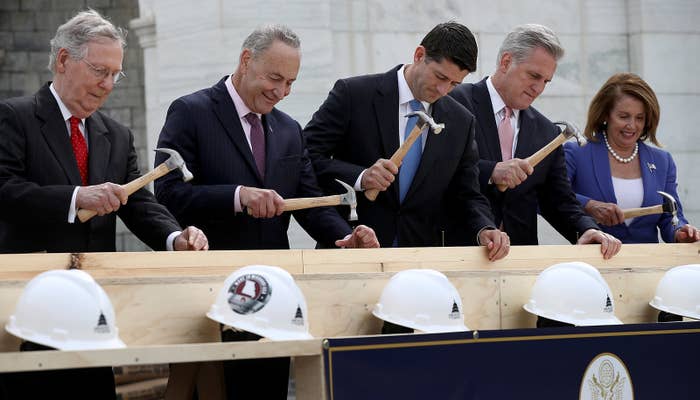 WASHINGTON — Sen. Bernie Sanders doesn't mince words when he describes Congress's recent productivity levels.
"I think it's a disaster and embarrassment to the American people," he says. "This country faces huge crises and we're not even coming close to discussing the crises, let alone resolving them."
The crises facing Congress this session were many: The Zika virus outbreak in southern states, water contamination in Flint, Michigan, and flooding in Louisiana, among other things.
But after a longer-than-usual break this summer, Congress yet again spent the bulk of its time bickering over how to avoid another government shutdown at the end of September.
So what's a realistic expectation for the upcoming lame duck? On one hand, many believe the period after the election will be less politically charged and more conducive to getting things done. But everyone also seems resigned to the fact that Congress still lacks the time — the new CR expires on Dec. 9 — and bipartisanship to pass a comprehensive budget in the lame duck. And if recent history is any guide, congressional crisis jumping won't end with the election.

"It's déjà-vu," says Republican Rep. Scott Rigell. "The dates change, but everything about this scenario just mirrors exactly, in a fundamental way," he said. "The gears are just colliding; there's no clear path out where you feel good about the path out."

This time around, Congress ultimately approved a continuing resolution to extend government funding for two and a half months and tacked on funding for issues such as Zika, but not before several rounds of high-stakes chicken.
First, debate over Zika funding stalled when Republicans loaded the legislation with riders concerning funding to Planned Parenthood affiliates and allowing the Confederate flag to be flown on federal grounds.
They eventually blinked and, with time running out, proposed a "clean" continuing resolution that included Zika funding but no controversial riders. But then Democrats blocked the CR anyway, because it didn't include aid for Flint, a city of 100,000 with a water supply poisoned by lead.
With an election looming and politicians wanting to get back to their districts to campaign, a Flint aid deal was struck at the 11th hour, allowing the CR to pass.
Any big issues, like criminal justice reform, tackling a comprehensive budget, or filling a Supreme Court vacancy, were swiftly kicked to the lame duck where they may or may not be taken up.
Republicans and Democrats agree on two things. First, that the appropriations process needs to be fixed so that the government has some long-term stability instead of stumbling from crisis to crisis. Second, that it's the other side's fault that this hasn't happened yet.

"You gotta have both sides, you gotta have both Democrats and Republicans willing to fix the appropriations process," said Republican Louisiana Rep. John Fleming.

"And Democrats seem to take every opportunity to throw a monkey wrench in and
destroy it."
Democratic Sen. Claire McCaskill points to Republican leadership in the Senate as a deterrent to productivity. "Mitch McConnell is a pretty political animal," she says. "Usually politics trump everything else with him."

McConnell, for his part, blames President Barack Obama. "To tackle the really big issues confronting our future, you need a president who's willing to engage and accept in this particular instance the fact that his party does not control the Congress," McConnell said Thursday. "He was not willing to move to the political center."
As for the lame duck, even McConnell says he doesn't see the possibility of much getting done.
"The only place you could go with this amount of time left would be several mini-buses," McConnell said. "We'll just have to see what we can move."

The "mini-bus" bills would give stable funding to some departments, while others would stay afloat with another continuing resolution.
The expectation is that Republicans and Democrats would horse-trade over which departments get funded by a minibus. "The big ones, Defense and HHS [Health and Human Services], are not going to move unless they move together," said Republican North Carolina Rep. Mark Meadows.
If the past few bitter weeks are any indication, however, any deal-making that occurs when Congress returns in mid-November could prove complicated and messy.
Adam Jentleson, a spokesperson for Senate Minority Leader Harry Reid, says he feels that unless one party suffers a deafening loss and has to rethink its positions, the dysfunction "doesn't bode particularly well" for the lame duck.
Already, there are signs of hostility in the discussion around what's next.

Jentleson says Democrats aren't yet totally opposed to the mini-bus idea, but that they're "highly skeptical." They would prefer an omnibus funding bill, he says.
"On its face there's nothing terrible about doing mini-buses, except that the only reason you would do mini-buses would probably be to try to do an end-runaround the funding levels that we all agreed to last year," he says.
"What we think they would do is move the military bills first at the higher spending level, and then try to jam us with bills on domestic spending at a lower level," Jentleson says. "And we would definitely be categorically opposed to that."
But Don Stewart, a spokesperson for McConnell, said the idea that Republicans are trying to circumvent last year's budget agreement doesn't make sense.
"All the bills that we've done to date have met the budget agreement," he says, adding that the Democrats still filibustered those bills. "So any sort of conspiracy theory talk about that is kind of belied by their own filibusters," Stewart says.
He says that, in general, Democrats have been trying to "make Republicans look like they can't function" to use as ammunition during the election. "In a lame duck, we're past the election, so maybe they will stop some of the intentional obstruction," he says.
Some members are cautiously optimistic — at least publicly — the lame duck will be productive.
"You get the silly season of elections behind you and hopefully we can focus on those things that put on us on a better glide path for jobs and security," said Sen. Richard Burr, a North Carolina Republican. "Well, I hope there's a level of cooperation that doesn't exist right now."
"I think when you get the elections behind you, that has an automatic way of impacting," he added.