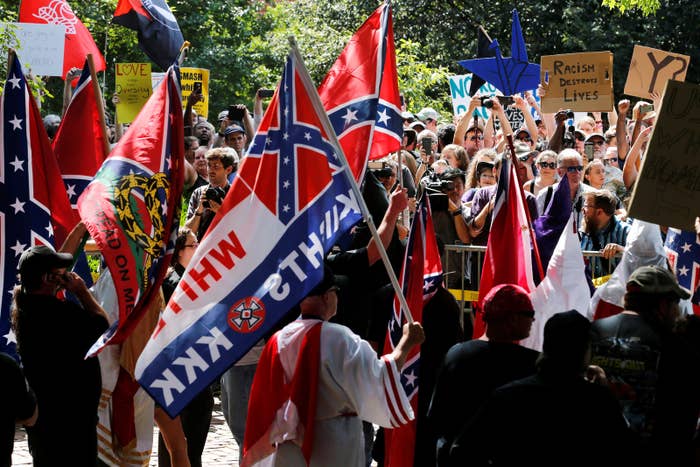 President Donald Trump on Thursday signed a joint congressional resolution "condemning the violence and domestic terrorist attack" in Charlottesville, Virginia, in early August, and urging Trump and his administration to combat white supremacist groups.
"As Americans, we condemn the recent violence in Charlottesville and oppose hatred, bigotry, and racism in all forms," Trump said in a statement. "No matter the color of our skin or our ethnic heritage, we all live under the same laws, we all salute the same great flag, and we are all made by the same almighty God. We are a Nation founded on the truth that all of us are created equal. As one people, let us move forward to rediscover the bonds of love and loyalty that bring us together as Americans."
The bill passed the House unanimously on Tuesday, a day after it was also passed unanimously in the Senate.

The resolution, which rejects "White nationalists, White supremacists, the Ku Klux Klan, neo-Nazis, and other hate groups," urges Trump and his cabinet "to use all available resources to address the threats posed by those groups." It also calls on the president and his administration to "speak out against hate groups that espouse racism, extremism, xenophobia, anti-Semitism, and White supremacy." Trump has received widespread criticism for his failure to fully denounce the groups following the deadly clashes in Charlottesville.
Additionally, the bill urges Attorney General Jeff Sessions to work with the Department of Homeland Security to investigate hate crimes and "improve" reporting.
The resolution specifically expresses support for the two state police officers who died in a helicopter crash while responding to the violence, and offers "deepest condolences to the families and friends of those individuals who were killed and deepest sympathies and support to those individuals who were injured by the violence." In addition to the police officers, the resolution specifically recognizes 32-year-old Heather Heyer, who was killed when a car rammed into a group of people protesting racism at the rally.