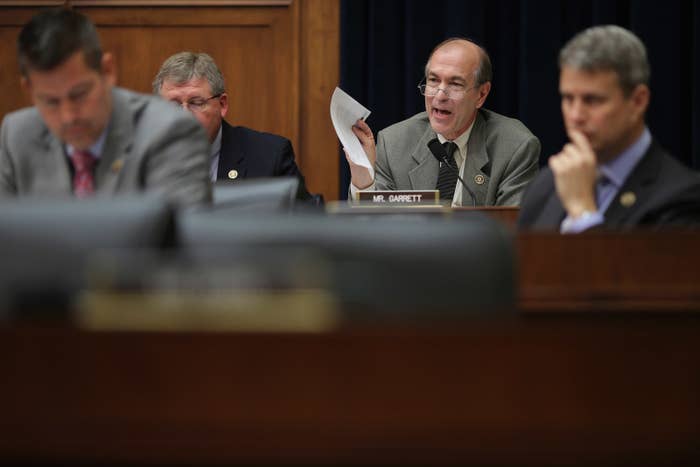 WASHINGTON — A bitter congressional race in northern New Jersey has devolved into legal action and appeals to prosecutors in the final days of the race.
On Thursday night, lawyers for Rep. Scott Garrett, who's running for re-election in New Jersey's 5th district, sent letters to the state's US attorney and attorney general accusing the campaign for Democratic candidate Josh Gottheimer of breaking federal and state law in an attack ad.
In response, New Jersey Democrats filed a lawsuit in federal court early Friday morning linking Garrett to the New Jersey chapter of the Oath Keepers, a white nationalist paramilitary group that New Jersey Democrats accuse of working to suppress votes.
The exceptional moves come in the waning days of an increasingly heated campaign that has seen both candidates launch scathing attacks on one another over alleged ethical and legal breaches. This week alone, both candidates resorted to name-calling and insults at the campaign's only debate and sparred over flyers spread throughout the district depicting Gottheimer, who is leading in the polls, as the devil.
The letters sent by Garrett's lawyers, shared with BuzzFeed News, allege that Gottheimer's campaign is "running a series of advertisements depicting a document that falsely and fraudulently impersonates the Office of Congressional Ethics."
The ad in question started airing this week and features a male voice saying, "Now we find out Garrett's under investigation for bribery and corruption for selling votes for campaign cash." As he speaks, a letter marked with "Office of Congressional Ethics" in bold red font is shown.

Garrett's campaign says the letter in the attack ad was actually a letter from October 2015 from Campaign for Accountability, a left-leaning US non-profit, to the Office of Congressional Ethics. That letter sought to have Garrett and 11 other Republican congressmen investigated for an alleged bribery scheme involving payday loan companies. There is no indication whether an investigation was launched.
In the letter to US Attorney Paul Fishman, Garrett's lawyers allege that Gottheimer's campaign broke two sections of the US Code: One that prohibits the falsification of documents, and one that prohibits impersonating a US official.
In the letter to New Jersey Attorney General Christopher Porrino, Garrett's lawyers accused Gottheimer's campaign of breaching state forgery and record falsification laws.
Garrett's campaign claims Gottheimer's campaign initially admitted to forging the document to a local media outlet, but then revised their statement.
Gottheimer's campaign, for its part, claims what's shown in the ad is a graphic, not a forged government document.
"The graphic simply shows where the charges against Mr. Garrett were sent — to the Office of Congressional Ethics," campaign manager Alexandra Ball said in a statement to BuzzFeed News. "Even Scott Garrett does not deny that there are charges accusing him of bribery and honest services fraud. He can't produce anything from the Office of Congressional Ethics saying he has been cleared."
Meanwhile, the New Jersey Democratic State Committee's lawsuit filed in federal court accuses the state chapter of the Oath Keepers of breaching the Voting Rights Act and Ku Klux Klan Act over a "call to action" to monitor polls on election day from the group's national leadership.
"Plaintiff NJSDC and untold numbers of New Jersey voters will suffer irreparable harm if the right to vote is imperiled by voter intimidation and harassment in and around polling places," the suit says, asking for an injunction against the "planned intimidation tactics."
The lawsuit says the New Jersey Oath Keepers have "demonstrated a particular interest in the House of Representatives election in New Jersey's Fifth Congressional District."
Citing a Bloomberg Businessweek article, the lawsuit says the Oath Keepers invited people to a meet-and-greet event with Garrett in early October where the congressman called Oath Keepers regional director Edward Durfee an "unsung hero." Garrett also the audience, "What I need from you is your blood, sweat and tears [...] We need the grass roots to come on out."
Garrett's campaign manager says the lawsuit is just an attempt to shift the focus away from the allegedly forged document in the attack ad.
"This is the NJ Democrats' attempt to distract from the fact that Josh forged government documents," Sarah Neibart, Garrett's campaign manager, said in a statement to BuzzFeed News. "Now that they've filed a lawsuit, I'm sure New Jersey voters will eagerly await the information available through the discovery process about the extent of the NJ Democrats' illegal coordination with Gottheimer's campaign."
UPDATE
Gottheimer's campaign has sent a cease and desist letter to US Attorney General Loretta Lynch over one of Garrett's attack ads, saying the ad is defamatory. In the ad, Gottheimer is accused of assaulting a woman while serving on a condo board.
"The highly offensive statements regarding Mr. Gottheimer in the Advertisement
are absolutely false," the letter says. "Impugning Mr. Gottheimer's reputation by claiming that he has physically assaulted a woman is unconscionable, vile and reminiscent of other antiwoman statements that Garrett has made in the past."
The letter claims both the New York Times and Bergen Record have investigated the case and found the ad to be deceitful.
When asked about the letter to Lynch, Garrett's campaign provided the following statement from Neibart: "I wonder if Mr. Gottheimer plans to take a page out of mentor Bill Clinton's playbook and meet up with AG Lynch on a Tarmac later today."