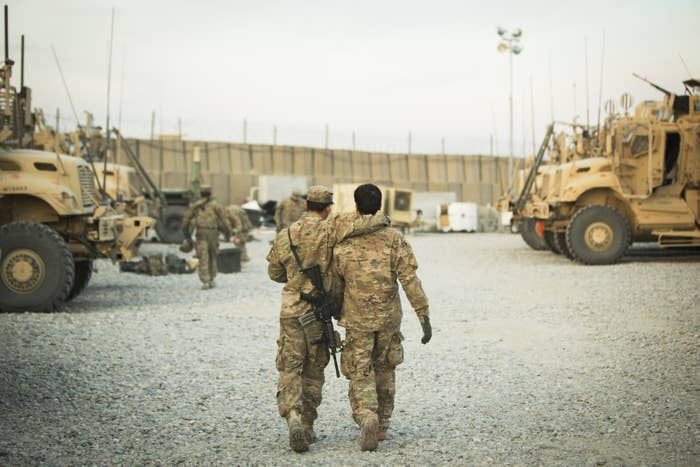 WASHINGTON — Fifteen thousand Afghans have applied to a special visa program for those who worked as interpreters for the US military and now risk being killed. But the State Department tells BuzzFeed News that fewer than 1,500 visas and a massive backlog of applications remain, leaving more than 13,000 Afghans to wait in uncertainty.

Now, a bipartisan group of senators is pushing to authorize more visas and prevent further life-threatening backlogs as part of a bill that would prevent a government shutdown next week — a push that has failed in the past.
Afghans who have worked as interpreters and translators for the US during the War in Afghanistan, which has lasted more than a decade, have faced everything from death threats to torture and murder, often as their applications for safe haven in the US languished.
"The Taliban decapitated the heads of my uncle, my cousin, and my best friend, Ateeq, all because I supported the infidels," Fahim Muhammad, an Afghan interpreter, said in 2013, according to a report by the Harvard Kennedy School Review.
Republican infighting last Congress left the Afghan Special Immigrant Visa (SIV) program with thousands fewer visas than needed to continue processing a backlog of applications. But if lawmakers fail this time, more than 13,000 Afghan interpreters could be further stranded by a US government that promised to protect them in exchange for their service.
The Afghan visa program currently requires applicants to have worked for the US for at least two years and provide a sworn statement describing the "ongoing serious threat" they face as a result of their work. Family members who also face threats are eligible as well.
The State Department, faced with a visa shortage, stopped scheduling new interviews for the program on March 1 of this year. Spokesperson Will Cocks told BuzzFeed News that as of March 5, there were only 1,437 visas left — and approximately 15,000 applications in the system. Those figures do not include the families of interpreters.
"These are people who were working for us in an environment where if you're seen as working for the US government, that might make you like a target for groups that have opposed the US," Cocks said. "So we've always taken these threats very seriously."
Democratic Sens. Jeanne Shaheen, Richard Blumenthal, and Jack Reed, as well as Republican Sen. Thom Tillis, have written a letter to the Senate Appropriations committee, which makes decisions about federal funding, asking it to include at least 2,500 more visas for Afghan interpreters in "whatever mechanism funds the State Department through the end of Fiscal Year 2017." The number is far short of what's needed to address the backlog, but 2,500 is the amount lawmakers believe they can reasonably pass right now — and is based off the last administration's estimate of what the State Department can handle in one year.
"As you know, the Afghan SIV program offers carefully vetted Afghans whose lives are in danger because of the critical assistance they provided to our soldiers and diplomats the chance to seek refuge in the United States," reads the letter, dated March 16 and provided to BuzzFeed News by Shaheen's office. "Unfortunately, this critical program is projected to run out of visas by the end of May, stranding many thousands of qualified Afghans."
The senators' request comes as the Appropriations committees in the House and Senate negotiate a funding bill to prevent a government shutdown after April 28, when current funding is slated to run out.
In a separate effort to allocate more visas, a group of senators on the Armed Services committee — Shaheen, Reed, Tillis, and Sen. John McCain — introduced legislation in mid-March to approve another 2,500 visas.
It's unclear, however, whether the recent request to the Senate Appropriations committee to allocate the remaining 2,500 visas for this year through the government funding bill will be granted. It would again require sign-off from a range of lawmakers, including those on the Senate Judiciary committee, where the visas' fate is uncertain.
In June 2016, Shaheen and McCain spearheaded efforts to reauthorize the program for another year and allocate 4,000 new visas. But they were faced with opposition from GOP Sens. Jeff Sessions — now the US attorney general — and Chuck Grassley, who heads the Judiciary Committee, which oversees immigration-related legislation.
The Huffington Post reported at the time that though Sessions and Grassley publicly cited costs and other issues in opposing additional visas for the program, their staff, in emails that have also been shared with BuzzFeed News, privately expressed a desire to shrink the program and reduce immigration numbers more broadly.
Grassley's office did not respond to repeated requests for comment about whether he still opposes expanding the visa program. A spokesperson for the GOP majority on the House Appropriations committee also did not return a request for comment.
McCain, at the time, also accused Utah Sen. Mike Lee, who tried to hold up the amendment to get the Senate to consider one of his own, of "signing the death warrants" of Afghan interpreters. "People are going to die," he said on the Senate floor. "They're going to die if we don't pass this amendment and take them out of harm's way."
In the end, only 1,500 new visas were allocated in the 2017 National Defense Authorization Act; compared to 3,000 in the 2016 defense bill and 4,000 the year prior.
The 2017 debate remains in flux, according to sources on the Senate Appropriations Committee. "Bipartisan, bicameral talks are ongoing but I can't yet say what the final outcome may be," a committee aide said.
Another aide familiar with discussions said committee vice chair Patrick Leahy "strongly supports" allocating more visas. "However, the problem is the House [Republicans] and Sen. Grassley."
A Democratic spokesperson on the House side said he couldn't "get into potential outcomes," but added that the Afghan visa issue "is something that we are very aware of and are looking to address."
Cocks said the State Department doesn't have control over the number of visas available, but that it believes the program helps repay Afghans who have "really helped the US government."
"These are people who have, at great personal risk, helped the US military, helped the State Department, helped our efforts overseas, and so we are committed to supporting them," he said. "We want to make sure that those people who have faithful and valuable service to the US can get visas to immigrate."