Vans has announced it will be releasing a Toy Story collection this week, and needless to say, PEOPLE ARE FREAKING OUT.
The collection will be available on Oct. 7 (i.e., FRIDAY), with a range of styles inspired by the classic characters.
You hearing about the new Toy Story Vans:
Woody has inspired three styles: a pair of cowboy boot high-tops; cow skin, brown leather, and denim Old Skools; and "rootin' tootin'" Woody art Authentics.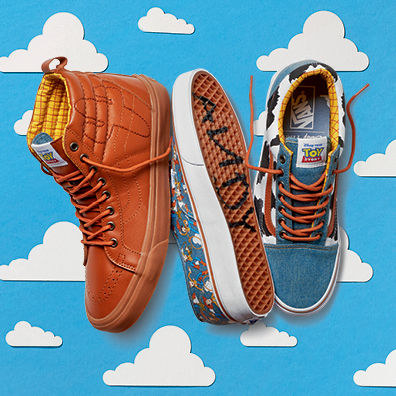 There is also a Buzz Lightyear design that GLOWS IN THE DARK.
For adults with a dark side, there's a Sid's mutant toys-inspired design.
But if Little Bo Peep and the rest of Andy's toys (shout-out to my all-time favourite, Hamm) are more your thing, there are designs for you too.
We're all very excited.
Like, really, really excited.
Even people who aren't normally excited are excited.
And also we're maybe a little emotional too.
Because even though Toy Story first came out in 1995 and we're all grown up now, we'll never forget Woody and the gang.