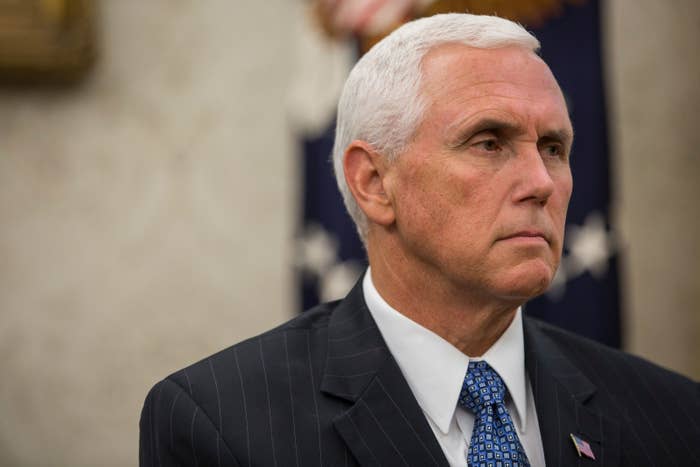 WASHINGTON — A senior USAID official from the agency's Middle East bureau was reassigned this summer to a faculty position at the National War College after a newspaper column publicly criticized Vice President Mike Pence for not doing enough to aid Christians in Iraq, alarming other career officials in the agency worried that they too could be threatened by politics.

Maria Longi was the senior deputy assistant administrator of USAID's Middle East bureau, overseeing development programs in 10 countries and a $1.7 billion annual budget, when Rep. Chris Smith and Robert McFarlane, Ronald Reagan's national security adviser, wrote a column for the Wall Street Journal that said that nine months after Pence had promised more direct aid to Iraqi Christians, "Career staff at USAID have ignored Mr. Pence's words and thwarted the clear intent of the Trump administration." The column was headlined "Iraqi Christians are still waiting, Mr. Pence."
The next day, a Friday, at 5:30 p.m., Longi was removed from her position. She had held the role for almost three years and had been at the State Department for more than a decade before that. But she was reassigned and, at present, while still on USAID's payroll, holds an adjunct faculty position at the National War College, where she is researching counterterrorism issues. Longi, by all accounts, did not seek to make a fuss or paint herself as a martyr, and moved quietly into her new role.
Her replacement at USAID was a political appointee who had worked on development projects at the International Republican Institute, as the Washington Post reported back in June.
Longi declined to be interviewed for this story. The vice president's office did not respond to a request for comment, and a USAID spokesperson would confirm only that the administrator of USAID, Mark Green, "designated Hallam Ferguson as the Senior Deputy Assistant Administrator for USAID's Bureau for the Middle East, effective June 11. We cannot comment further on personnel matters."
The reported degree of involvement of the vice president's office with respect to the allocation of funding for one religious group is shocking to those who previously worked in the agency. Pence reportedly directed Green to go to Iraq in June, and, per the Post story, told Green he would support any personnel changes Green chose to make.
One former USAID official, who was familiar with Longi's case and who asked to remain anonymous, called it "totally inappropriate."
"It's very unusual for the vice president's office to take such a heavy hand in a policy matter," agreed Steven Feldstein, a nonresident fellow in the Democracy, Conflict, and Governance Program at the Carnegie Endowment for International Peace. Feldstein, who was the director of the Office of Policy at the US Agency for International Development during the Obama administration, added, "I never witnessed anything along those lines occur... I certainly never saw what appears to be punitive actions."
Sources on Capitol Hill and formerly at USAID told BuzzFeed News that it was not that Longi had openly opposed Pence's office. And if the issue had been the way in which programming was implemented, the change didn't make much sense; Ferguson, the political appointee who replaced her, had reported to her, oversaw Iraqi programming, and had previously briefed some in Congress on USAID's Broad Agency Announcement, through which USAID solicited input and proposals for ways to help displaced persons return to the areas of northern Iraq that are the traditional homes of religious minorities, including Christians.
But the column had explicitly mentioned career staff. And so, sources say, a career staffing change needed to be made. Longi was that change.
Longi is but one example of a career official in State and USAID who has come under fire or otherwise chafed under the Trump administration. Sixty percent of the State Department's top diplomats had left by January of this year. A political appointee was reportedly determining the level of loyalty to the Trump administration by employees of the State Department and United Nations this past spring.
It was Ferguson, not Longi, who testified before the House Subcommittee on the Middle East and North Africa about the Trump administration's budget proposal on June 13, the week after Longi had been moved. The committee staff was informed the day before that he would testify in her place. The press release put out that Monday still had her on the schedule.
What happened to Longi — who was, after all, in charge of a bureau — has made others in the agency nervous, the idea being that if her career can be so changed to appease the vice president's office, so can anyone's.
Some Democratic members of Congress and their staff are also worried that a politically guided policy might award contracts that shouldn't be — because the proposals didn't pass muster or would duplicate work being done elsewhere in the government, or because, in singling out Christians, they would actually make life worse for the religious minority.
The Knights of Columbus and the Chaldean Archdiocese apparently received rejections in the weeks before Longi's removal. Neither responded to a request for comment on whether those rejections had been brought to Pence's attention.
If current officials at USAID are to be believed, they have reason to worry. As one current official put it, "the VP's staff have their mitts all over the place."