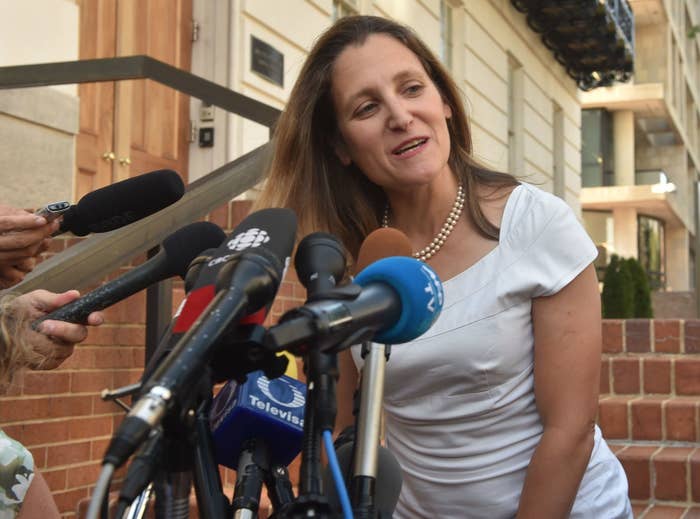 Canadian Foreign Minister Chrystia Freeland arrived in Washington on Tuesday to try to negotiate Canada's way into a tentative trade deal the United States and Mexico announced Monday — and everyone was thinking about milk.

That's because dairy is the major sticking point that the US and Canada need to come to terms on. Even Mexican Foreign Minister Luis Videgaray made mention of it at a news conference Monday, and President Donald Trump has cited it, tweeting, back in June, that "Canada charges the U.S. a 270% tariff on Dairy Products! They didn't tell you that, did they? Not fair to our farmers!"
What Trump didn't tweet, however, is that the United States actually has a trade surplus with Canada on dairy, which makes up only about $600 million of a trade relationship worth $600 billion. In 2016, US dairy producers sold five times as much product to Canada as Americans bought from Canada.
So why does dairy loom so large in US–Canada trade relations?
For one, the president has an eye for what will resonate with the public, and the 270% tariff that Canada has placed on dairy to protect its supply management system is nothing if not eye-popping, says Scott Miller, an international trade expert at the Center for Strategic and International Studies.
But Bruce Heyman, US ambassador to Canada from 2014 to 2017, thinks there's another issue too, involving something called ultrafiltered milk.
Milk is made up of milk fat, "protein-rich solids," and water. But nowadays milk can be separated into its components, making the protein part easier to ship. Previously, ultrafiltered milk didn't get taxed. But in 2016, Canadian dairy farmers and producers moved to change that, persuading regulators to encourage dairies to produce the substances in Canada.
"US farmers, dairy farmers, actually created facilities to provide a product to Canada. When that was changed," Heyman said, "Canada literally put people out of business."
"I, as ambassador, told them, 'It's a mistake. Don't do this, don't do this, don't do this.' But that was the path that Canada wanted to go down." Sen. Chuck Schumer of New York, the top Democrat in the Senate, called him several times "incredibly upset."
"Then, when we started re-negotiating and doing things — now Senator Schumer can go see his friend Donald and say, 'the Canadians are really hurting us,'" he said, pointing also to Paul Ryan of Wisconsin, who, along with Schumer, told the White House and the Office of the United States Trade Representative that Canada was taking advantage of the United States on milk.
"The Canadian argument is right," Heyman said, pointing to the US trade surplus on milk. "But what was done with ultrafiltered milk created and started this whole thing."
"Sometimes the pebble in the shoe can really make it difficult to walk," he said.
Nevertheless, Heyman is optimistic that the Americans, Mexicans, and Canadians can come to an understanding this week. Canada, in not taking part in the past few weeks of negotiations, has been watching the United States and Mexico throw their cards on the table, he said. "Canada should be able to use that."
There's also the reality that Canadian Prime Minister Justin Trudeau faces reelection in October 2019. Quebec has a concentration of dairy farmers, which means it also has a concentration of votes that can be lost should a political party in power undo the supply management system, which sets production quotas in addition to limiting imports.
On the other hand, Trump's Republicans face midterms this November, and several swing states — Wisconsin, Michigan, and Virginia — all do considerable business with Canada that will be threatened if the United States doesn't make a deal with Canada — lost business for which Trump might be blamed.
"Like many 'deals' that this administration has announced, we haven't been given nearly enough details to evaluate it. I support revisiting NAFTA to see how we can make a 25-year-old deal better, but I would be troubled by any deal that left Canada out," Sen. Tim Kaine, a Democrat from Virginia, said in a statement to BuzzFeed News. "Canada is by far Virginia's biggest export market, and we need to ensure that any deal the administration sends Congress to consider gives Virginia's farmers, workers, and manufacturers the best chance to succeed."
Miller was less optimistic, predicting US Trade Representative Robert Lighthizer "presents the US-Mexico deal to Canada as a fait accompli, and says, "would you like Quebec dairy or Ontario autos" — a reference to the president's threat to slap tariffs on Canadian cars on Monday if a deal isn't reached.
US tariffs on the Canadian auto industry, concentrated in Ontario, could, according to the economic research arm of the Royal Bank of Canada, potentially lower Canadian GDP by 0.5%.
The auto industry is Canada's biggest exporter, and Canada has been pushing US automobile manufacturers and suppliers to speak up and stand up to make clear how integrated the supply chain in North American automobile manufacturing is.