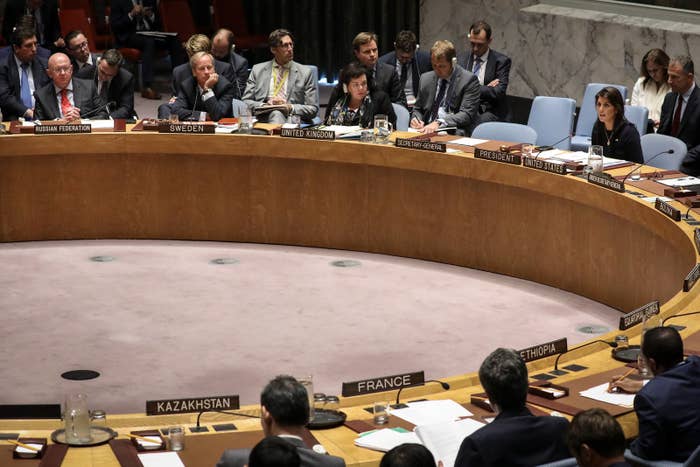 President Donald Trump will chair a high-level meeting of the United Nations Security Council on Wednesday.

Ordinarily, such a meeting would be high-profile. They don't, after all, happen every year — the last Security Council meeting at the heads-of-state level was in 2014 when former president Barack Obama presided over the event. It would also ordinarily be highly scripted.
"The entire role of the missions staffing their governments," one former US diplomat who had worked at the UN explained to BuzzFeed News, "is to know what's happening. To know exactly what to expect."
Trump, however, is famous for going off script, leaving experts and diplomats alike wondering and worrying about what to expect when Trump chairs the Security Council.
Originally, the Trump administration said the topic of the meeting — held while Trump is in New York for the opening of the annual UN General Assembly's general debate — would be Iran. But that's since changed to nonproliferation more broadly — not because of any outcry from Iran, but rather to avoid giving Iran the right to respond, according to David Bosco, an associate professor at Indiana University who studies global governance at the United Nations Security Council and International Criminal Court.
"Council rules provide that a state shall be invited to participate in a meeting relating to a dispute to which it is party," Bosco said. "If Trump's comments end up being focused exclusively on Iran, some other council members — and Bolivia would be the most likely — may argue that Iran should be given the right to respond."
On Friday, Trump, as if unaware of the official change in subject, tweeted, "I will Chair the United Nations Security Council meeting on Iran next week!"
"I can easily imagine the Russians or the Bolivians sort of making that argument," said Richard Gowan, a senior fellow at United Nations University. Gowan admitted he could not be sure what would happen then — should the council then have a procedural vote over Iran's right to respond. "This would be truly absurd," he said.
The US can veto resolutions in the Security Council as a permanent member, a power it shares with just four other countries. But nine of the 15-member body's votes are all that are needed to pass a procedural vote.
But even if permanent member Russia or elected member Bolivia keeps its diplomatic mouth shut on Iran's right to respond, a Security Council focused on Iran will necessarily isolate Trump. Russia is a signatory of the Iran nuclear deal, as are permanent members France and the United Kingdom — two of the staunchest defenders of the deal and also, uncomfortably, two of the US's alleged closest allies.
"He will push his allies into publicly contradicting him," Gowan said.
"The nightmare scenario for next Wednesday is that Trump sort of makes his own remarks, fine, but then starts to realize he's being isolated by other council members, goes off script, starts to ad lib. Ad lib pretty nastily."
Are the other adherents of the Iran nuclear deal worried? The British Embassy in Washington, DC, declined to comment on the record. The French Embassy said that they had no comment, but added that the question of whether the event gave them fear or trepidation could also apply to Trump's Tuesday UN General Assembly speech.
The Russian Embassy, for its part, offered, "I cannot answer requests from BuzzFeed News. Your 'news outlet' has privat [sic] information from bank accounts of Russian diplomats in DC. And mine as well. It was used to target diplomats and discredit the Embassy. That's unacceptable," he wrote, referring to BuzzFeed News stories on investigations of payments by the Russian Embassy and on why those investigations took place.
US policymakers were more forthcoming about their nervousness. "Is there a possibility that the most thin-skinned person ever would react poorly to Russia and China and the Europeans all telling him that he's made the world less safe? Yes," one Democratic congressional aide told BuzzFeed News, adding, "I don't think it's going to work out so well."
There's also the possibility, even if Trump does stick to a script not focused on Iran, or even if America's traditional allies manage to not bash Trump's stance toward Iran to his face, that other, smaller countries — Bolivia, for example — will use the opportunity to tell Trump exactly what they think of current US policy.
"For many of them, it's quite unusual to give a speech directly facing Trump, [with] Trump essentially having to listen," Bosco said.
"A country like Bolivia — not aligned, eschewing American regional leadership — yes. They could take the opportunity to make it about the US and its nuclear program," the former diplomat agreed.
The Bolivian mission to the United Nations did not immediately respond to a request for comment.
Gowan, for his part, thought it more likely that the Security Council members would just try to get through the meeting.
"There is unquestionably quite a lot of nervousness about this," he said.
"The majority of council members will just be praying they can get this over with with the minimum amount of damage," he said.