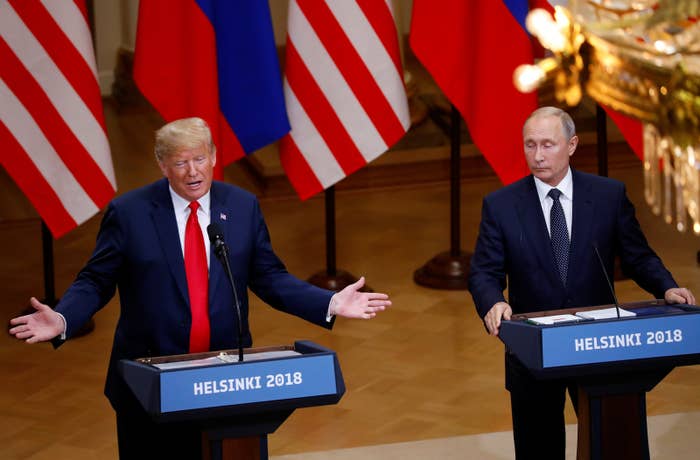 Russian President Vladimir Putin on Monday denied having compromising information Donald Trump, claiming that the now-US commander-in-chief's political ambitions weren't on Russia's radar when the real estate mogul visited Moscow in 2013, and that "it would never occur to anyone that he would think of running for president."
Putin was confronted about having potentially damaging information on Trump during an interview with Fox News, and replied through an interpreter that "we don't have anything on them, and there can't be anything on them." He added that "before he announced that he will run for presidency, he was of no interest for us."
"He was a rich person, but well, there's plenty of rich persons in the United States," Putin said. "He was in the construction business. He organized the beauty pageants. But no, it would never occur to anyone that he would think of running for president. He never mentioned his political ambitions. It sounds like it's utter nonsense."
In January 2017, BuzzFeed News published a dossier compiled by a former British intelligence official — after former president Barack Obama and then-president-elect Trump were briefed on it — that said Russia had compromising information on Trump, in the form of a video that captured him in a Russian hotel room with prostitutes urinating on a bed.
Trump has denied the existence of the tape, and did so again Monday, saying, "If they had it, it would have been out long ago."
During the interview Monday, Putin also compared Trump to hundreds of other business leaders who visited Russia for an economic forum.
"Pretty much every one of them is a major industrial tycoon of greater scale than President Trump," Putin said. "Do you think that our Special Services actually organized surveillance on each and every of them? Well, unlike you, unlike the United States, we don't do this. We don't have enough resources. We don't have enough manpower to organize the total state of control. That's not part of our plans. And it's clear that we did nothing of that kind of against Mr. Trump."
Putin's claims Monday echo similar comments he made last year, when he told NBC's Megyn Kelly that rumors about Russia having compromising information on Trump were "just another load of nonsense."
However, earlier Monday Putin had not explicitly denied having compromising information on Trump when asked about it during a bizarre news conference in which the US commander-in-chief repeatedly bashed American citizens and at times defended his nation's top adversary.
"I did hear this rumor, that we allegedly collected compromising material on Mr. Trump when he was visiting Moscow [in 2013]," Putin said through a translator at a news conference after he and Trump met privately for more than two hours. "Let me tell you this, when President Trump was in Moscow back then, I didn't even know that he was in Moscow. I treat President Trump with utmost respect, but back then, when he was a private individual, a businessman, nobody informed me that he was in Moscow."
Putin then spoke in a hypothetical and referenced the same gathering of business leaders he mentioned during the Fox News interview.
"Let's take the St. Petersburg economic forum, for instance," he said. "There were over 500 American businessmen, high ranking, high-level ones. I don't even remember the last names of each and every one. Do you think that we try to collect compromising material on each and every single one of them? Well, it's difficult to imagine on a bigger scale than this. Please disregard these issues and don't think about this anymore again."
Earlier Monday, Democratic US Senator Jeff Merkley told BuzzFeed News that he thinks "something close to" the alleged video exists.
The news conference capped a highly anticipated private one-on-one meeting between Trump and Putin, which lasted more than two hours.
Trump came under heavy criticism from both the left and right for his answers during the news conference — one anchor on the president's favorite TV show, Fox and Friends, said he threw his "own people and country under the bus."
The day's most truly baffling statements came during the discussion about Russia's election meddling.
Trump again said he doubted Russia interfered with the 2016 presidential election — even though US intelligence services said that it was the case and special counsel Robert Mueller, who is investigating collusion between Trump's campaign and the Russian government, has levied charges that said as much. On Friday, a grand jury charged 12 Russian military officials with hacking Hillary Clinton's 2016 presidential campaign.
Asked outright whether Trump believed his own intelligence agencies or Putin on the question of interference into the US election, the president said, "He [Putin] just said it's not Russia. I will say this. I don't see any reason why it would be."
When asked if he wanted Trump to win the election, Putin said, "Yes, I did. Yes, I did. Because he talked about bringing the US–Russia relationship back to normal."
Trump also repeatedly slammed the FBI and Mueller's investigation — and FBI agent Peter Strzokin particular — as the real enemies.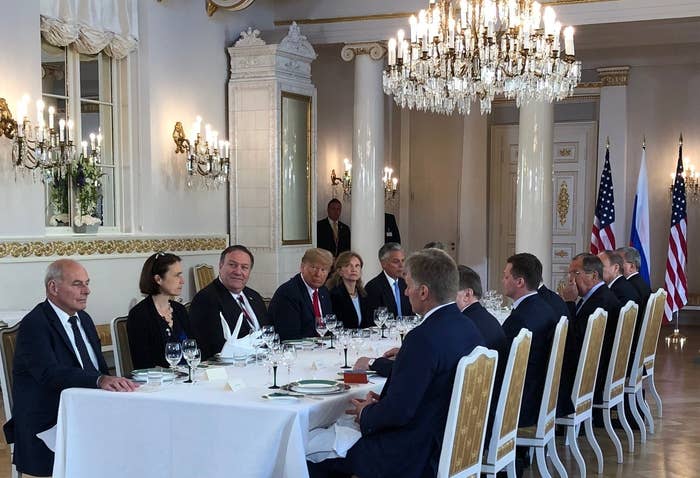 At one point during the news conference, Putin claimed, "The Russian state has never interfered and is not going to interfere in internal American affairs, including the election process."
"Could you name a single fact that prove collusion? This is utter nonsense," he said.
"As to who is to be believed, who is not to be believed, you can trust no one," Putin continued. "Where did you get this idea that President Trump trusts me or I trust him? He defends the interests of the United States of America. I defend the interests of the Russian Federation."
While standing next to the Russian president, Trump reiterated that no collusion between his campaign and Russia took place.
"I think that the probe is a disaster for our country," Trump said, referring to Mueller's investigation. "There was no collusion at all."
In one particularly surreal moment, Trump said Putin had "an interesting idea" in regards to the Mueller probe.
Putin added he would "look into it" — regarding the 12 military officers who were indicted Friday — and that he doesn't know "the full extent of the situation."
Putin then offered to "assist" by having the Russian government interrogate the individuals in question — noting that the Mueller team could send people to witness it.
"The appropriate commission headed by Mueller, he can use this as a solid foundation and send an official request to us, so that we would interrogate, hold questioning of these individuals who he believes are privy to some crimes," Putin said. "Our enforcement are perfectly able to do this questioning and send the appropriate materials to the United States."
Trump later responded positively to this idea.
"I have great confidence in my intelligence people, but I will tell you that president Putin was extremely strong and powerful in his denial today," the US president said. "What he did is an incredible offer. He offered to have the people working on the case come and work with their investigators with respect to the 12 [indicted] people. I think that's an incredible offer."
Monday afternoon, Daniel Coats, the US Director of National Intelligence, said in a statement that the intelligence community has "been clear in our assessments of Russian meddling in the 2016 election and their ongoing, pervasive efforts to undermine our democracy, and we will continue to provide unvarnished and objective intelligence in support of our national security."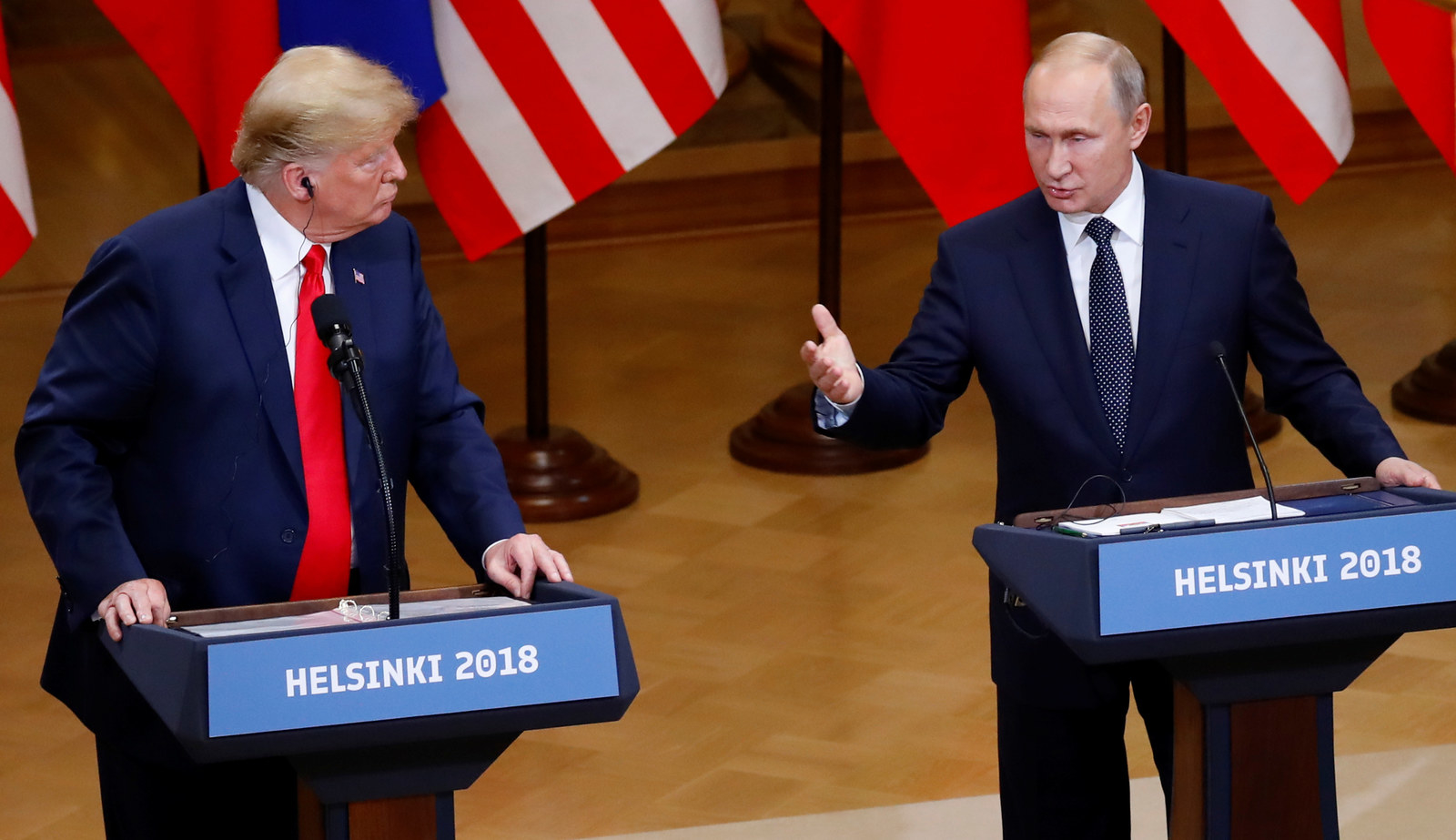 The presidents also said their talks touched on the role of NATO, the Syrian crisis, Russia's presence in Crimea, and nuclear proliferation.
At one point, Trump spoke at length about defeating Hillary Clinton and about conspiracy theories related to the servers of the Democratic National Committee.
"I beat Hillary Clinton easily and, frankly ... it's a shame there could be a cloud over it," Trump said, in response to suggestions he received assistance from Russia for the win.
Speaking of the DNC servers, Trump resurfaced debunked theories about Imran Awan, a staffer for Democrats, stealing data. The government found no evidence this was the case.
"What happened to the servers of the Pakistani gentleman that worked on the DNC? Where are those servers? They're missing," Trump claimed in a rambling tangent, mentioning "Hillary Clinton's missing emails" for good measure.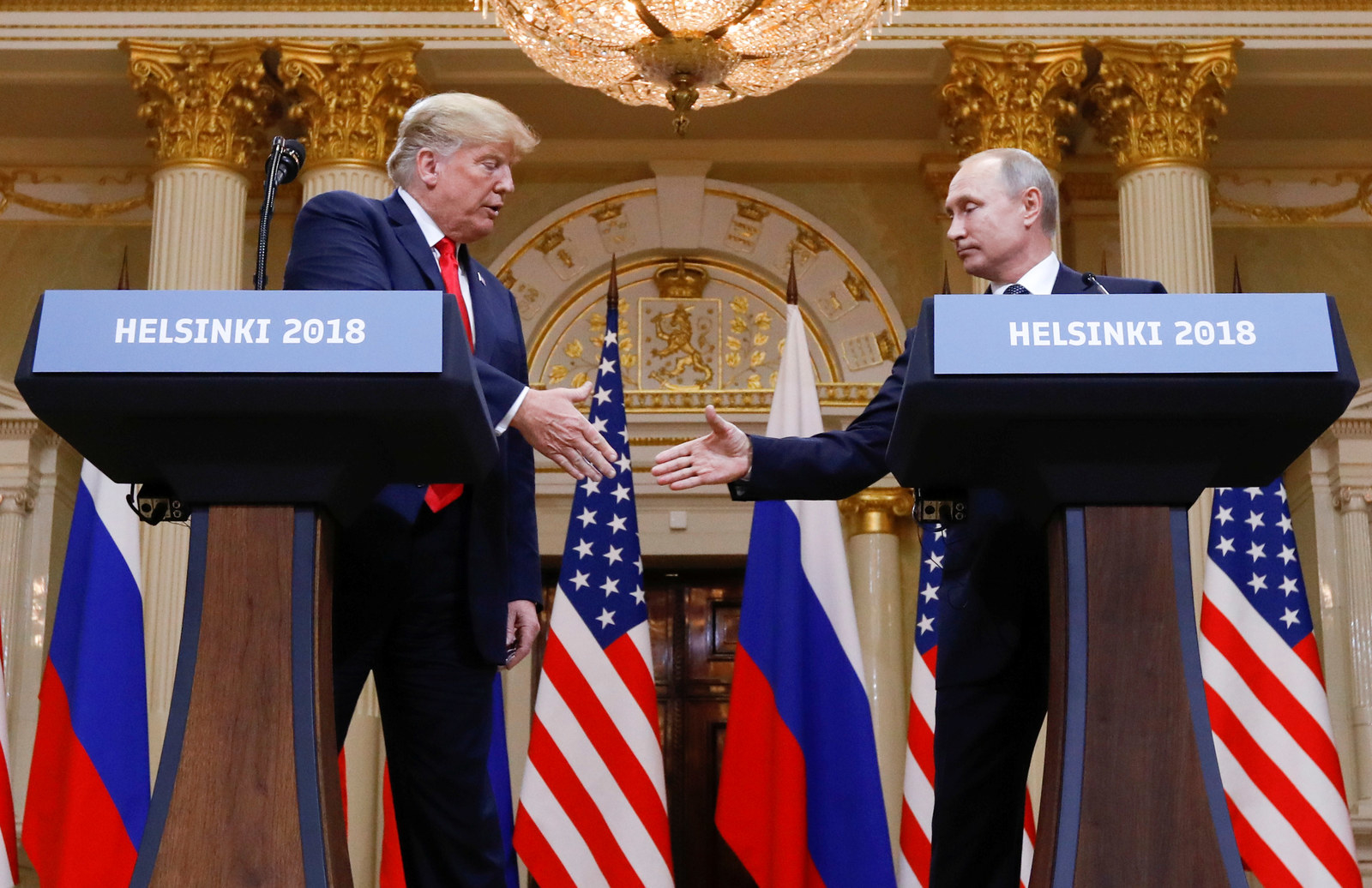 Putin said negotiations "took place in a frank and businesslike atmosphere," though he said that it was "clear to everyone" that the US–Russia relationship is "going through a complicated stage."
"Yet those impediments, the tension, the tense atmosphere essentially have no solid reason behind it," he said. "The Cold War is a thing of past."
Putin went on to discuss "steps for improving this relationship to restore the acceptable level of trust," including "continued cooperation in counterterrorism and maintaining cybersecurity."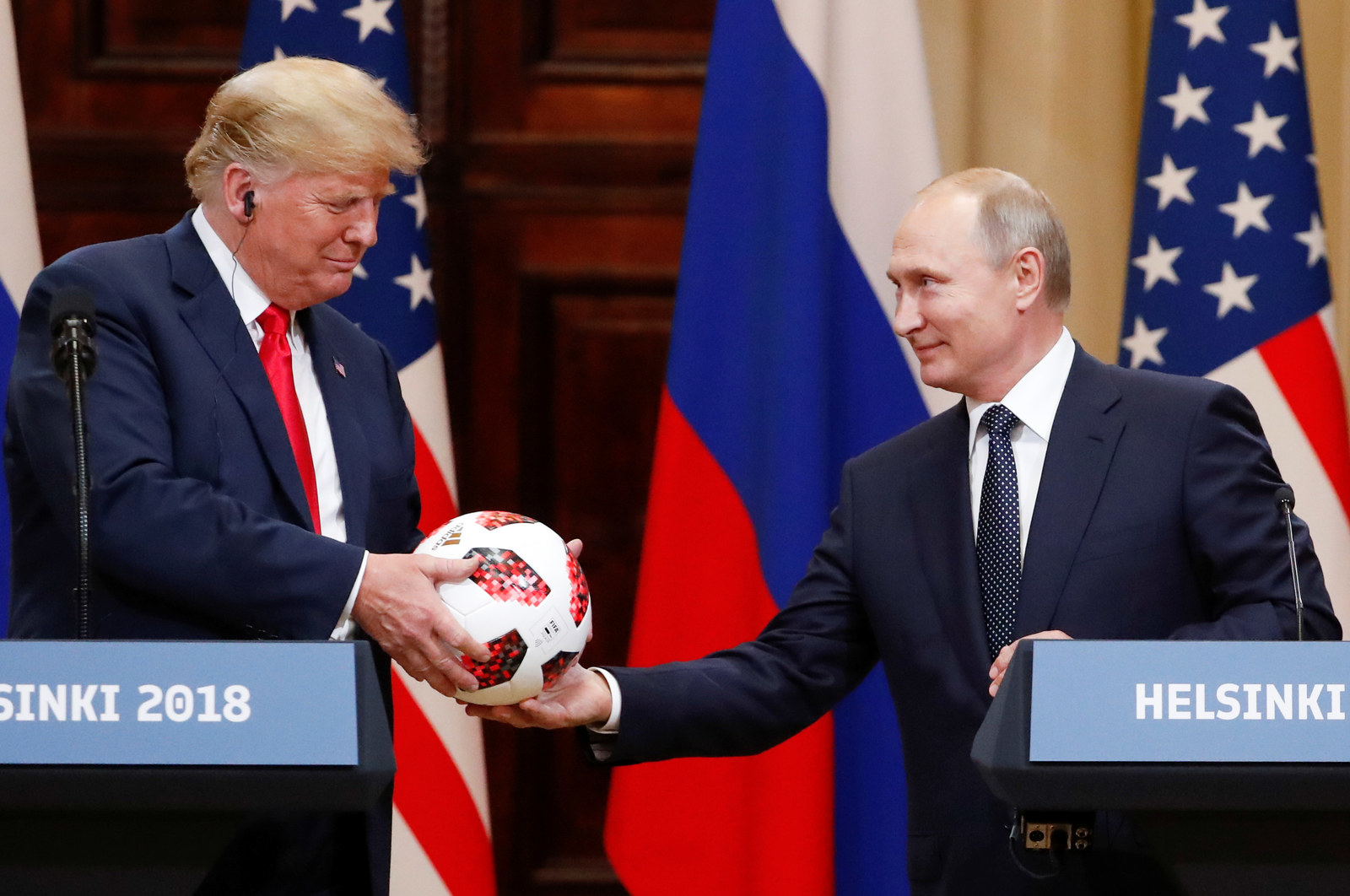 For Trump's part, he said the leaders had "direct, open, deeply productive dialogue" and that the meeting "went very well."
"Our relationship has never been worse than it is now ... However, that changed as of about four hours ago," he said early in the press conference. "I really believe that."
Putin also gave Trump a gift of a soccer ball, in honor of the recently completed World Cup and in recognition of the fact that the US would next host the event.
Before the second joint press conference between Trump and Putin, a protester was removed from the press area, holding a sign that read "Nuclear Weapon Ban Treaty."