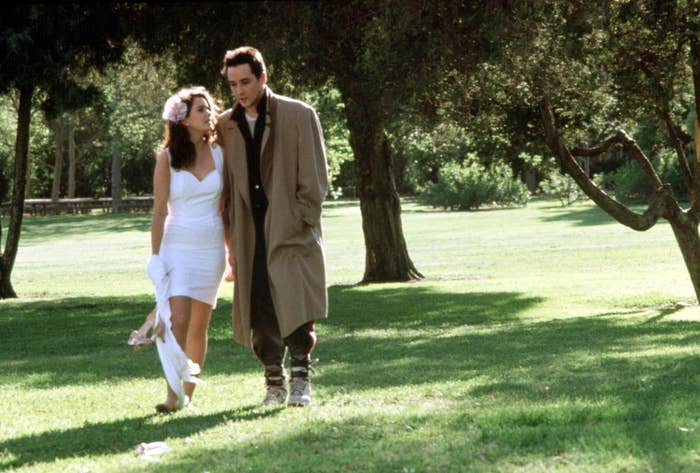 It's been 25 years since Lloyd Dobler (John Cusack) held a boom box over his head outside Diane Court's (Ione Skye) bedroom window in the 1989 cult favorite romantic comedy Say Anything. But this week, it looked like that boom box — well, maybe an iPad — would soon be pulled out of storage. According to Deadline, a deal was inked to reboot the story for NBC, with Justin Adler (Better Off Ted) writing and Aaron Kaplan (The Neighbors) producing. An NBC rep confirmed to BuzzFeed News that there was a script sale, but would not comment further.
The original Say Anything followed the unlikely romance between slacker Lloyd and valedictorian Diane during the summer after they graduated high school. And the television adaptation was said to pick up 10 years after the movie left off with Diane returning home unexpectedly, where she'd reconnect with Lloyd, according to Deadline.
But there were three big components missing from the revival: Crowe, Cusack, and Skye, none of whom were affiliated with the NBC revival. In fact, Crowe was quite upset about the new development. He took to Twitter shortly after the news was announced to clarify that he had no involvement in the script, "except in trying to stop it."
When asked for comment, Crowe's office said they had nothing to add about what steps he is taking to kill the option. Cusack also tweeted his disapproval of the Say Anything television adaptation.
When reached by BuzzFeed News, Justin Adler's office would not comment. Request for comment from Aaron Kaplan has gone unanswered.
A rep for NBC has confirmed to BuzzFeed News that 20th Century Fox is not going forward with the project.